Art Gallery

The NIACC Gallery is open to the public and offers a variety of works by artists from all locations. This is a beautiful space where artists can display their art for the public to enjoy.
Since we are on a college campus, this is also a great learning opportunity for our students. The possibilities are endless. We welcome solo or group shows. We welcome art exhibits from all types of medium, including paintings, photography, sculptures, or installation art.
The main purpose of the NIACC Gallery is to advance the level of work created by the students taking art classes. This will hopefully encourage them to transfer to a four year degree program.
---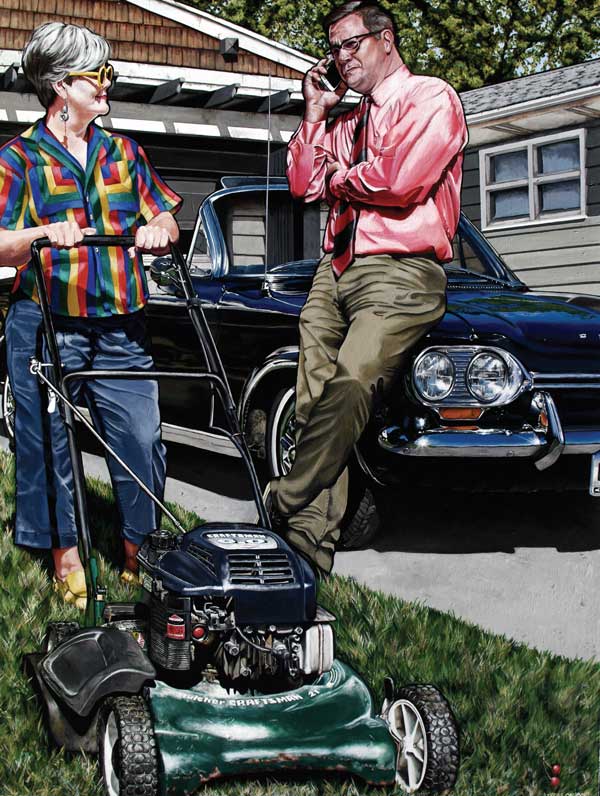 Jaclyn Garlock Art Exhibit
Extraordinary Women (doing ordinary things)
Artist Statement:
I've been an artist my whole life, but didn't know it until I was in my 30s. I thought I would enjoy teaching – did that for a couple of years, though it's a noble profession, it wasn't for me. In search of more personal artistic work, I started a small business printing T-shirts. I learned a great skill in screen print – figured out I could manipulate this method how I wanted and sold the resulting serigraphs at fine art fairs around the Midwest. One day in about 2000 I decided to paint – something I had done a lot of to earn a BFA, but hadn't done any since.
After messing around with different subjects, I decided to do a self portrait. I dressed up, put on too much make up made my hair big and set my camera. I loved the result and was on the way to strictly figurative work. All my friends posed for me and we'd set up different little scenarios and act them out like making a short movie. Then adding in various costume changes, I could stage and photograph the scenes to mimic the ideas I had in mind. With photoshop, photos could be cut and pasted, adding in another figure or different props, to create the best composition.
When I started my paintings, and knew the direction I was going I was able to let go of selling screen prints at art fairs. I concentrated on building work and exhibiting regionally at art centers and museums. My current show "EXTRAORDINARY WOMAN" is made up of images of extraordinary women doing ordinary things.