The North Iowa Area Community College (NIACC) John Pappajohn Entrepreneurial Center (JPEC) conducted the Youth Entrepreneurial Academy (YEA) on June 19-23. The academy is offered annually and free to all high school students interested in entrepreneurship.
Participants receive a $500 NIACC scholarship sponsored by John Pappajohn. This year's academy included 15 participating high school students. The aspiring entrepreneurs completed the academy which is held as a day camp from 8:30am-4:30pm. The NIACC JPEC's Youth Entrepreneurial Academy has now developed over the course of five years.
Students were given the opportunity to stay in NIACC's student housing, and several students elected to do so. Students not staying in the student housing received gas cards to help cover the week's travel from their homes to NIACC. Additionally, five students received a $500 seed money award for the businesses they developed during the week. The participants and schools represented were:
Sadie Arickx                                  Rockford Senior High
Samuel Arickx                               Rockford Senior High
Carissa Blake                                St. Ansgar High School
Madison Daniels                            West Hancock High School
Tommy Elias                                 Muscatine High School
GT (Gregory Taylor) Howd             Kell High School (Cobb County, Georgia)
Ravyn Knecht                                Charles City High School
Falyn Knecht                                 Charles City High School
Hunter Noordhoek                          Osage High School/Homeschool
Bekka Reams                                 St. Ansgar High School
Madalyn Schott                               Forest City High School
Alyssa Tegtmeyer                            West Hancock High School
Alyssa Thoreson                              Forest City High School
Abigail Thomas                                Central Springs High School
Daniel Wilbur                                   Homeschool (St. Ansgar)
Throughout the entire week, the young entrepreneurs worked diligently to progress a business model canvas. Students had the opportunity to network with local entrepreneurs, develop leadership skills, and gain fundamental skills required when starting a business. Friday, June 23, the final day of the academy the students pitched their business ideas by submitting an executive summary that included a company description, financial plans, and business model key measures that included startup costs and sales projections.
The Academy's mentors included: Jim Elias, Muscatine Community College (facilitator); Holden Nyhus, Scout Pro; Kelley Crane, NIACC Pappajohn Center; Corey Behrens, (YEA Alumni) University of Northern Iowa student and owner of Simplistic Views; Samantha Schupanitz, (YEA Alumni) NIACC student and owner of Sami's Sock Monkeys; Carsen Johnson, (YEA Alumni) Mason City High School student and owner of Lawn 911.
Guest speakers for the week included:
Tyler Anderson – Roller City, Tropical Snow, Escape Room. (Being an Entrepreneur)
Brad and Angie Barber – Cabin Coffee Franchise (Customer Service)
Shannon Latham – Latham Hi-Tech Seeds and Enchanted Acres (Social Media Marketing)
The students presented their businesses to a panel of five judges: Tyler Anderson, Roller City, Tropical Snow, Escape Room; Hunter Cahlanan, North Iowa Corridor; Pat Goedken, Clear Lake Bank & Trust; Ed Schick, Retired International Businessman; Dan Winegarden, Director of the JPEC Incubator/Accelerator.
Danielle Goll, owner of North Iowa Designs, was the keynote speaker.
The judges chose five businesses to win an additional $500 seed money award. The winners were:
Sadie Arickx–The Company Company: The Company Company is a service based business focused on providing companionship for residents at nursing homes and assisted living facilities. Sadie goes to nursing and assisted living homes around the Mason City and Nora Springs area, visiting the people who live there for a certain amount of time each week, spending time with them, playing board games, and watching movies.
Daniel Wilbur–North Iowa Diesel Repair: North Iowa Diesel Repair is a small local diesel repair shop located outside of St. Ansgar IA. Daniel services and repairs all makes and models of diesel engines, from diesel cars to four-wheel drive tractors. His goal is to provide quality work at an affordable price to my customers and keep their equipment up and running with as little downtime as possible. He plans to attend the NIACC Diesel tech program to further his skills and become certified.
Ravyn Knecht–Knechtions: Knechtions, is a local business in small-town Charles City. Her company primarily sells industrial products including benches and tables. She also has a passion for creating home décor, such as signs and wall hangings. Kenechtions focuses on customer service and creating products designed specifically for each customer.
Madison Daniels–Designed to Sell: Designed to Sell is a house flipping business where she takes the worst house in the most upscale neighborhood and fixes them up to make it a forever home for future families.
Alyssa Tegtmeyer–Share the Light Activity and Event Center: The Share the Light Activity & Event Center (SLAEC) is a Christian business that will eventually offer multiple services for entertainment such as concerts, public speaking events, service projects, day camps, youth groups, trips, game nights, and picnics. It will also have a small book and apparel shop and cafe. She plans to start off with simply providing a day camp to kids of various ages and a few year-round youth groups that would be held in various churches. As business grows, Alyssa plans to buy a building (with an auditorium and a few smaller rooms) and offer more activities and events.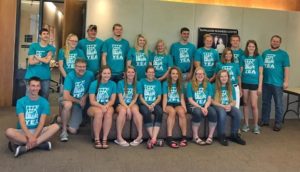 Pictured from left to right: Back Row- Tommy Elias, Falyn Knecht, Daniel Wilbur, Hunter Noordhoek, Alyssa Thoreson, Madalyn Schott, GT Howd, Madison Daniels, Samuel Arickx, Holden Nyhus Front Row- Corey Behrens, Jim Elias, Samantha Schupanitz, Ravyn Knecht, Abigail Thomas, Bekka Reams, Carissa Blake, Sadie Arickx, Kelley Crane, Alyssa Tegtmeyer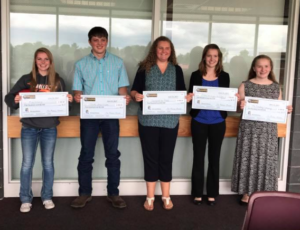 Pictured from left to right: Ravyn Knecht, Daniel Wilbur, Madison Daniels, Alyssa Tegtmeyer, Sadie Arickx
# # #
Ref # 6147