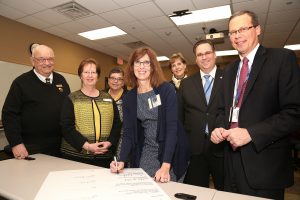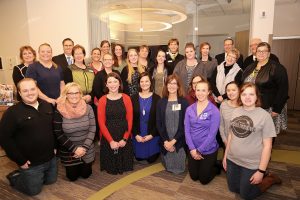 The University of Iowa College of Nursing and North Iowa Area Community College (NIACC) have entered into a new agreement to allow NIACC nursing graduates to seamlessly transfer to the University of Iowa (UI) and complete their Bachelors of Nursing Science (BSN) degree in one year.
This articulation agreement, which is called "RN to BSN 3+1," is significant for NIACC nursing students who wish to pursue their BSN. By enrolling in the program, qualifying NIACC students who have completed their nursing diploma can continue their education by attaining their BSN through UI's Registered Nurse to Bachelor of Science in Nursing (RN to BSN) program.
UI College of Nursing Dean Julie Zerwic, NIACC President Steve Schulz, and NIACC Interim Health Division Chair Laurie DeGroot signed the agreement in McAllister Hall on the NIACC campus.
"The University of Iowa College of Nursing is pleased to formalize this 3+1 agreement with North Iowa Area Community College. UI's RN to BSN program is designed for associate degree and diploma-prepared RNs who are ready to expand their nursing skills and professional potential by earning the BSN. This new articulation agreement will provide qualifying NIACC nursing students a fast track to continue their educational journey by offering a seamless transition into our nationally ranked RN to BSN program," said Dean Zerwic, UI College of Nursing.
"NIACC is proud to partner with the University of Iowa to create this pathway for students. The agreement allows students to continue to live and work in their community, it shortens the time to degree completion, and it helps to minimize student debt," according to NIACC President Steve Schulz. "This articulation agreement is a commitment by both NIACC and the University of Iowa to not only provide our students a purposeful pathway to the BSN degree, but to work together to train and educate the nurses Iowa will need to thrive in the future."
Ranked fourth in the country, UI's RN to BSN program is offered online and provides access to baccalaureate education for nurses throughout the state. Nurses who graduate from this prestigious program acquire knowledge and skills that help enhance their ability to provide quality care to diverse patient populations that have increasingly complex health care needs.
"We are very excited to announce this new articulation agreement. This 3+1 curriculum plan will provide advanced placement in the RN to BSN program to students meeting requirements prior to graduation from the NIACC Associate Degree Nursing program," explained Laurie DeGroot, MSN, RN, interim health division chair, NIACC. "This articulation agreement and curriculum plan is in response to the Institute of Medicine's recommendation to ensure education systems that promote seamless academic progression for nurses to achieve higher levels of education."
This new agreement is also significant because it will help combat state and national nursing shortages. According to the U.S. Bureau of Labor Statistics, the average age of a nurse in the United States is 47. The Iowa Board of Nursing reports that nearly half (44.9%) of registered nurses in Iowa are 50 years old or older. This partnership will enable NIACC graduates to help fill the void of the aging and retiring nursing workforce while allowing the students to continue working in their communities as they complete their degree.
"This articulation agreement opens up great possibilities for those seeking nursing education in the Mason City area and beyond," noted UI President Bruce Harreld. "The University of Iowa is committed to providing high quality educational opportunities to the citizens of our state, and this agreement is a model for the ways in which public higher education institutions in Iowa can work together to provide the best opportunities possible for Iowans."
# # #
 Ref # 6335
About the University of Iowa College of Nursing
With renowned faculty, advanced clinical experiences, and a tradition of innovative leadership, the University of Iowa College of Nursing is consistently ranked as one of the best nursing programs in the nation. Our graduates are sought after as highly skilled professionals who have received a rigorous education of the highest quality. Established in 1898, the UI College of Nursing has a rich history of preparing nurses to achieve excellence in clinical practice, research, and leading systems of health care. Learn more at https://nursing.uiowa.edu.
About NIACC
North Iowa Area Community College (NIACC) is a nationally-ranked, two-year institution located in North Central Iowa that serves students of all ages and abilities. Starting in 1918 as Mason City Junior College, NIACC has the distinct privilege of being the oldest Iowa community college. In 2018, NIACC will be celebrating the College's 100 year anniversary. Between 2012 and 2014, the college received four national rankings, including being ranked in the top 10 percent of all community colleges in the nation. Visit www.niacc.edu to learn more.

CONTACT
Jamie Nicpon, Director of Strategic Communications, UI College of Nursing, 319-335-9917, james-nicpon@uiowa.edu
Valerie Zahorski-Schmidt, Director of Marketing, NIACC, 641-422-4435,
valerie.zahorski-schmidt@niacc.edu