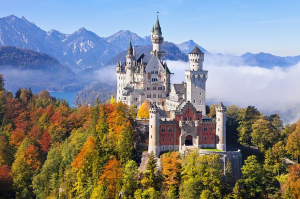 The 2017-18 Travel and Adventure Film Series continues with "Germany and Switzerland" at 7:00 p.m. on Friday, March 9 in Beem Center Room 200, located on the North Iowa Area Community College (NIACC) campus. The 2017-18 Travel and Adventure Series is sponsored by NIACC.
Travel to Germany and Switzerland with the world's most traveled filmmaker, Marlin Darrah. In Munich, where locals specialize in good living, we visit boisterous markets and go-for-Baroque palaces, while office workers surf in the Isar River. Heading into the foothills of the Alps, we tour the fairy-tale castles of "Mad" King Ludwig, and cross into Tirol to conquer a desolate ruined castle. Then we climb atop the Zugspitze, the highest point in Germany.
Cruising the Rhine River, we dodge riverboat traffic and the legendary Loreley. After climbing castles and descending into dungeons, we relax with Rhine wine. Then tour Burg Eltz — a lived-in castle where the noble lady still puts out fresh flowers. From there we travel to the walled town of Rothenburg to see Germany's best wood carving, a vivid dose of medieval punishment, and a tour with the night watchman of the town's lamp-lit ramparts.
After visiting Germany's greatest Gothic Cathedral in Cologne, we'll enjoy the good life, German-style, at a top mineral spa and try our luck at the Versailles of casinos in Baden-Baden, then crank-up some old-time music and explore an open-air museum in the romantic Black Forest.
Berlin is back, resuming its place as a great European capital. We climb the Reichstag's new glass dome, sway at a modern-day cabaret, and pop a few chocolates in the now thriving eastern sector. Along with Germany's finest art, complicated Berlin also has hidden remnants of its fascist and communist past. In a city that's rebounding and rebuilding, we crane our necks at Potsdamer Platz, Europe's newest Times Square.
In this program, we'll also focus on an often-overlooked side of Switzerland — Luzern, Bern, Zürich, and Lausanne. Enjoying the country's urban charms, we'll get some exercise, from ringing a very big bell to doing a little river rafting — without the raft. We'll also enjoy a variety of eye-opening art, from Chagall and Klee to pieces created by inmates of an asylum. Then we'll ponder a few Swiss innovations, from their open-minded drug policies to their hush-hush underground arsenals. And it's all before a backdrop of Switzerland's stunning natural beauty.
If Heidi is alive, she's in this sky-high corner of the Swiss Alps, with cowbells ringing on breathtaking ridges. After settling into a traditional village where locals scythe hay by hand, we hike and bike. Then with a blast from an alphorn, get sprayed by waterfalls raging deep inside a mountain, and savor local cheese at 10,000 feet. For a finale, we ride Europe's highest railway up the mighty Jungfrau for hot cocoa, glacier sledding, and oh-wow views.
The 2017-18 Travel and Adventure Film Series is now being shown in the Beem Center, Room 200. These films appeal to a wide audience of travelers. Beautiful scenery, out-of-the-ordinary locations, various cultures and people are depicted throughout the films. Tickets are only $5 for adults and $3 for students. For information, call the NIACC Continuing Education office at 641-422-4358.
# # #
Ref # 6340