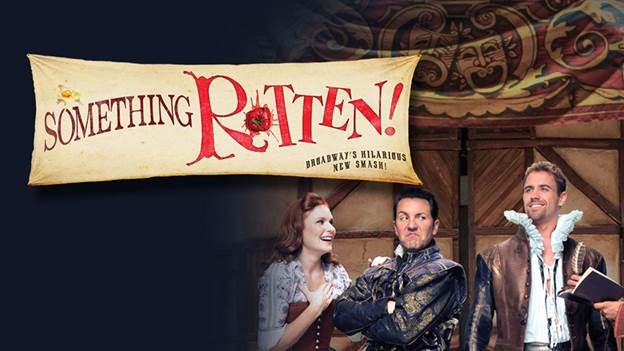 The Performing Arts and Leadership Series proudly presents Something Rotten! at the North Iowa Community Auditorium on the NIACC campus at 7:00 p.m. on Sunday, April 28th, 2019. This presentation is part of the 2018-2019 Performing Arts and Leadership Series.
This hilarious new musical comedy tells the story of brothers Nick and Nigel Bottom, two playwrights stuck in the shadow of that Renaissance rock-star Will Shakespeare. When a soothsayer foretells the next big thing in theatre involves singing, dancing, and acting at the same time, the Bottom brothers set out to write the world's very first MUSICAL!
With the most singing, the most dancing and the most gut-busting laughs on Broadway, it's something wonderful… something for everyone…it's Something Rotten!
"The funniest musical comedy in at least 400 years!" (Time Out New York)
With its heart on its ruffled sleeve and sequins in its soul, Something Rotten! is an uproarious dose of pure Broadway fun and an irresistible ode to musicals — those dazzling creations that entertain us, inspire us, and remind us that everything's better with an exclamation point!
To learn more about Something Rotten!, visit their website at www.RottenBroadway.com  or watch a video at https://www.niacc.edu/palvideos
For tickets to the show, call the NIACC Box Office at 1-888-466-4222, extension 4188. Tickets may also be purchased online at www.niacc.edu/boxoffice.
Platinum sponsors include Samuel & Patricia Congello, Elizabeth Muse Norris Foundation, Globe Gazette, Lee Foundation, Mason City Clinic, Mercy Medical Center of North Iowa, and Principal Financial Group.
Gold sponsors include Neurosurgery of North Iowa Drs. Beck and Bhangoo, First State Bank Belmond, Dean Genth & Dr. Gary Swenson, First Citizens National Bank, Henkel Construction Company, Historic Park Inn, MBT Bank and the Hanson Family Foundation, Dr. Bryan and Alicia Navarette, Northwoods State Bank, North Iowa Eye Clinic P.C., Stratford Foundation, Sukup Manufacturing Co., Holiday Inn Express, KGLO, KIMT, and North Iowa Broadcasting.
# # #
Ref # 6479