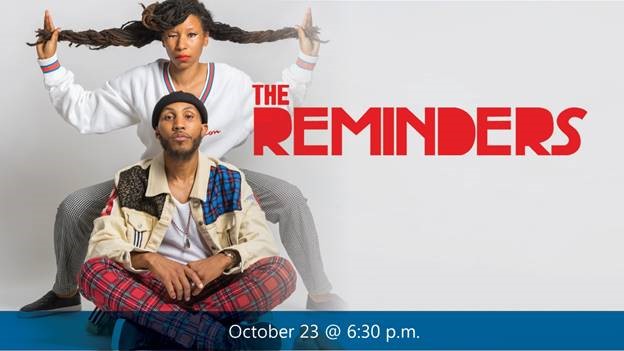 Principal Financial Group Foundation proudly presents The Reminders at the North Iowa Community Auditorium on the NIACC campus at 6:30 p.m. on Wednesday, October 23, 2019. This presentation is part of the 2019-2020 Performing Arts and Leadership Series.
The Reminders are a hip-hop duo that promotes positive vibes with family-oriented music. Their thoughtful lyrics about identity, bullying, and their personal experiences help children build positive self-esteem and self-worth. Brussels-born Big Samir and Queens-born Aja Black create hip-hop music for families to experience together, often bringing their own children on tour to share the stage with them.
Big Samir raps with dazzling speed and sophistication, displaying his street smarts in both his lyrics and cool demeanor. His style is beautifully complimented by Aja Black's confident performance and unique vocal stylings. Releasing their debut album in 2008 and most recently, "Born Champions" in 2012, the Reminders have been recognized and applauded for their work internationally through concerts, tours, music awards, TV and radio appearances, and their incredible and dedicated fan base. Having shared the stage with artists such as Snoop Dogg, the Reminders have established a firm place in today's music scene, garnering international acclaim. Beyond performances and appearances, the duo is constantly and actively engaged with community organizations, schools, and universities delivering workshops, talks, and specially catered performances.
The Reminders transcend what is expected. Their stage presence and high energy shows leave crowds in awe the world over, allowing the duo to uplift and entertain all at once. Their unique mashup of razor sharp rhymes; raw, soulful vocals; and reggae-tinged hip hop beats are the perfect backdrop for their inspiring message, leaving a lasting impression on listeners with audiences always wanting more. The Reminders take hip hop and move it beyond genre, time, and space to create a musical experience.
Their two-day residency will engage many students with a dance clinic, school visit, and a school performance as part of NIACC's Explore Day.
This performance is part of the Performing Arts and Leadership Family Package. The Family Pack offers three wonderful family-friendly shows that are sure to be a hit with everyone in the house! Get a ticket to all three family shows – The Reminders, Llama Llama Live, and The Great DuBois – for just $49 and enjoy three nights of family togetherness and making memories! The Family Package requires all three shows to be purchased for the discount. Individual tickets to each show are also available. Regardless of age, everyone is required to have a ticket.
To learn more about The Reminders visit their website at www.theremindersmusic.com or watch a video at www.niacc.edu/palvideos.
For tickets to the show, call the NIACC Box Office at 1-888-466-4222, extension 4188. Tickets may also be purchased online at www.niacc.edu/boxoffice.
The Broadway sponsor for the 2019-2020 Performing Arts and Leadership Series is Drs. Beck, Bhangoo, and Ondoma: Neurosurgery of North Iowa, P.C.
Platinum sponsors include Samuel & Patricia Congello, Mason City Clinic, Elizabeth Muse Norris Charitable Fund, Lee Foundation, Globe Gazette, MercyOne North Iowa Medical Center, and Principal Financial Group.
Gold sponors include First Citizens Bank, First State Bank of Belmond, Dean Genth & Dr. Gary Swenson, The G. G. George Family, Henkel Construction Company, Historic Park Inn, MBT Bank & The Hanson Family Foundation, Northwoods State Bank, North Iowa Eye Clinic P.C., Stratford Foundation, Sukup Manufacturing Co., Holiday Inn Express, KGLO, KIMT, North Iowa Broadcasting, and Country Inn & Suites.
#  #  #
Ref#6531