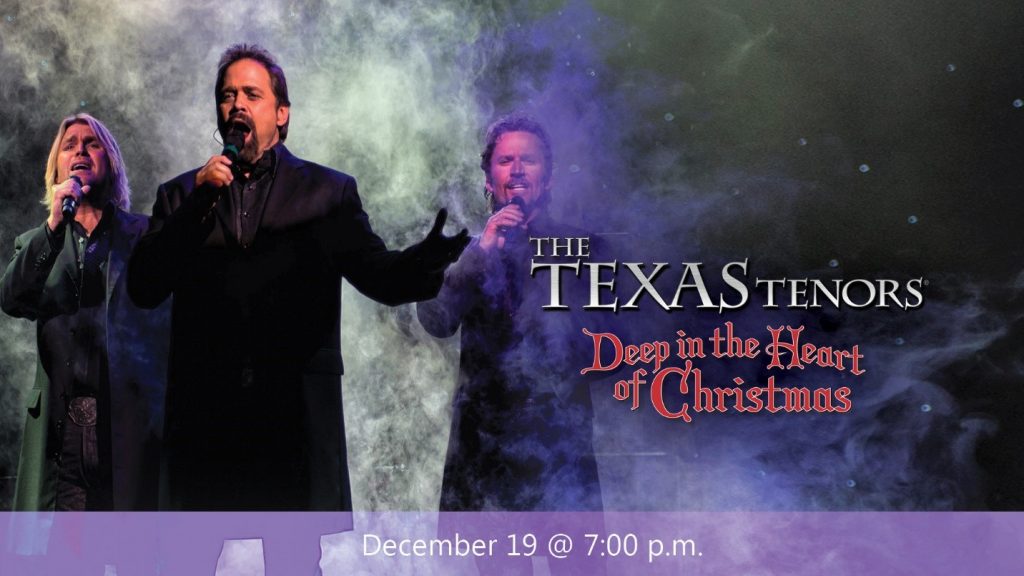 The G.G. George Family and the Historic Park Inn proudly present The Texas Tenors: Deep in the Heart of Christmas at the North Iowa Community Auditorium on the NIACC campus on Thursday, December 19th, 2019. The 4:00 p.m. matinee has tickets available, while the 7:00 p.m. performance is sold out. This presentation is part of the 2019-2020 Performing Arts and Leadership Series.
 The Texas Tenors are the most successful music group and third highest selling artist in the history of America's Got Talent! Since appearing on the show in 2009, JC, Marcus, and John have released 4 studio albums, 2 PBS Specials, 4 DVDs, multiple singles and a children's book.  They have earned impressive recognition including 3 Emmy Awards, The Gelett Burgess Award for Excellence in Children's Literature, and the distinction of being Billboard Magazine's 2017 #10 Classical Crossover Artist in the World. Their most recent albums "Rise" and "A Collection of Broadway and American Classics" both debuted at #1 on the Billboard Classical Chart.
These classically-trained, versatile tenors have performed more than 1300 concerts around the world, including headline shows in Las Vegas, China, and a 24-city tour of the United Kingdom. With three different live concerts "Rise: Live on Tour," the rousingly patriotic "Let Freedom Sing," and the holiday favorite "Deep in the Heart of Christmas," their concerts appeal to all ages and have been wildly successful from performing arts centers, casinos and symphony halls to outdoor festivals and corporate events. In addition to collaborations with some of the most prestigious symphonies in the world including the Houston Symphony, Pittsburgh Symphony, and The City of Prague Orchestra, The Texas Tenors have performed at The White House National Tree Lighting, Congressional Medal of Honor Ceremonies, numerous charity events, NBA games, and The PBR World Finals in Las Vegas.
 The Texas Tenors consists of three incredibly talented individuals. With their unique blend of country, classical, Broadway, and current pop music, Marcus Collins, John Hagen, and JC Fisher each bring their own unique backgrounds in entertainment and musical experience together to create an unforgettable experience. They use breathtaking vocals, humor, and a touch of cowboy charm to create an unforgettable Christmas show. The group is celebrating 10 years together. Earlier this year, they were honored to be included among the top 50 acts in the world and the only vocal group from the United States invited to compete on NBC's primetime series America's Got Talent: The Champions.
To learn more about the show, visit www.thetexastenors.com or watch a video at www.niacc.edu/palvideos.
For tickets to the 4:00 p.m. show, call the NIACC Box Office at 1-888-466-4222, extension 4188. Tickets may also be purchased online at www.niacc.edu/boxoffice. The 7:00 p.m. performance is sold out.
The Broadway sponsor for the 2019-2020 Performing Arts and Leadership Series is Drs. Beck, Bhangoo, and Ondoma: Neurosurgery of North Iowa, P.C.
Platinum sponsors include Samuel & Patricia Congello, Mason City Clinic, Elizabeth Muse Norris Charitable Fund, Lee Foundation, Globe Gazette, MercyOne North Iowa Medical Center, and Principal Financial Group.
Gold sponsors include First Citizens Bank, First State Bank of Belmond, Dean Genth & Dr. Gary Swenson, The G. G. George Family, Henkel Construction Company, Historic Park Inn, MBT Bank & The Hanson Family Foundation, Northwoods State Bank, North Iowa Eye Clinic P.C., Stratford Foundation, Sukup Manufacturing Co., Holiday Inn Express, KGLO, KIMT, KLKK-FM 103.7, and Country Inn & Suites.
# # #
Ref # 6556