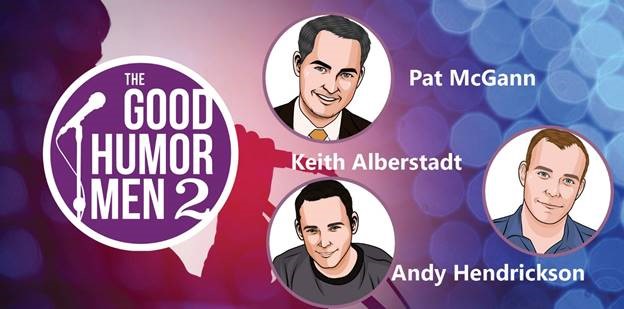 The NIACC Performing Arts & Leadership Series proudly presents Good Humor Men 2 at the North Iowa Community Auditorium on the NIACC campus at 7:30 p.m. on Saturday, January 25th, 2020. This presentation is part of the 2019-2020 Performing Arts and Leadership Series.
Three more of America's funniest stand-up comedians come to Mason City for one night of clean comedy. Pat McGann (The Late Show), Keith Alberstadt (The Late Show and Last Comic Standing), and Andy Hendrickson (The Late Show with David Letterman) come for an evening packed with punchlines, devilishly clever writing, and hair-trigger laughs. A ticket gets you a seat even though you will be rolling in the aisles.
Pat McGann began touring as the opening act for Sebastian Maniscalco in 2017, moving with him from clubs to theaters and arenas, including four sold-out shows at Madison Square Garden. Pat is quickly rising as one of the sharpest stand-ups in the comedy world. Pat's resume includes performances on The Late Show with David Letterman, The Late Show with Stephen Colbert, Montreal's famed Just for Laughs festival, Gilda's LaughFest, the Great American Comedy Festival, and the Nashville Comedy Fest. A husband and father of three young children, Pat's appeal stems from his quick wit and relatable take on family life and marriage. He still calls Chicago his home.
Keith Alberstadt has done just about everything – Late night TV appearances, freelance writing, military tours in the Middle East, and more. He has appeared on The Late Show with David Letterman, Late Night with Seth Meyers, Last Comic Standing, and The Late Show with Stephen Colbert. He has also written for Saturday Night Live and Late Night with Jimmy Fallon, and has been on several tours for US troops in the Middle East. With a playful personality that radiates onstage, Keith grabs every audience with a genuine likability and a clever wit unmatched in the field today. Keith has four albums in rotation on Pandora and SiriusXM Radio. His latest, Walk It Off, ranked in the Top Ten comedy albums on iTunes the day after his appearance on The Late Show with Stephen Colbert.
Andy Hendrickson is a comedian, writer and actor who built his career in New York City. He now resides in Los Angeles. He has a clever, conversational style that has been engaging audiences for over 15 years. Andy has a matter-of-fact sense of humor and specializes in highlighting life's silly details. One reviewer said it best, "He's the exasperated guy next door." He's had multiple TV appearances including: The Late Show with David Letterman, The Late Late Show with Craig Ferguson, Gotham Comedy Live, NBC/Seeso's The Guest List, and more. Internationally, Andy has performed at clubs and festivals throughout the world, including Canada, England, Holland and Ireland. He also performed for our troops on Outback's Feeding Freedom Tour that provided entertainment for the troops on military bases across Afghanistan. His comedy CD Underachiever recently released to rave reviews and debuted in the iTunes Top 10.
To learn more about the show, visit www.niacc.edu/pals or watch a video at www.niacc.edu/palvideos.
For tickets to the show, call the NIACC Box Office at 1-888-466-4222, extension 4188. Tickets may also be purchased online at www.niacc.edu/boxoffice.
The Broadway sponsor for the 2019-2020 Performing Arts and Leadership Series is Drs. Beck, Bhangoo, and Ondoma: Neurosurgery of North Iowa, P.C.
Platinum sponsors include Samuel & Patricia Congello, Mason City Clinic, Elizabeth Muse Norris Charitable Fund, Lee Foundation, Globe Gazette, MercyOne North Iowa Medical Center, and Principal Financial Group.
Gold sponsors include First Citizens Bank, First State Bank of Belmond, Dean Genth & Dr. Gary Swenson, The G. G. George Family, Henkel Construction Company, Historic Park Inn, MBT Bank & The Hanson Family Foundation, Northwoods State Bank, North Iowa Eye Clinic P.C., Stratford Foundation, Sukup Manufacturing Co., Holiday Inn Express, KGLO, KIMT, KLKK-FM 103.7, and Country Inn & Suites.
# # #
Ref # 6563