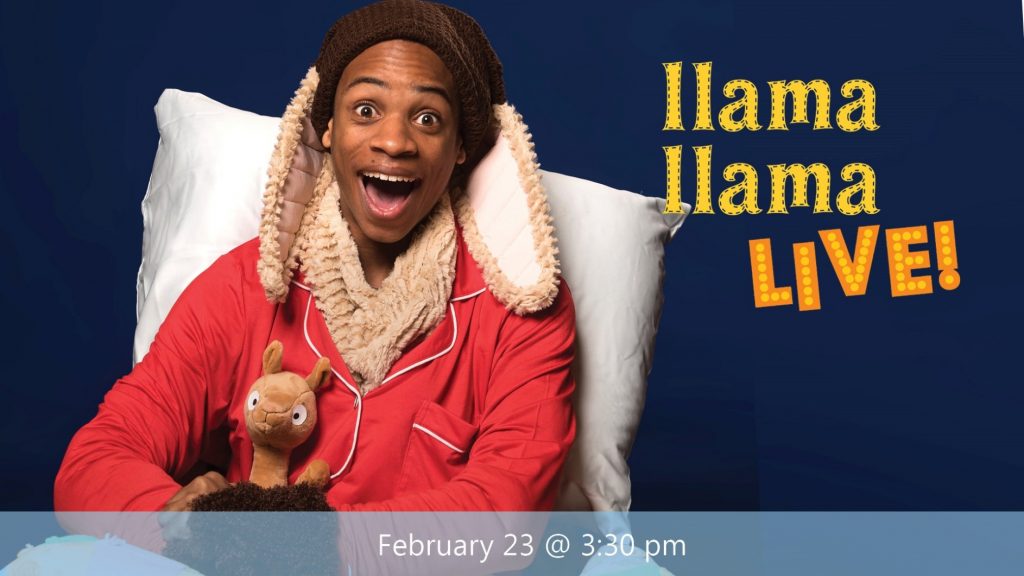 Principal Financial Group Foundation and Holiday Inn Express proudly presents Llama Llama Live! at the North Iowa Community Auditorium on the NIACC campus at 3:30 p.m. on Sunday, February 23rd, 2020. This presentation is part of the 2019-2020 Performing Arts and Leadership Series.
Anna Dewdney's Llama Llama book series has been a bedtime favorite for kids all around the world for years, and recently became a Netflix original series. Now Llama Llama Live! comes to Mason City as a hilarious, heartwarming musical that will have everyone doing the Bedtime Dance!
Families will love this original, world-premiere musical, recommended for ages 3 and up. Ticketholders are invited to come to the North Iowa Community Auditorium early to make a Llama Llama-themed craft with the MacNider Art Museum from 2:15 – 3:15 p.m. You can even wear your favorite pajamas like Baby Llama! The craft is complimentary for Llama Llama Live! ticketholders.
Families can join in the fun when Llama bursts into his bedroom looking frantically for his favorite red pajamas. Mama, hearing the commotion, comes upstairs with Llama's pajamas in the laundry basket to ask about his day – his very first day at school – and put him to bed. But when she goes downstairs to do the million things that busy mothers have to do at the end of the day, Llama is too wiggly to fall asleep, and besides, he's thirsty. He howls for Mama to come back up, but she doesn't arrive.
Will she ever return?
"What's amazing about the Llama Llama books," said Director Marty Johnson, "is that they are telling a story about a normal child who is going through scary moments about growing up and has to learn how to take care of himself in the simplest ways to feel safe, comfortable, and become a little more independent. What we're doing with this musical is to bring life to some of those situations, as Llama learns that if he's anxious, he can calm down. Llama is already living in an imaginary world, but sometimes that scary shadow is just an old towel and a baseball bat left on the floor. We're just helping him deal with the choices he has made."
The musical features original cast members Kris Anthony Williams as the kindergarten-age Llama, Sheila Townsend as Llama's Mama, Xavier Ali as Fuzzy, and Elisha X Beston as Dinosaur. Leah Sanginiti joins the cast as Robot.
Award-winning playwright-composer-lyricist Austin Zumbro has written clever tunes in a variety of styles to create a fun-filled musical that expresses the imagination of childhood for both children and adults to enjoy, including a song about the history of sleepwear through the ages.
To watch a video, visit www.niacc.edu/palvideos.
For tickets to the show, call the NIACC Box Office at 1-888-466-4222, extension 4188. Tickets may also be purchased online at www.niacc.edu/boxoffice. Regardless of age, everyone is required to have a ticket.
The Broadway sponsor for the 2019-2020 Performing Arts and Leadership Series is Drs. Beck, Bhangoo, and Ondoma: Neurosurgery of North Iowa, P.C.
Platinum sponsors include Samuel & Patricia Congello, Mason City Clinic, Elizabeth Muse Norris Charitable Fund, Lee Foundation, Globe Gazette, MercyOne North Iowa Medical Center, and Principal Financial Group.
Gold sponsors include First Citizens Bank, First State Bank of Belmond, Dean Genth & Dr. Gary Swenson, The G. G. George Family, Henkel Construction Company, Historic Park Inn, MBT Bank & The Hanson Family Foundation, Northwoods State Bank, North Iowa Eye Clinic P.C., Stratford Foundation, Sukup Manufacturing Co., Holiday Inn Express, KGLO, KIMT, KLKK-FM 103.7, and Country Inn & Suites.
# # #
Ref # 6568