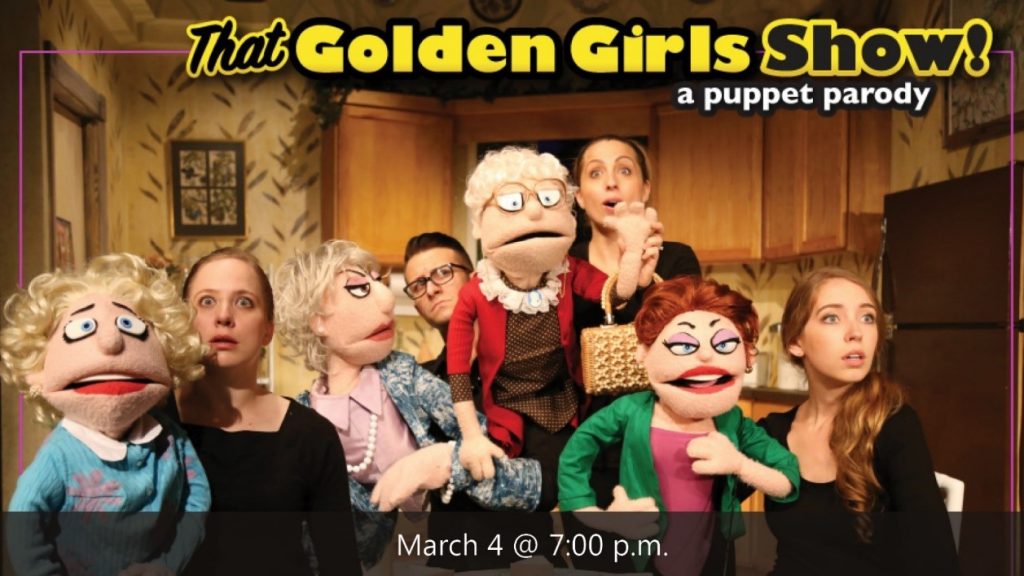 The NIACC Performing Arts & Leadership Series proudly presents That Golden Girls Show! at the North Iowa Community Auditorium on the NIACC campus at 7:00 p.m. on Wednesday, March 4th, 2020. This presentation is part of the 2019-2020 Performing Arts and Leadership Series.
That Golden Girls Show! is a brand-new show that parodies classic Golden Girls moments – with puppets! Get set for an evening of cheesecake, laughter, jazzercise, shoulder pads, sex, and the elegant art of the quick-witted put down.
"Re-live the big-earringed, heavy-sleeved glory of Dorothy, Blanche, Rose, and Sophia through darling felt effigies at this love letter to one of the greatest TV series of all time" – TimeOut
From Sophia's get-rich-quick schemes, to Rose's tales from St Olaf, Blanche's insatiable hunt for men and the Fountain of Youth, and Dorothy's daily struggle to make sense of her life, That Golden Girls Show! is a loving parody of the hit TV show.
The Golden Girls television show starred Beatice Arthur, Betty White, Rue McClanahan, and Estelle Getty as four friends sharing a home in Miami, Florida. The series won the Primetime Emmy Award for Outstanding Comedy series twice, three Golden Globe Awards for Best Television Series – Musical or Comedy, and each of the four stars received an Emmy Award.
Devoted fans will fondly remember the four sassy ladies. For first-timers, That Golden Girls Show! will be a joyful introduction to the brilliance of the television series.
The cast includes Meggie Doyle as Rose, Erin Ulman as Blanche, Casey Andrews as Dorothy and Ashely Brooke as Sophia.
Direction by Michael Hull, Written by Doug Kmiotek, Puppets by Rockefeller Productions, David Goldstein (Set & Lighting Design), David Ferdinand (Sound Design), Jessica Haff (Puppet Supervisor), PRF Productions/Peter Feuchtwanger (Production Supervisor), Mason Hughes (Production Stage Manager), Peter Brown (Assistant Stage Manager), ABM Agency/Amanda Bohan (Marketing Director), Krista Robbins (Company Manager), General Management by Theater Mogul/Jill Bowman, Exclusive Tour Direction by Broadway & Beyond Theatricals/Victoria Lang, Ryan Bogner and Tracey McFarland, Co-created by Thomas Duncan-Watt, Originally created and produced by Jonathan Rockefeller. Production by Shady Pines Entertainment.
This show includes some adult subject matter. Appropriate for ages 13 and older.
To learn more about the show, visit www.thatgoldengirlsshow.com or watch a video at www.niacc.edu/palvideos.
For tickets to the show, call the NIACC Box Office at 1-888-466-4222, extension 4188. Tickets may also be purchased online at www.niacc.edu/boxoffice.
The Broadway sponsor for the 2019-2020 Performing Arts and Leadership Series is Drs. Beck, Bhangoo, and Ondoma: Neurosurgery of North Iowa, P.C.
Platinum sponsors include Samuel & Patricia Congello, Mason City Clinic, Elizabeth Muse Norris Charitable Fund, Lee Foundation, Globe Gazette, MercyOne North Iowa Medical Center, and Principal Financial Group.
Gold sponsors include First Citizens Bank, First State Bank of Belmond, Dean Genth & Dr. Gary Swenson, The G. G. George Family, Henkel Construction Company, Historic Park Inn, MBT Bank & The Hanson Family Foundation, Northwoods State Bank, North Iowa Eye Clinic P.C., Stratford Foundation, Sukup Manufacturing Co., Holiday Inn Express, KGLO, KIMT, KLKK-FM 103.7, and Country Inn & Suites.
# # #
Ref # 6572