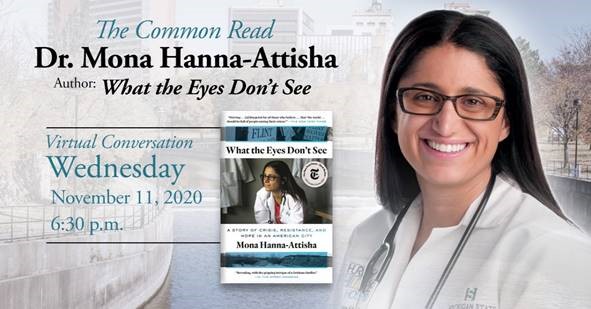 MercyOne North Iowa Medical Center proudly presents a virtual conversation with Dr. Mona Hanna-Attisha, author of What the Eyes Don't See. We are pleased to invite our entire community to join us online on Wednesday, November 11 at 6:30 p.m. to view a livestream of a conversation between Dr. Mona Hanna-Attisha and Dr. Charlene Widener, Vice President of Academic Affairs and Student Success at NIACC.
The conversation will be livestreamed as a complimentary message. It can be accessed on the NIACC YouTube account or the NIACC Performing Arts & Leadership Series Facebook page when it airs.
Dr. Mona Hanna-Attisha is a pediatrician, professor, and public health advocate who spearheaded efforts to reveal and fix the Flint, Michigan water crisis. Alongside a team of researchers, parents, friends, and community leaders, Dr. Hanna-Attisha broke the story that in 2014, a change in the city's water source resulted in lead leaching into the drinking water, causing irreversible damage to Flint's residents. As a local pediatrician, she had to act.
In a tremendous act of bravery, Dr. Hanna-Attisha held a press conference where she revealed her team's findings, prioritizing the health of her community over the risk to her career. She faced a brutal backlash, but her persistence paid off: the city switched the water back to its original source. She has since been called to testify three times before the United States Congress, was awarded the Freedom of Expression Courage Award by PEN America, and was named one of Time magazine's "100 Most Influential People in the World" and one of USA Today's "Women of the Century."
Dr. Hanna-Attisha's powerful book, What the Eyes Don't See, is a beautifully rendered first-hand account of the signature environmental disaster of our time that has become a timely playbook of resistance, hope, and personal advocacy. Paced like a scientific thriller, What the Eyes Don't See is a riveting look at a shameful disaster that became a tale of hope. The book grapples with environmental injustice while sharing a story of a city on the ropes that came together to fight for justice, self-determination, and the right to build a better world for their – and all of our – children. It also tells the inspiring personal story of Dr. Hanna-Attisha as an immigrant, doctor, and scientist.
Inspired by the children that she still cares for, Dr. Hanna-Attisha created the Pediatric Public Health Initiative, a model program to improve outcomes for Flint children and share best practices throughout the nation. In light of the global Covid-19 pandemic, Dr. Hanna-Attisha, who personally recovered from the virus, has donated her convalescent plasma three times. She received her bachelor's and Master of Public Health degrees from the University of Michigan and her medical degree from Michigan State University College of Human Medicine. She completed her residency at Children's Hospital of Michigan in Detroit, where she was chief resident.
The Common Read is a program designed to engage North Iowa Area Community College students, staff, faculty, and community members in a unified intellectual activity. For first-year students, it introduces them to academic expectations, respectful discourse, and community building. The Common Read is supported by the Performing Arts and Leadership Series. First-year students will be asked to read the book as part of their Composition One requirements. The Common Read book is available through the NIACC Book Zone.
This program is supported by the Academic Affairs board of the institution and a host of individual faculty, staff, and community members on the Common Read Committee.
For more information, visit www.niacc.edu/pals. To learn more about Dr. Mona Hanna-Attisha, visit www.monahannaattisha.com.
This engagement is supported by the Arts Midwest Touring Fund, a program of Arts Midwest that is funded by the National Endowment for the Arts, with additional contributions from the Iowa Arts Council and the Crane Group.
# # #
Ref # 6616