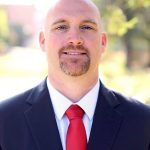 MASON CITY – Cam Olson will become North Iowa Area Community College's fifth athletic director in school history.
Olson, who previously served as an interim athletic director at San Jose City College in 2019, replaces current athletic director Dan Mason, who is retiring on June 30.  Mason has served as NIACC's athletic director since 2006.
"I am excited to welcome Cam to the NIACC team," NIACC President Steven Schulz said, "and I look forward to working with him. Cam's values are a great match to the NIACC culture and NIACC brand that have been established over the years."
Olson begins his NIACC tenure on June 7.  "I am honored and humbled to be leading NIACC athletics into a new era," Olson said. "With a century of athletic history and a tremendous amount of leadership and stability over the years for the Trojans, it is incredibly exciting for me to carry this torch into the future."
Olson, who also served as an interim athletic director at Fresno City College in 2017-18, received his Bachelors of Science degree from Idaho State University in 2001, and he earned his Master's degree in physical education and athletic administration from Idaho State University in 2007.
"Cam brings a vast amount of experience in college athletics, which include experience as a previous athletic director," NIACC Vice President Bridgett Golman said.
Olson said he knew early on in the interview process that NIACC was a place he wanted to call his home.  "After numerous visits with administration, coaches, and staff throughout this process," Olson said, "it became very clear to me – early on really – that this is where I wanted to be."
"NIACC is full of talented and welcoming people who have a strong commitment to learning success and community engagement."
Olson said he's excited to get started in his new position.  "I am eager to arrive in Mason City," he said, "to start building relationships with my campus colleagues, athletics staff and student athletes, and within the community as we work together to propel Trojan athletics into the future."
NIACC'S PREVIOUS ATHLETIC DIRECTORS 
1967-1983 – Art Lundblad
1983-2001 – Jerry Dunbar
2001-2006 – Ryan McGuire
2006-2021 – Dan Mason
2021-current – Cam Olson
# # #
Ref # 6656