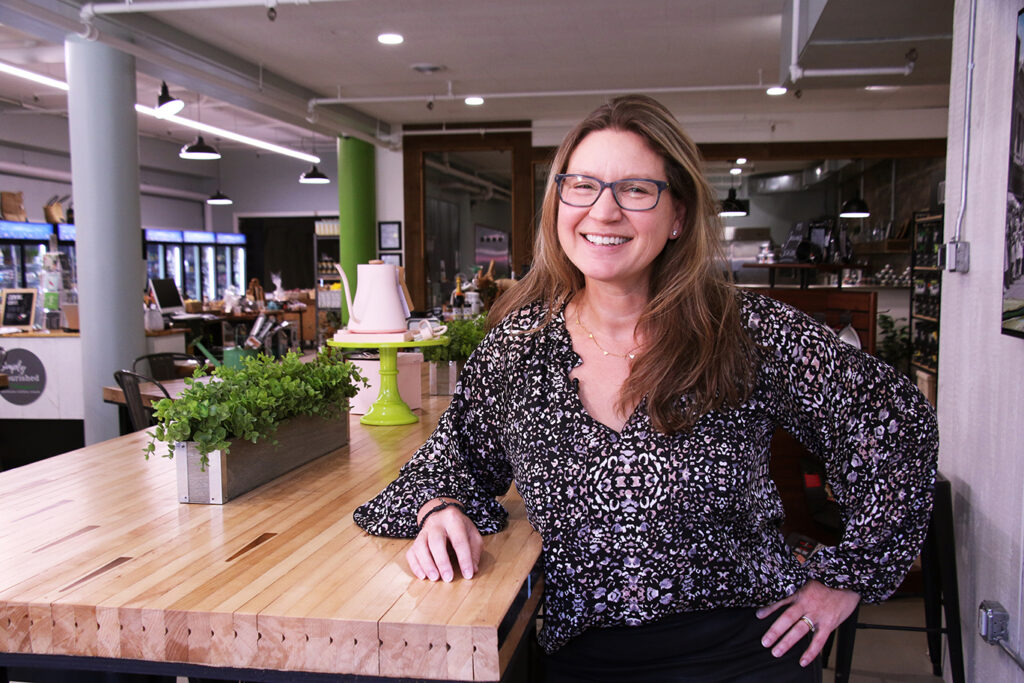 The NIACC John Pappajohn Entrepreneurial Center and North Iowa Area SBDC are proud to recognize Melissa Fabian of Simply Nourished and Foxtrot Properties in Mason City, IA as the July 2022 Entrepreneur of the Month.
In downtown Mason City, Melissa Fabian has brought back the old-fashioned neighborhood grocery store with a modern twist. Simply Nourished Mason City is a local and specialty food market with meats, vegetables, pantry items, and gifts all sourced from Iowa, Minnesota, Wisconsin, and Illinois producers. Melissa and her team pride themselves on the standards of customer service of yesteryear. "We know your name, we make recommendations," she says. But the neighborhood grocery store has been updated for modern needs. The entire store is gluten free and is dedicated to supporting local producers. "The biggest reward is the ability to fill food voids for local people who have allergies and issues with food to support them in their journey, but also supporting those local producers," Melissa says. "Whether it's allowing a rancher to expand or a farmer being able to plant more fields because of our store, watching the local food movement grow in North Iowa has been such a reward."
With Foxtrot Properties, LLC, Melissa is transforming disused space above Simply Nourished, renovating three historic commercial spaces into apartments. When completed, the four apartments will be a welcome addition to a city which is working to develop a vibrant live-work-play mix of business, residential, and recreation in the downtown district. "I think I've always been intrigued by old buildings," Melissa says. Coming to Mason City was really exciting because of the history of downtown and the immense stock of old buildings here." When Melissa and her husband saw the building, built in 1875, go up for sale, they jumped on the opportunity to fulfill their dream to take on a historic renovation project. Melissa says, "There's something about engaging with people on a daily basis and making a difference in their lives that I really enjoy. On the development side, it's what did we discover today, what did we find behind the walls, and what progress are we making that's really exciting." Renovating an almost 150 year old building has occasionally been challenging for Melissa, but never daunting.
The community response has been "fabulous", according to Melissa. "The word of mouth, the farmer's market has been supportive, the local non-profits have all been on board and helped us develop in the community." When opening Simply Nourished, Melissa knew that there was a hunger for a specialty market in downtown Mason City. A survey sent out to the community by Main Street Mason City identified a "specialty store" as one of the top five desires for downtown business.
Melissa worked with the NIACC Pappajohn Center and SBDC. She first reached out in 2020 after purchasing the property, knowing that she wanted to bring a business downtown and the importance of starting it off on the right foot. "We were able to go over the business plan, and get the assurance that we needed that we were taking the right steps forward. They were checking up with us, and ensuring we were on the right path and assisting us with finding opportunities for funding and support."
Melissa's advice to entrepreneurs: "Don't be scared. After you take that jump, it's really not scary on the other side."
The NIACC John Pappajohn Entrepreneurial Center is the expert in rural business innovation and success. In partnership with North Iowa's Small Business Development Center, together we provide tools, support, and resources to Iowa's entrepreneurs. We counsel both new and existing local businesses, from Main Street to industry leaders. We're growing Iowa's entrepreneurial culture through grade school initiatives, college and community programs, and business training and development. Contact the NIACC Pappajohn Center at 641-422-4111 or pappajohn@niacc.edu.
# # #
Ref# 6756