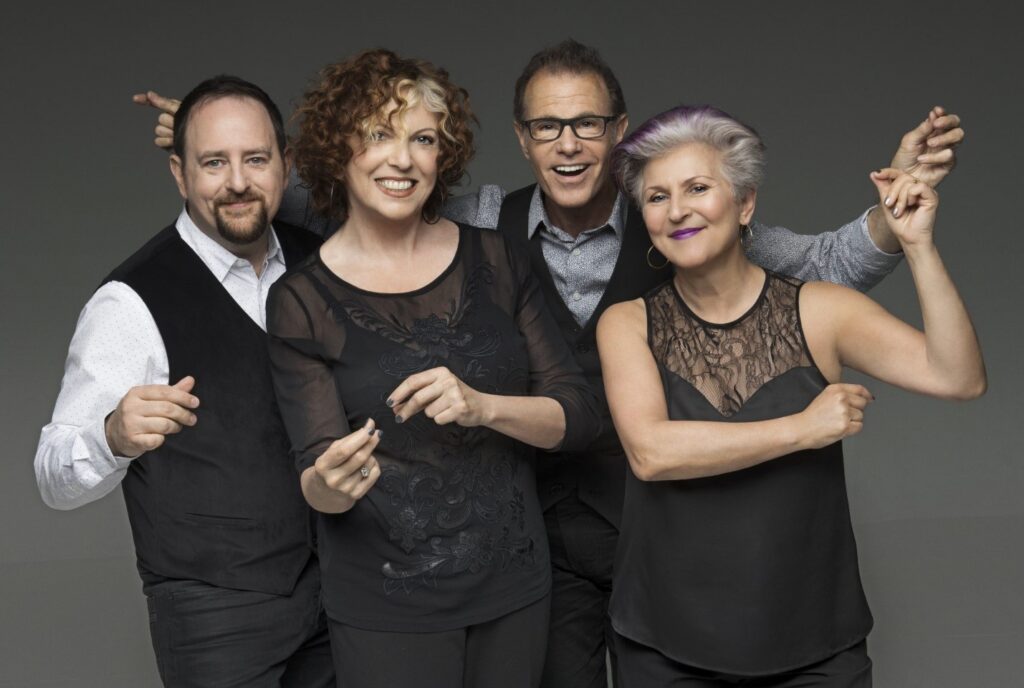 NIACC Performing Arts and Leadership Series proudly presents The Manhattan Transfer with The DIVA Jazz Orchestra at the North Iowa Community Auditorium on the NIACC campus at 7:00 p.m. on Monday, October 10th, 2022. This presentation is part of the 2022-2023 Performing Arts and Leadership Series.
Beginning with their first performances in the early 1970s, The Manhattan Transfer have become the cornerstones of contemporary music. Originally launched by Tim Hauser in 1969, Hauser, Alan Paul, Janis Siegel and Laurel Masse were the group by 1972. Cheryl Bentyne joined the group in 1979 after Laurel Masse left. Known for their amazing harmony and versatility, incorporating pop, jazz, R&B, rock and roll, swing, symphonic, and a cappella music, the group was signed by the legendary Ahmet Ertegun to Atlantic Records. The group made their recording debut with their self-titled album in 1975. Known primarily as an East Coast cult act, they expanded their following by starring in their own 1975 CBS-TV variety series as a summer replacement for the Cher Bono Show. Starting as an underground group in New York City, The Manhattan Transfer garnered international popularity when "Chanson D'Amour" from the 1976 Coming Out album became a number one hit in Europe.
Welcoming Curless – a founding member of famed Los Angeles a cappella group m-pact – to the fold, Janis Siegel (alto), Alan Paul (tenor) and Cheryl Bentyne (soprano) embrace a new dynamic and fresh possibilities for their legendary sound that artfully incorporates his low range into their established blend. The Junction, dedicated to the memory of Hauser, was produced by another master vocalist, five-time Grammy winner Mervyn Warren, a renowned film composer, arranger and producer. Warren, one of the founders of gospel/R&B a cappella legends Take 6, in addition to his intricate vocal arrangements, wrote the album's first single, the soulful ballad "Sometimes I Do."
Defying easy genre categorizations, The Manhattan Transfer became the first act to win Grammy Awards in the pop and jazz categories in one year (1981) for "Best Pop Performance by a Duo or Group with Vocal" for "Boy From New York City" and "Best Jazz Performance Duo or Group" for "Until I Met You (Corner Pocket)." In 1985, their album Vocalese made history as the single greatest Grammy nominated album in history in one year with 12 nominations. Vocalese earned two Grammys: "Best Jazz Vocal Performance, Duo or Group"; and "Best Vocal Arrangement for Two or More Voices" for "Another Night in Tunisia" (won by Bentyne and Bobby McFerrin). This album, which featured jazz legends Dizzy Gillespie, Ron Carter, and the Count Basie Orchestra, changed the perception of The Manhattan Transfer from superstar pop artists to formidable jazz singers.
For Siegel, performing "Birdland" in 1979 at The Grammy Awards was one of her personal highlights, along with singing twice at The White House, and performing at President Bill Clinton's inauguration in 1993 with Little Jimmy Scott. She says the group was blessed to know giants of the music business. "Working with Ahmet Ertegun, Arif Mardin; artists who are no longer here like Laura Nyro," she reflects. "We caught the tail end of an era." The Manhattan Transfer has also sung with musical greats Tony Bennett, Smokey Robinson, Bette Midler, Phil Collins, B.B. King, Chaka Khan, James Taylor, and Frankie Valli of The Four Seasons.
"As our work on The Junction, and the theme of the album reflects — democracy is the fabric of the group, and has been from the beginning," says Bentyne. "This album is completely us, a true snapshot of who we are right now but looking forward to exciting new chapters in the band's story. We all give great credit to our producer Mervyn Warren, without whom this project would not have come together as beautifully as it did. His participation, oversight, brilliant arrangements and production helped us make one of the strongest musical statements ever."
To learn more about The Manhattan Transfer and The DIVA Jazz Orchestra, visit their websites at manhattantransfer.net and divajazz.com.
For tickets to the show, call the NIACC Box Office at 641-422-4188. Tickets may also be purchased online at niacc.edu/boxoffice.
The Broadway sponsor for the 2022-2023 Performing Arts and Leadership Series is Dr. Tom & Pat Johnston.
Platinum sponsors include Elizabeth Muse Norris Foundation, Mason City Clinic, Globe Gazette, Lee Foundation, First Citizens National Bank, and Mercy Medical Center of North Iowa.
Gold sponsors include Samuel & Patricia Congello, First State Bank of Belmond, Henkel Construction Company, MBT Bank and the Hanson Family Foundation, NSB Bank, North Iowa Eye Clinic P.C., Stratford Foundation, Sukup Manufacturing Co., Drs. Douglas & Melissa Summerfield, and Neurosurgery of North Iowa.
In-Kind sponsors include Holiday Inn Express, KGLO, KIMT TV, North Iowa Broadcasting, and Country Inn & Suites.
manhattantransfer.net
divajazz.com