Minds On! Hands On!
The Minds On! Hands On! Camp is a great opportunity to explore technology you never imagined. The camp is designed for girls that have an interest in hands on careers in the industrial field.
Date:
June 20, 21, and 22, 2022
Location:
NIACC Careers Building and Murphy Manufacturing Technology Building
Time:
8:30 am ­- 3:30 pm
Eligible Participants:
Girls that will be in Grades 9-12 in Fall 2022
Registration Fee:
FREE
Camp is limited to 12 campers so please register early!
This year's camp will focus on the NIACC Heating and Air Conditioning program with a focus on maintenance and repair in the home. This is a great opportunity to learn basic home maintenance and repair that students can use in their everyday lives or to explore a possible career. Quality instruction will be delivered by NIACC staff members. Tours and guest speakers will be arranged so participants can learn about careers in the mechanical systems of home construction. Camp activities will be hands on so participants gain an understanding of what work is like in a skilled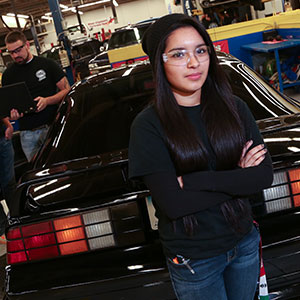 trades field. Campers will learn about all of the NIACC industrial programs: Welding, Tool & Die, Industrial Systems Technology, Industrial Mechanics and Maintenance, Heating and Air Conditioning Technology, Diesel Technology, Automotive Technology, and Building Trades. Campers will be informed about how they can begin an exciting career using advanced technology to produce amazing products.
Camp will run daily from 8:30-3:30 on June 20, 21, and 22, 2022. Campers should report to the NIACC Careers Building Room 122 each day. Campers will depart NIACC each day at 3:30. Lunch will be provided at no charge each day.
To ensure safety during lab time and tours, campers should have with them a long-sleeved shirt, work jeans, and closed-toe shoes (boots preferred). Wearing shorts or nylon of any sort is not allowed for certain activities. Task appropriate dress is expected at all times. Safety equipment will be provided. Hair will need to be pulled back and safely secured when working in the labs. Due to safety concerns, campers will only be allowed to participate in activities if they are properly dressed for that activity.
To register, please complete registration and release form. Return the completed form to Brian Wogen, NIACC Director of School Partnerships by mailing the form to:
North Iowa Area Community College
ATTN: Brian Wogen
500 College Drive
Mason City, IA 50401