Students at North Iowa Area Community College (NIACC) who received scholarships this year had an opportunity to show their gratitude during the 14th annual NIACC Foundation Scholarship Recognition Luncheon held at the Muse Norris Conference Center on Thursday, October 26, 2017.
"This is an important tradition that allows scholarship recipients the opportunity to personally thank the donors who make scholarships possible," said Dr. Steve Schulz, NIACC President. "Each student has a unique story to tell and this year's student speakers shared their own amazing stories."  It was also noted that 608 students received scholarships from NIACC and the NIACC Foundation totaling $1,426,024.
The recognition program featured comments from Dr. Darshini Jayawardena. Jayawardena from Mason City, is the Director of the NIACC Lifelong Learning Institute and a scholarship donor. Together Jayawardena and her husband, Dr. Harsha Jayawardena provide two scholarships for NIACC students. Jayawardena shared, "For my husband and me, the need to help students become successful is of paramount importance." She continued, "Education is an equalizer and an investment in the future, an educated mind cannot be taken away from anyone. It is the guarantee to a successful future."
Several student scholarship recipients also spoke at NIACC's scholarship recognition luncheon.
Klaire Chisholm from Osage, a first year traditional NIACC student majoring in English, shared how she chose NIACC first. Chisholm noted, "The reality of attending college was exciting because it was something new, and I would be able to explore all the possibilities of the world. It was also intimidating as all I had heard were horror stories of debt and student loans, just thinking about how I would afford my education overwhelmed me. Then, one day, I decided maybe I should start listening to the radio ads about choosing NIACC first. I applied to NIACC and was notified that I received a scholarship!" Chisholm continued, "I was astounded and my mind was made up I was attending NIACC. This scholarship helped me realize I am not the only person who wants me to succeed." Chisholm plans to get her two year Associate of Arts degree and transfer to the University of Northern Iowa.
Heather Kadera of Marble Rock moved to Iowa three years ago. The Wisconsin transplant along with her husband, and their five children bought a house in need of a lot of repair. Kadera decided to do the work herself and enrolled in the NIACC Building Trades program. Kadera shared, "Since we had downsized extremely and we were living with very little income, I knew any work to be done on our house was on our own. I figured out I loved working with my hands and after graduating with a Building Trades diploma, I decided I wanted to own my own business." Kadera a non-traditional student is currently seeking an Associate of Arts degree in Small Business Management and Entrepreneurship. "I am so thankful that John and Mary Pappajohn created their scholarship. It can be daunting when you are entering a trade and looking at the tools that go along with your book list. I felt such relief that I could stay in school, run my family and learn how to start a business all because of this generosity. My wish is to have one of our sons join my husband and me in a family business." stated Kadera. Kadera, her husband and two of their sons are currently enrolled at NIACC. Another son, a 16 year old junior is planning to join the Building Trades program next year.
Al Faisal Yasin grew up in the Middle East, being born the youngest of quadruplets. Yasin and two of his siblings attend NIACC. "Many would wonder what brought me all this way from Jordan here and why Iowa? Why NIACC?" Yasin noted his father spent ten years in Kansas and it's where he received his MBA. His father knew he wanted his children to have the same wonderful experience. Yasin shared, "Receiving the David and Sandra Gobeli Scholarship helped motivate me to achieve my goals and aim high. Scholarships are important, because they can be both a financial relief for some and motivation for others, which will assist in enhancing a student's academic performance dramatically." Yasin is a second year traditional student majoring in Accounting with a plan to transfer to the University of Northern Iowa. Like his father, he too wants to obtain an MBA.
John Ziegler of Mason City chose to enter the workforce right out of high school as he was tired of studying. Ziegler a non-traditional student chose NIACC as he wanted a more full-filling career and it was close to home. Ziegler is seeking an Associates of Science degree in Engineering and plans to transfer to Iowa State University to get a degree in Aerospace Engineering. Ziegler shared, "The Glen and Penny Krogh Scholarship has lessened the financial burden allowing me to focus on my studies which are quite extensive." Ziegler continued, "I encourage anyone who is thinking about donating a scholarship to stop thinking about it, and just do it!"
As the cost of higher education continues to increase, so does the need for student financial assistance in the form of loans, grants, and scholarships.  Scholarship donations help students keep their borrowing to a minimum.  While the College experiences great support from groups and individuals each year, the need remains for private support of the NIACC Foundation.
For more information on how to help the College support deserving students, please contact the NIACC Foundation at 641-422-4386.
#   #   #
Ref # 6201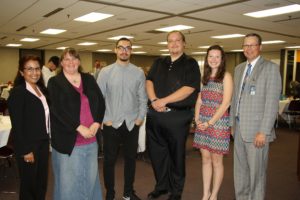 L to R
Donor Speaker, Darshini Jayawardena; Student Speakers Heather Kadera, Al Faisal Yasin, John Ziegler, Klaire Chisholm; NIACC President Dr. Steve Schulz.