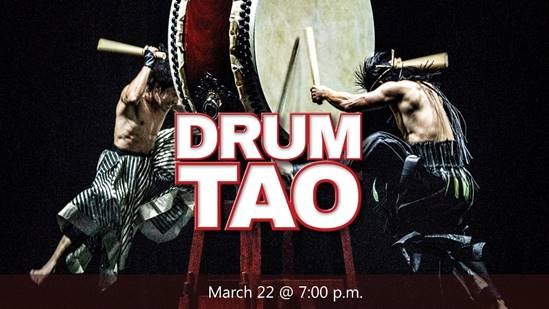 Samuel & Patricia Congello proudly present Drum Tao at the North Iowa Community Auditorium on the NIACC campus at 7:00 p.m. on Sunday, March 22nd, 2020. This presentation is part of the 2019-2020 Performing Arts and Leadership Series.
 Drum Tao is the latest production from Tao, an internationally-acclaimed group of percussion artists. Tao's modern, high-energy performances showcasing the ancient art of Japanese drumming have transfixed audiences worldwide. Combining highly physical, large-scale drumming with contemporary costumes, precise choreography, and innovative visuals, the performers of Drum Tao create an energetic and unforgettable production.
Established in 1993, Drum Tao creates phenomenal performances with Japanese Taiko drums and beautiful melodies with Japanese flutes and harps. Their performers are artists who constantly train themselves to go beyond human limitation.
Over 8 million spectators all over the world have experienced the wonder of Drum Tao. In 2004, they attended the world's largest festival of the arts, the Edinburgh Festival Fringe, and made it to #1 box-office smash hit of the festival despite it being their first time.
After their success at the festival, they launched a three month long run in Germany and Australia. After they performed at the Vancouver Olympics in 2010, every show on their first North American tour sold out across 44 cities. Drum Tao has played in 26 countries and over 500 cities.
In 2017, they made their major recording debut from Universal Music as a compilation of their work for 25 years, which ranked as one of the top three in the iTunes World Album Ranking in five different countries. In 2018, they performed in the opening ceremony of "Japonism 2018" in Paris, France. They also costarred with the Bolshoi Ballet as the opening act of "Japan Year in Russia" held at The Bolshoi Theatre in Moscow, Russia.
They were awarded "Outstanding Cultural Contribution" from Oita prefecture, "Culture Creators Award" from Taketa City, and "The 6th Japan Tourism Agency Commissioner Award" and "Minister for Internal Affairs and Communications Award" from the Japanese government.
To learn more about the show, visit www.drum-tao.com or watch a video at www.niacc.edu/palvideos.
For tickets to the show, call the NIACC Box Office at 1-888-466-4222, extension 4188. Tickets may also be purchased online at www.niacc.edu/boxoffice.
The Broadway sponsor for the 2019-2020 Performing Arts and Leadership Series is Drs. Beck, Bhangoo, and Ondoma: Neurosurgery of North Iowa, P.C.
Platinum sponsors include Samuel & Patricia Congello, Mason City Clinic, Elizabeth Muse Norris Charitable Fund, Lee Foundation, Globe Gazette, MercyOne North Iowa Medical Center, and Principal Financial Group.
Gold sponsors include First Citizens Bank, First State Bank of Belmond, Dean Genth & Dr. Gary Swenson, The G. G. George Family, Henkel Construction Company, Historic Park Inn, MBT Bank & The Hanson Family Foundation, Northwoods State Bank, North Iowa Eye Clinic P.C., Stratford Foundation, Sukup Manufacturing Co., Holiday Inn Express, KGLO, KIMT, KLKK-FM 103.7, and Country Inn & Suites.
# # #
Ref # 6578