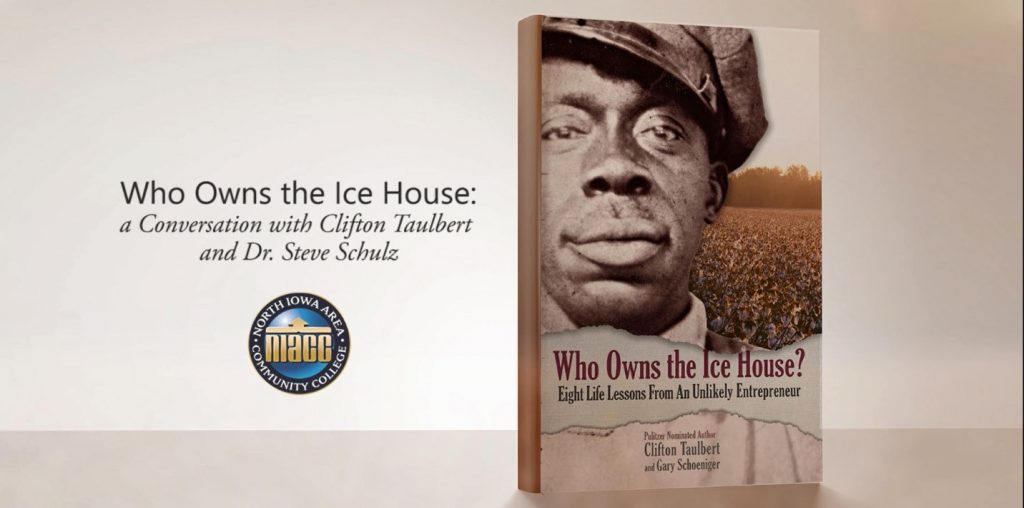 MercyOne North Iowa Medical Center proudly presents Who Owns the Ice House, a Conversation with Clifton Taulbert and Dr. Steve Schulz. We are pleased to invite our entire community to join us online on Wednesday, June 24 at 7 p.m. to view the premiere of Who Owns the Ice House: A Conversation with Clifton Taulbert and Dr. Steve Schulz.
NIACC and the Leadership Series strongly believe that our Common Read author, Clifton Taulbert, has an inspirational message of overcoming adversity to create opportunity that is timelier than ever, and as such this recording will be made available to all for no charge. Dr. Schulz will be in the live chat during the premiere to answer questions and say hello.
Visit www.niacc.edu/icehouse for information and a link to the premiere. A recording of the presentation will be posted to the website following the premiere.
According to Clifton Taulbert, noted author, entrepreneur, and businessman, he could have failed had he not encountered community builders and entrepreneurial thinkers early on in his life. Taulbert was born in the Mississippi Delta during the era of legal segregation. Though opportunities were few and barriers were plentiful, Taulbert managed to dream of being successful not knowing the shape that success would take.
Taulbert is renowned for his ability to glean timeless lessons from the place of his birth. His books about ordinary people becoming extraordinary leaders have been embraced globally. Who Owns The Ice House? chronicles the life of Clifton's Uncle Cleve and his journey from life in a poor cotton community at the height of legal segregation to being recognized by Time magazine as "one of our nation's most outstanding emerging entrepreneurs."
Today, Taulbert is the President and CEO of the Freemount Corporation, serving clients nationally and internationally, including Fortune 500 Companies, small businesses, federal agencies, professional organizations, community colleges, and K-12 schools. Additionally, he is the President and CEO of Roots Java Coffee, an African-American owned coffee brand importing coffee from Africa.
The Common Read is a program designed to engage North Iowa Area Community College students, staff, faculty, and community members in a unified intellectual activity. For first-year students, it introduces them to academic expectations, respectful discourse, and community building. The Common Read is supported by the Performing Arts and Leadership Series. First-year students will be asked to read the book as part of their Composition One requirements. The Common Read book is available through the NIACC Book Zone.
This program is supported by the Academic Affairs board of the institution and a host of individual faculty, staff, and community members on the Common Read Committee.
To learn more about Clifton Taulbert, visit www.cliftontaulbert.com.
The Broadway sponsor for the 2019-2020 Performing Arts and Leadership Series is Drs. Beck, Bhangoo, and Ondoma: Neurosurgery of North Iowa, P.C.
Platinum sponsors include Samuel & Patricia Congello, Mason City Clinic, Elizabeth Muse Norris Charitable Fund, Lee Foundation, Globe Gazette, MercyOne North Iowa Medical Center, and Principal Financial Group. Gold sponors include First Citizens Bank, First State Bank of Belmond, Dean Genth & Dr. Gary Swenson, The G. G. George Family, Henkel Construction Company, Historic Park Inn, MBT Bank & The Hanson Family Foundation, Northwoods State Bank, North Iowa Eye Clinic P.C., Stratford Foundation, Sukup Manufacturing Co., Holiday Inn Express, KGLO, KIMT, North Iowa Broadcasting, and Country Inn & Suites.