How do I get to NIACC
How Do I Get to NIACC?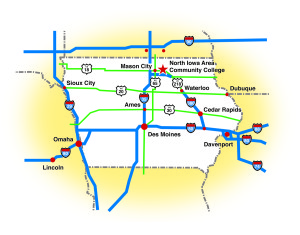 NIACC is located on the east edge of Mason City in North Central Iowa. The countryside campus is about a 2-hour drive from Minneapolis, Minnesota and Des Moines, Iowa.
Phone Numbers You May Need
Admissions 641-422-4245
Athletic Office 641-422-4344
Financial Aid 641-422-4168
Special Assistance
If someone in your party will need special assistance or accommodation, please notify the Admissions Office between 8 a.m. and 4:30 p.m., Monday through Friday.