Business Partnership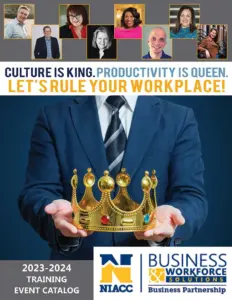 What is the Business Partnership?
Business Partnership is a membership program geared toward boosting employee leadership, motivation, retention, communication skills, and so much more. Members have access to multiple, high-quality training programs led by top-ranked national and regional speakers.
Why join?
The Business Partnership is an investment in your employees.
Training and development increases engagement and accountability, grows leaders, and helps set the stage for long term retention. Content is broad enough to apply to all business sectors and delivered in a concentrated format so participants are able to take away skills they can utilize immediately upon their return to work.
Business Partners Take Advantage Of…
Cost-effective, high quality training
Partners have access to high-caliber trainers at a fraction of the cost.
Variety of professional development topics to meet the needs of a wide range of employees
Each year, course content is chosen by participating companies, with topics such as developing skills in leadership, human resources, and communication.
Convenience and flexibility
Courses can be attended in-person or via Zoom.
Networking opportunities
Meet and exchange ideas with other professionals in your community.
Other professional development opportunities
Business Partners are often the first in the area to listen to our speakers, granting accessibility for further customized workshops within their organization and information about upcoming events offered through NIACC.
…and more!
Membership Details
Members of the Business Partnership can register full time employees to attend any of the Partnership classes (usually 10-12) offered throughout the year. Because the Partnership is designed to meet your needs, you can pick and choose which employees you send to different classes. One employee may attend all offerings while others only come to one or two… it's up to you!
Being a member of the Business Partnership is highly affordable. In most cases, the membership fee for a full year is less than the cost of hiring just one of our speakers!
For more information about the Business Partnership, how your organization can be involved, or pricing, contact our Business & Industry Program Developer.