Commercial Driver's License – CDL
Almost every part of our lives depends on the work of a truck driver. Fuel. Clothing. Food. And so much more!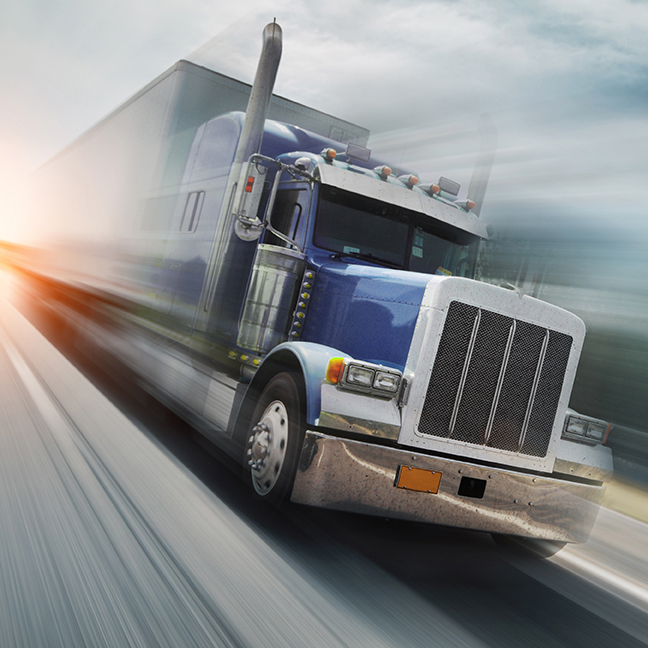 Whether you want to be a school bus driver, drive for a local co-op or landscaping company or be an over-the-road truck driver, you need a Commercial Driver's License (CDL). Be one of more than 200,000 new heavy and tractor-trailer truck drivers projected to be in demand each year between now and the year 2030. (source: bls.gov)
Enroll today for a flexible yet comprehensive education ranging from vehicle inspection, basic control of the vehicle and backing, to defensive driving and hazard awareness woven into classroom theory, behind the wheel practice range and road time. NIACC partners with Northland CDL to provide you with a variety of entry level driver training classes and testing, as outlined by the Federal Motor Carrier Safety Administration.
This class is a combination of online theory and in person practice range and road time to work towards the goal of developing the skill set needed to be successful as a professional driver.

It is designed as an intense 3-week, full-time, start-to-finish training program to expose and prepare you for entry into the world of Professional Over-the-Road Tractor/Trailer driving.
You will work with and operate late model "big-rigs" representative of the industry standard and get the hands-on, behind the wheel time, and real-world experience needed to be successful.
The course meets ALL mandated topics of study effective February 7, 2022, outlined by the Federal Motor Carrier Safety Administration (FMCSA) for Entry Level Driver Training (ELDT), AND includes FINAL CDL Skills Testing by DOT Certified Examiners once eligible.
Upon successful passing of the final CDL Skills testing, you will be able to obtain a commercial driver's license at any driver's license issuance location.

---

Enrollment Requirements:

All students must be able to read, speak, write, and comprehend English. No interpreters are allowed per CDL regulations.
Obtain your Class A Commercial Learner's Permit (CLP). Go to https://iowadot.gov/mvd/cdl/Commercial-learners-permit for more information.
Provide copies of your Driver's license and paper permit when requested.
You must hold a valid CLP for at least 14 days before you can complete the required skills test.
Purchase your Certified Iowa Driving Record from the Iowa DOT and provide a copy when requested.

Pass and pay for a Department of Transportation (DOT) physical conducted by a licensed "medical examiner" listed on the Federal Motor Carrier Safety Administration (FMCSA) National Registry. If receiving possible free tuition through NIACC, be sure to check with them before paying. Provide copy of medical certification when requested.
Pass and pay for a lab based Department of Transportation (DOT) pre-employment drug and alcohol screening – Do not go until instructed. If receiving possible free tuition through NIACC, be sure to check with them before paying.
Register with the Clearinghouse when instructed.

Schedule and class timing are based upon minimum enrollment numbers for each class offering. Cost $5,495 (Possible free tuition is available)

You must meet at least 1 of the following in order to qualify to take this CDL class:

Have successfully completed and we can verify, all required ELDT certification which includes Theory, Behind the Wheel Range, and Behind the Wheel Road. (ELDT completed with someone other than us)
Are EXEMPT from ELDT Regulations

This class is for those seeking a commercial driver's license (CDL), required to drive a commercial motor vehicle (CMV) such as grain, landscaping, construction, personal use etc. It is not designed with the intensity of an Over the Road (OTR) training program.

It is designed as a train and test class with the goal to help you develop the knowledge and skills required to safely operate a CMV.
It is a time efficient combination of online classroom, and in person practice range and road time.
It provides preparation for pre-trip inspection, basic control of the vehicle (backing), defensive driving and hazard awareness all of which are required to pass the CDL Skills Test which will be administered, by DOT Certified Examiners, as part of this class.
Upon successful passing of the final CDL Skills testing, you will be able to obtain a commercial driver's license at any driver's license issuance location.

---

Enrollment Requirements in addition to the above:

All students must be able to read, speak, write, and comprehend English. No interpreters are allowed per CDL regulations.
Provide copies of your Driver's license and paper permit when requested.

Cost $525

This class meets the FMCSA ELDT standards and requirements for those with a valid commercial learner's permit dated February 7, 2022 or after. If you are seeking a commercial driver's license (CDL), required to drive a commercial motor vehicle (CMV) such as grain, landscaping, construction, personal use etc. this class is designed for you. It is not designed with the intensity of an Over the Road (OTR) training program.

This ELDT Certification class is proficiency based with a combination of Theory (online), and in-person Behind the Wheel (BTW) practice range and road time.
It is designed to cover ALL mandated topics of study effective February 7, 2022 outlined by the Federal Motor Carrier Safety Administration (FMCSA) for the specific class of vehicle desired (Class A, Class B)
Upon successful completion of the driver's ELDT Certification in both Theory and Behind the Wheel, once ELDT Certified, you will be scheduled for your final CDL Skills Testing administered by the college and their staff of DOT Certified Examiners.
Upon successful passing of the final CDL Skills testing, you will be able to obtain a commercial driver's license at any driver's license issuance location.

---

Enrollment Requirements:

All students must be able to read, speak, write, and comprehend English. No interpreters are allowed per CDL regulations.
Obtain your Commercial Learner's Permit (CLP) for the desired vehicle class. Go to https://iowadot.gov/mvd/cdl/Commercial-learners-permit for more information.
Provide copies of your Driver's license and paper permit when requested.
You must hold a valid CLP for at least 14 days before you can complete the required skills test.

Cost $895

These classes meet the FMCSA ELDT standards and requirements for those with a valid commercial learner's permit dated February 7, 2022 or after. If you are seeking a commercial driver's license (CDL) with Passenger or School Bus Endorsement this class is designed for you.

These ELDT Certification classes are proficiency based with a combination of Theory (online), and in-person Behind the Wheel (BTW) practice range and road time.
They are designed to cover ALL mandated topics of study effective February 7, 2022 outlined by the Federal Motor Carrier Safety Administration (FMCSA) for the specific class of vehicle desired (Class B) and endorsements (School Bus or Passenger).
Upon successful completion of the driver's ELDT Certification in both Theory and Behind the Wheel, once ELDT Certified, you will be scheduled for your final CDL Skills Testing administered by the college and their staff of DOT Certified Examiners.
Upon successful passing of the final CDL Skills testing, you will be able to obtain a commercial driver's license at any driver's license issuance location.

---

Enrollment Requirements:

All students must be able to read, speak, write, and comprehend English. No interpreters are allowed per CDL regulations.
Obtain your Commercial Learner's Permit (CLP) for the desired vehicle class. Go to https://iowadot.gov/mvd/cdl/Commercial-learners-permit for more information.
Provide copies of your Driver's license and paper permit when requested.
You must hold a valid CLP for at least 14 days before you can complete the required skills test.

Cost $895

DOT certified third party testing is available for individuals seeking to obtain a Commercial Driver's License (CDL). Equipment for testing is not provided. You must provide a vehicle that is in good working order and is representative of the class of license you are applying for. The following CDL Skills Tests are required and MUST be passed in order:

Pre-Trip Test – Vehicle Inspection
Skills Test – Basic Backing Maneuvers on Closed Course
Road Test – Driving on Public Roadways

Upon successfully passing all three tests in the series, you may obtain your CDL at any driver's license issuance location. Other Important Information:

---

Enrollment Requirements:

All students must be able to read, speak, write, and comprehend English. No interpreters are allowed per CDL regulations.
Provide copies of your Driver's license and paper permit when requested.
For Commercial Learner's Permits (CLP) issued on or after February 7, 2022, Certification of completed ELDT Training WILL BE required and must be verified BEFORE any testing can be scheduled.
You must hold a valid CLP for at least 14 days before you can complete the required skills test.

Some additional rules and regulations apply for a Commercial Learner's Permit (CLP) from outside of Iowa. Please contact the Examiners for details.
Regulations require Third Party Testers to give a minimum notice of two business days, for the scheduling of any CDL Skills Test.
Failing any one test will require an applicant to repeat or re-test ON A DIFFERENT DAY. Additional fees will apply.
No refunds will be issued for a failed test or untaken test(s) due to failing a test in the series.

Cost – 3 tests $300