Grant provided by Farm Credit Services of America Working Here Fund
for Agriculture Education
 North Iowa Area Community College (NIACC) Foundation received a $775 grant for Minds On! Hands On! Industrial Technology camp.  The grant is provided through Farm Credit Services of America's (FCSAmerica) Working Here Fund.
NIACC is hosting a Minds On! Hands On! camp in June 2018 for girls entering grades 9-12.  Students will be introduced to non-traditional careers in industrial technology.  The focus of this year's camp is advanced manufacturing.  Funds from the Working Here Fund grant will support the materials and supplies required for the camp.
"While this camp provides a valuable introduction to many of the skills useful for rural entrepreneurship, including those in agriculture, many of the girls who participate in these camps enjoy them so much that they go on to attend industrial programs provided by NIACC while in high school or potentially after they graduate," said Brian Wogan, NIACC Director of School Partnerships.
During the camp, students have the opportunity to interact with professional women who use these skills each day and share their experiences through activities and tours of their professional workspaces.  The goal of the camp is to introduce girls to industrial technology skills, encourage them to consider non-traditional careers, and introduce campers to important safety information.
"At FCSAmerica, we appreciate the opportunity to support the future generations of ag producers," said Julie Hoodjer, vice president of retail operations at FCSAmerica's Mason City office.
North Iowa Area Community College Foundation is one of 62 organizations to receive a Working Here Fund grant in the third quarter of 2017.  FCSAmerica awarded $112,377 during the latest grant cycle ending September 30, 2017.
 About North Iowa Area Community College Foundation
The North Iowa Area Community College Foundation is the preferred channel for private gifts to the college, through annual giving programs, planned gifts and major or special gift campaigns.  The Foundation aids North Iowa Area Community College in fulfilling its own mission of excellence in education and service to the North Iowa region.
About Farm Credit Services of America
Farm Credit Services of America is proud to finance the growth of rural America, including the special needs of young and beginning producers. With $26.9 billion in assets and $4.9 billion in members' equity, FCSAmerica is one of the region's leading providers of credit and insurance services to farmers, ranchers, agribusiness and rural residents in Iowa, Nebraska, South Dakota and Wyoming. Learn more at www.fcsamerica.com.
# # #
Ref # 6200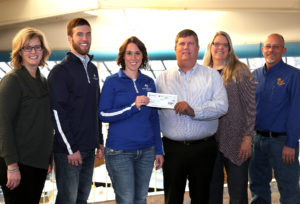 Photo Caption: (L to R) Molly Knoll, Adam Fichter (Farm Credit Services), Jen Christensen (Farm Credit Services), Brian Wogen, Annette Greenwood, Brian Mason
Molly Knoll, NIACC Foundation Director
Adam Fichter, Financial Officer for FCS
Jen Christensen, Financial Officer for FCS
Brian Wogen, NIACC Director of School Partnerships
Brian Mason, NIACC Industrial Tech Instructor
Annette Greenwood, NIACC School Partnerships