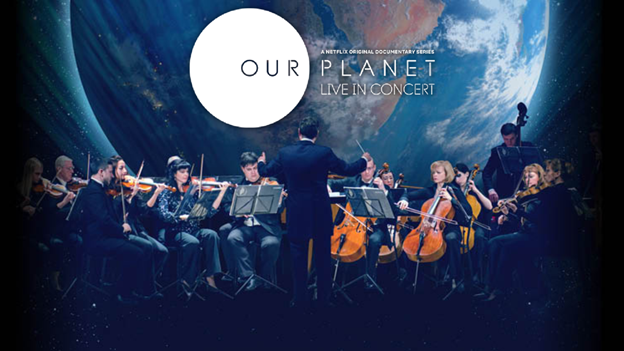 First Citizens Bank proudly presents Our Planet Live in Concert at the North Iowa Community Auditorium on the NIACC campus at 3:00 p.m. on Sunday, March 19, 2023. This presentation is part of the 2022-2023 Performing Arts and Leadership Series.
The Emmy Award-winning Netflix Original documentary series "Our Planet" has been transformed into Our Planet Live in Concert, a 60-city U.S. tour. Presented by GEALive, Silverback Films, and World Wildlife Fund (WWF), Our Planet Live in Concert fuses breathtaking cinematography projected on a large HD screen with new orchestrations by Oscar-winning composer Steven Price (for the film "Gravity") that are performed by a live 18-piece orchestra. The live show is co-narrated on screen by Sir David Attenborough and William Shatner.
"I can't wait for the audience to experience the music of Our Planet Live in Concert," says Price. "Using a combination of the most memorable sequences from the Netflix series exclusively designed for this show, the incredible musicians plan to take you on a journey that celebrates the wonders of our planet – the one home we all share – while showing the urgent need to treasure and protect it."
From forests to high seas to frozen worlds and beyond, Netflix's global phenomenon "Our Planet"features jaw-dropping imagery of the Earth's most beautiful, intriguing, and surprising wildlife. It inspires viewers to learn how climate change impacts all living creatures and what can be done about it.
Our Planet Live in Concert brings together some of the world's greatest creatives, filmmakers, musicians, and conservationists to provide an experience like no other. "Thecreators of 'Our Planet' have edited the most breath-taking sequences from the series to deliver a unique and compelling narrative to live audiences on a large screen in full HD quality," says Floris Douwes, concert producer at GEAlive.
"We've seen first-hand the impact this series has generated by showcasing the wonders of our planet while also addressing the urgent need to protect it for future generations," says Colin Butfield, former Executive Producer for "Our Planet" at WWF.
"We hope to elevate this message and deepen the audience's engagement with the natural world by bringing the documentary into the event space on a great scale."
The show's run time is approximately two hours including intermission.
Part of the proceeds of ticket sales from Our Planet Live in Concert will be donated to WWF's global conservation work.
To learn more about Our Planet Live in Concert, visit their website at visit OurPlanetInConcert.com and follow Our Planet Live in Concert on Facebook @OurPlanetLive and Instagram @OurPlanetInConcert.
For tickets to the show, call the NIACC Box Office at 641-422-4188. Tickets may also be purchased online at niacc.edu/boxoffice.
The Broadway sponsor for the 2022-2023 Performing Arts and Leadership Series is Dr. Tom & Pat Johnston.
Platinum sponsors include Elizabeth Muse Norris Foundation, Mason City Clinic, Globe Gazette, Lee Foundation, First Citizens National Bank, and Mercy Medical Center of North Iowa.
Gold sponsors include Samuel & Patricia Congello, First State Bank of Belmond, Henkel Construction Company, MBT Bank and the Hanson Family Foundation, NSB Bank, North Iowa Eye Clinic P.C., Stratford Foundation, Sukup Manufacturing Co., Drs. Douglas & Melissa Summerfield, and Neurosurgery of North Iowa.
In-Kind sponsors include Holiday Inn Express, KGLO, KIMT TV, North Iowa Broadcasting, and Country Inn & Suites.
# # #
About Steven Price, Composer
Steven Price is an Academy Award-winning composer. In 2014, his groundbreaking score for Alfonso Cuarón's Gravity garnered wins in the Best Original Score category for the Academy Awards, BAFTAs, and Critics' Choice Awards, along with ASCAP's first-ever Film Composer of the Year award. Other prominent projects include Edgar Wright's Last Night In Soho, Baby Driver and The World's End, Tom Harper's The Aeronauts, Warner Bros.' blockbuster hit Suicide Squad, and the WWII epic Fury, written and directed by David Ayer, and starring Brad Pitt. Television credits include the BBC's The Hunt, a landmark natural history documentary series for which Price won his second BAFTA Award, and Our Planet (Netflix), which earned two Emmy score nominations for the composer in 2019. Price also scored David Attenborough: A Life on Our Planet (Netflix) for which he won an Emmy and an ASCAP Composers' Choice Award for Documentary Score of the Year, and, in 2020, ventured into animation with Glen Keane's Academy Award-nominated animated feature Over the Moon (Netflix) for which he received an Annie nomination for Best Music – Feature. Forthcoming projects include Beast (Universal), directed by Baltasar Kormákur and starring Idris Elba, The Swimmers (Working Title / Netflix), Michael Grandage's My Policeman (Amazon Studios) and Distant (Amblin / Universal).
About Floris Douwes, Producer
Alongside partners Ton Olgers and Julia Krylova, Floris heads up GEALive, a company that designs, produces, and delivers creative live entertainment projects of all sizes. Recent and current projects include the world arena tours for the late legendary film composer Ennio Morricone, a collaboration with Graceland on Elvis Live on Screen with Symphony Orchestra and hosted by Priscilla Presley, a career retrospective tour of Hollywood composer James Newton Howard and the first ever live tour of the multi-Oscar® and Grammy Award®-winning pioneer of dance music, Giorgio Moroder.
About Silverback Films
Silverback Films specializes in the production of high-quality wildlife films for both television and cinema. Formed in 2012 by Alastair Fothergill and Keith Scholey, Silverback Films brings together a world class team of wildlife film makers to create the highest quality natural history films. Its productions include cinema films for Disneynature, African Cats, Chimpanzee, Bears, Monkey Kingdom and Dolphin Reef and television series North America (Discovery) The Hunt (BBC) and Our Planet (Netflix).
About World Wildlife Fund
WWF is one of the world's leading conservation organizations, working for 60 years in nearly 100 countries to help people and nature thrive. With the support of 1.3 million members in the United States and more than 5 million members worldwide, WWF is dedicated to delivering science-based solutions to preserve the diversity and abundance of life on Earth, halt the degradation of the environment, and combat the climate crisis. Visit worldwildlife.org to learn more; follow @WWFNews on Twitter to keep up with the latest conservation news; and sign up for our newsletter and news alerts here.
North Iowa Area Community College, founded in 1918, is a nationally-recognized, two-year college located in central North Iowa. With approximately 3,000 career and transfer students, the College has been recognized by the Aspen Institute as a leading community college in the nation. NIACC welcomes students from across Iowa, Minnesota, the nation, and the world. The College has served as a leader in student-centered learning, community engagement, and collaborative leadership for more than 100 years. Are you ready to become a Trojan? Apply Today at https://www.niacc.edu/apply-mkt/
# # #
Ref # 6895