MASON CITY, IOWA – Mary Jo Vrba of Mason City, IA, took home Third Place at the 2023 University of Iowa Venture School Launch Day which was held Thursday, June 8, 2023. Eleven teams from across the state of Iowa competed in the event that was held at EntreFEST, a two-day entrepreneurial conference in Iowa City, IA.
Mary Jo Vrba won the Third Place prize of $5,000 for her business, Mags & Lu, which provides full-service crate-free dog boarding and daycare. First place and $15,000 was won by SimplSupport (Lori Palmer); Second place and $10,000 was won by Autistic & Loved (Dr. Kit Evans-Ford). There were two finalists, Portico (Brian Nigg) and Jolt Education (Jade Peterson), and six semifinalists, that received $1,000 each. The semi-finalists were Retrofit Electric (Oscar Madong of Mason City), A Kneaded Break (Britt Bock of Charles City), Akademi Arts Progress (Alan Murdock), Level Up Bouldering (Paul Altaver), Rose and Oak Athletics (Ellen Franklin), Payroll Vault (Aaron Bontrager).
Mary Jo Vrba and semi-finalists Oscar Madong and Britt Bock are graduates of the Venture School program at the NIACC John Pappajohn Entrepreneurial Center. The NIACC Pappajohn Center Venture School program is led by Candi Karsjens, Director of the Pappajohn Center and certified NSF I-Corps instructor. Karsjens said, "EntreFest is such a great culminating event to celebrate the best Venture School graduates from across Iowa and really celebrates the spirit and culture of entrepreneurship in Iowa. Our participants did a fantastic job pitching their business ideas and representing north Iowa and the culture of entrepreneurship of our region."
North Iowa entrepreneurs continue to perform well at the statewide competition. In 2021, Zach Smith of The Stock Cropper took home First Place, and Nate Julseth of Nate's Powder Coating took home First Runner-Up. In 2022, Billie Asmus of Silicone Studios won Third Place, while Dr. Tara Nichols of Maters of Comfort and Josh Jeske of Terraform Tillage both won Honorable Mentions.
The NIACC John Pappajohn Entrepreneurial Center is the expert in rural business innovation and success. In partnership with North Iowa's Small Business Development Center, together we provide tools, support, and resources to Iowa's entrepreneurs. We counsel both new and existing local businesses, from Main Street to industry leaders. We're growing Iowa's entrepreneurial culture through grade school initiatives, college and community programs, and business training and development. Contact the NIACC Pappajohn Center at 641-422-4111 or pappajohn@niacc.edu.
# # #
Ref # 6921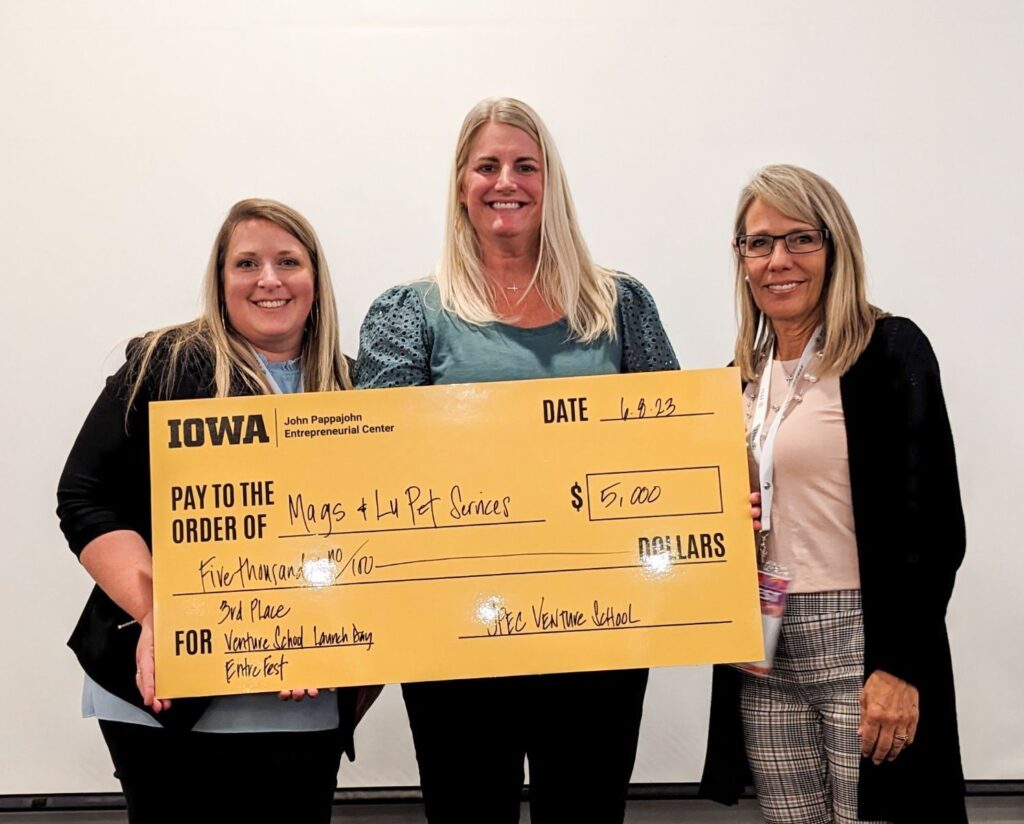 Photo from left: Ashley Page (NIACC Pappajohn Center), Mary Jo Vrba (Mags & Lu Pet Services), Candi Karsjens (NIACC Pappajohn Center)