English as a Second Language (ESL)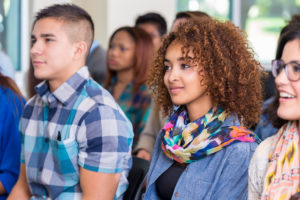 For adults in North Iowa whose first language is not English, NIACC's Adult Education & Literacy Program offers tuition-free English classes in several sites in the region.
Students work to improve their reading, writing, speaking, and listening skills in English in a supportive, friendly environment. Class participants also learn about U.S. culture, government, and the responsibilities and benefits of citizenship. ESL classes are open to people from any country or culture. Classes at some sites are offered at either a beginner or intermediate/advanced level. The ultimate goal of the ESL course is to assist students in their transition to employment, training, or college study.
Students must enroll in the class on one of the scheduled orientation/entry dates. They will also take a pre-assessment in reading and listening to help determine their level of English.
NIACC's AEL program can also partner with local employers to offer English as a Second Language classes in the workplace. (A contribution to the class cost is encouraged.)
Links
ESL Brochure [pdf]
ESL Spanish Brochure [pdf]
Fall 2021 Schedule
---
Contact us for more information