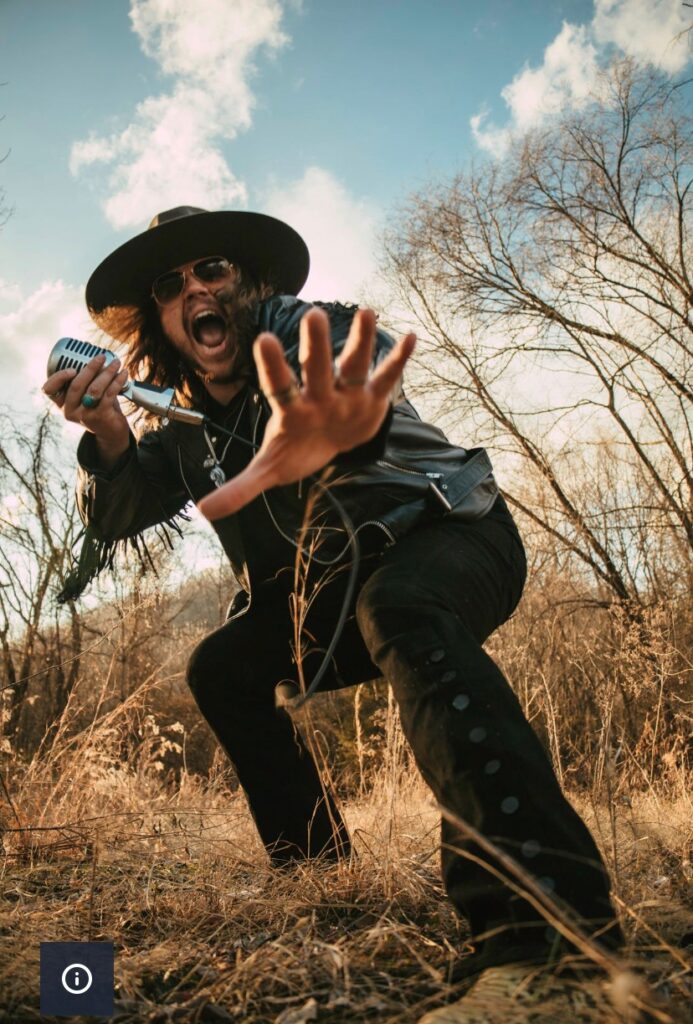 Presented By: Sukup Manufacturing Co.
Sukup Manufacturing Co. proudly presents Caleb Johnson's Classic Rock Time Machine at the North Iowa Community Auditorium on the NIACC campus at 7:00 p.m. on Wednesday, October 4, 2023. This presentation is part of the 2023-2024 Performing Arts and Leadership Series.
Caleb Johnson's sole mission is to spread the gospel of rock-n-roll! From his beginnings on American Idol to relentless touring with KISS, Black Stone Cherry, and Trans-Siberian Orchestra, Johnson has electrified countless audiences with his thunderous voice and magnetic stage presence.
Now hot off the heels of his critically acclaimed 2019 album, Born From Southern Ground, Johnson is back with a new album entitled Mountain Mojo Vol. 1. Recorded in three whirlwind days at Nashville's legendary Blackbird Studios, Johnson and company pushed through a tumultuous 2020 and created what could be Caleb's best record to date. Johnson enlisted the best of the best to back him on this new album.
His studio band consists of Jason Bonham, Tyler Bryant, Josh Sawyer, Audley Freed, Tony Lucido, Mike Webb, Damon Johnson, Gale Mayes, Devonne Michele, and Angela Primm. The powerhouse collaboration includes some of the biggest names in rock, Nashville's finest studio musicians, and, of course, Johnson's thunderous voice. The combination creates a unique, soulful, southern, and hard rocking sound. Mountain Mojo was engineered by Grammy winner Brandon Bell (Soundgarden, Brandi Carlisle), mixed by multi-Grammy-winning engineer/mixer Vance Powell (Chris Stapleton, Jack White), and master by Grammy Winner Pete Lyman (Chris Stapleton, Tyler Childers). Looking into the future Johnson hopes that his fans will love this new album as much as he does.
To learn more about Caleb Johnson's Classic Rock Time Machine, visit their website at https://calebjohnsonofficial.com/
For tickets to the show, call the NIACC Box Office at 641-422-4188. Tickets may also be purchased online at www.niacc.edu/boxoffice
The Broadway sponsor for the 2023-2024 Performing Arts and Leadership Series is in memory of Patricia Johnston by Dr. Tom Johnston.
Platinum sponsors include Elizabeth Muse Norris Charitable Fund, Globe Gazette and the Lee Foundation, Mason City Clinic, P.C., G. G. George Family, and NSB Bank.
Gold sponsors include Drs. Doug and Melissa Summerfield, First Citizens Bank, First State Bank of Belmond, Henkel Construction Co., MBT Bank and the Hanson Family Foundation, Neurosurgery of North Iowa Drs. Beck, Bhangoo and Ondoma, North Iowa Eye Clinic P.C., the Stratford Foundation, and Sukup Manufacturing Co.
In-Kind sponsors include KIMT, North Iowa Broadcasting, KGLO, and Country Inn & Suites.
# # #
Ref#6930
The mission of North Iowa Area Community College (NIACC) is to enrich lives through comprehensive educational opportunities, a commitment to learner success, community engagement, and leadership. Founded in 1918, NIACC is a nationally-recognized, two-year college located in central North Iowa. With approximately 3,000 career and transfer students, the College has been recognized by the Aspen Institute as a leading community college in the nation. Become a NIACC Trojan today at https://www.niacc.edu/apply-mkt/.