How your Financial Aid is Determined & Disbursed
Federal & State Aid Eligibility Requirements
The following are the general eligibility requirements for federal and state aid.
Demonstrate financial need (for most programs)
Be a U.S. citizen or eligible noncitizen
Have a valid Social Security number
Be registered with Selective Service, if you're male
Be enrolled or accepted for enrollment in an eligible degree or diploma program
Be enrolled at least half time to be eligible for Direct Loan Program funds
Maintain Satisfactory Academic Progress
Not in default on federal student loan and do not owe money on a federal student grant
Have a high school diploma, A recognized equivalent of a high school diploma (such as a GED/HSED), or enrolling in an eligible career pathway program and meeting of the ability-to-benefit alternatives (contact the financial aid office)
Determining Financial Aid Eligibility
A student's financial aid is awarded based on the Cost of Attendance Formula.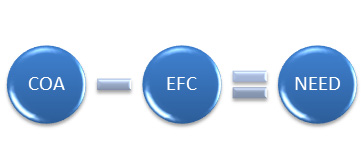 Cost of Attendance (COA): A budget determined by average tuition & fees based on your enrollment level, books and supplies, housing, personal and travel expenses.
Expected Family Contribution (EFC): The amount of funds the Department of Education has determined the family can reasonably expect to contribute to the student's education.
Financial Need: The result of this formula determines the level of need and what types of aid the student is eligible to receive. Some types of aid require a student have financial need, while others do not.
Aid is awarded in the following sequence
Gift Aid – Scholarships & Grants
Self Help Aid – Work Study & Student Loans
Once a student's financial aid has been determined, they will receive a Financial Aid offer that displays their aid eligibility. The student accepts their aid on their TrojanHome Portal, indicating which awards they would like to accept and/or decline. If a student accepts a Direct Subsidized or Direct Unsubsidized Loan, they must complete their Master Promissory Note and Entrance Counseling.
Financial aid offers are locked in at the end of the fifth day of classes for fall and spring semesters.  Summer offers are locked in after the third day of class. Aid will not be adjusted if a student changes his or her schedule after the lock in date (Financial Aid Dates). The student will need to follow Satisfactory Progress Guidelines for Financial Aid. Please check with the Financial Aid Office for further information.
A student's financial aid may be adjusted due to the following conditions:
Changes in funding – If NIACC's funding from federal or state sources is adjusted, a student's financial aid offer may also be adjusted to reflect these changes
Changes in regulations – Legislative action may result in a change to federal or state sources
Scholarship & Grant Eligibility Requirements – A student must maintain the requirements of the scholarship or grant. Example: Need to be enrolled full time or in a specific program in order to remain eligible
Receive funding from outside sources – If you receive any additional funds from outside sources (outside scholarships, Vocational Rehabilitation, etc.) that were not included on your award offer your aid may be adjusted. A student's financial aid cannot exceed their Cost of Attendance.
Change in Enrollment Level – A student's initial financial aid offer is based on the assumption of the student being enrolled full-time for the full year. A student's aid may be adjusted for their enrollment level on the 5th day of class.
Repeated Coursework – A student is only allowed to repeat a course with a passing grade one time and receive financial aid for it.
Class Attendance – A student must attend all their courses in order to receive financial aid for the courses. If a student is reported as not attending, the credit hours cannot be included in determining their financial aid.
Changes in family and /or student resources
Disbursing Financial Aid
Once a student's official financial aid offer has been issued and loan requirements have been completed and received by NIACC, the financial aid will be transmitted and applied towards the student's account. Any resulting payment due to the student will be released to the student as scheduled by the NIACC Business Office (Financial Aid Dates). The first release of excess funds is typically two weeks after the beginning of each semester, and approximately every two weeks thereafter for aid finalized or received after semester begins. All federal student loans must be disbursed in two disbursements. Bring a photo ID to the NIACC Business Office to pick up your financial aid refund check.
Students who are first-time loan borrowers must wait a mandatory 30 days before funds can be disbursed.