1994
Glen Haydon, Class of 1954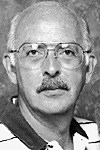 As President of Mercy International Health Services (MIHS), in Farmington, MI, Glen Haydon serves as an educator and advisor to governments, religious congregations, and individual hospitals. He has worked in Africa, Micronesia, Melanesia, Polynesia, the Middle East, Central and South America, Eastern Europe, New Zealand, Australia, and the Pacific Rim nations.
Glen has over 23 years of experience in hospital operations, having served in a variety of senior administrative positions for the Sisters of Mercy. As Senior Vice President at St. Joseph Mercy Hospital (predecessor of Mercy Medical Center-North Iowa) in Mason City from 1981-1984, he was responsible for the development and administration of a regional health services program that included the management of six other Iowa hospitals.
He brought to MIHS extensive international health care service experience, including medical relief work for the International Committee of the Red Cross, disaster relief work for the United States government and the United Nations, and as a member of the White House Panel on South Asian Relief. Glen formerly worked in advertising and public relations with the Standard Oil Company and as Executive Director of the American Red Cross.
Pathways to Success Student Leaders
Matt Bohnsack
Mason City, IA
Tara Hemann
Mason City, IA
Jami Peterson
Mason City, IA
Greg Brockberg
Clear Lake, IA
Amanda Keppler
St. Olaf, IA
Nichole Prantner
Osage, IA
Aaron Buettner
Mason City, IA
Scott Klipping
Britt, IA
Jason Schlotterback
Manly, IA
Courtney Carney
Mason City, IA
Randel Lackore
Rudd, IA
Tara Sheldon
Rockwell, IA
Dan Chodur
Mason City, IA
Carrie Lair
Mason City, IA
Marty Shindelar
Calmar, IA
Dustin Davis
Nora Springs, IA
Rita Mauer
Stacyville, IA
Jennifer Spencer
Independence, IA
Jennifer Fedders
Mason City, IA
Shelli McCutcheon
Sheffield, IA
Sarah Stanton
Mason City, IA
Bradley H. Freidhof
New Hampton, IA
Kari McPhail
Osage, IA
Christine Thompson
Osage, IA
Katherine Hadley
Hampton, IA
Julie Moyer
Mason City, IA
Eric Walter
Guttenberg, IA
Julia Oertel
Mason City, IA