2014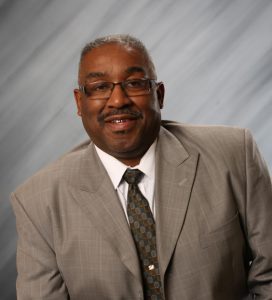 After graduating from high school, Bobby began his higher education career at North Iowa Area Community College. The Ohio native came to North Iowa to play football for the Trojans. He earned his Associate of Arts degree in 1980. After a year at the University of Akron, he took the police test which led to his attendance at the Medina Policy Academy.
As a detective with the Massillon Police Department, Grizzard has committed his career to investigating crimes against children and sex crimes. He began investigating sex crimes with the Department in 1994 and became a member of Stark County Sex Abuse Task Force that same year. In recent years, Grizzard became an expert in investigating Internet sex crimes; he was a member of the FBI's Internet Crimes Against Children Task Force. He served as a Special United States Marshall. Grizzard's success in investigating Internet sex crimes has garnered local and national attention. He has been featured in WKYC-TV3 series "Parent Over Shoulder" and in 2007 was featured in the NBC series "To Catch a Predator" hosted by Chris Hansen. Grizzard remains proactive in his efforts to educate children about the dangers of the Internet.
Grizzard is a highly honored detective. He received the Dawn Marie Hendershot Award in 1998 and was named Stark County Community Officer of the year in 2000. In 2006 he was featured and recognized for his work on the Geraldo Rivera show and was nominated for America's Most Wanted All-Star Award one year later. Also in 2007 Grizzard was honored as the VFW (J. Edgar Hoover Gold Medal Award) Ohio Officer of the Year. The 2007 Knights of Columbus Blue Coats of the Year, and nomination for their National Police Officer of the Year. In 2011, he was named one of Washington High School's Distinguished Citizens. His most recent accomplishment was the 2014 Stark County Super Hero Award; a recognition for saving lives.
Photography has been of interest to Grizzard since his days as a NIACC student. He spent a good deal of time behind the camera lens shooting sporting events. This hobby has carried with him through adulthood.
The community of Massillon has benefitted from Grizzard's talents as he has spent time volunteering with the Boys and Girls Club, Morning Star Church, the Professional Football Hall of Fame and coaching softball and flag football.
Grizzard and his wife, Jennifer have been married for 30 years. They have three grown children, Bradly, Brandyn and Breyanna.
Pathways to Success Student Leaders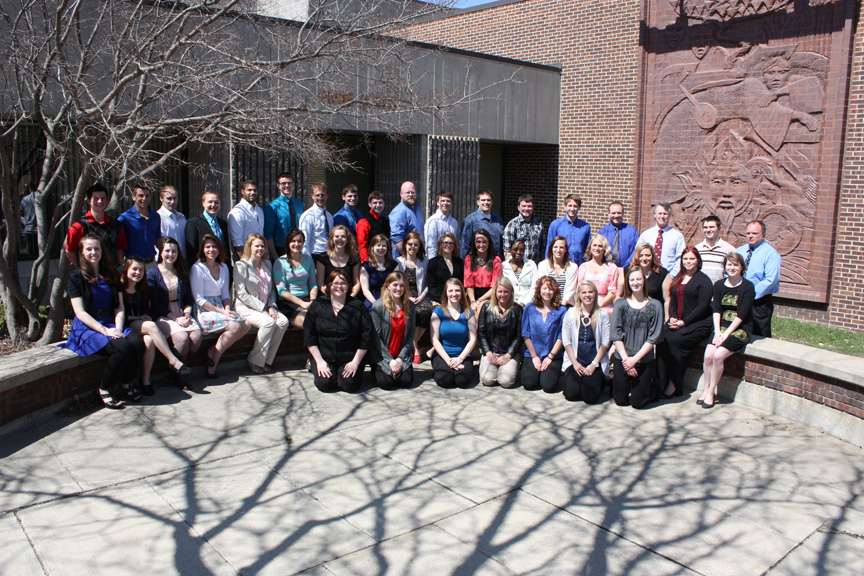 Pictured first row from left – Carla Jones (Sheffield), Catherine Staudt (Greene), Lacey Snyder (Glenville, MN), Morgan Banken (Mason City), Emily Krohnberg (Walters, MN), Ashley Brackey (Lake Mills), Shanda Borchardt (Mason City)
Second row from left – Kristin Stromer (Garner), Savannah Willier (Mason City), Kativa Eckholt (Mason City), Maddison Dodd (Mason City), Cathy Barkhurst (Rudd), Harley Lindell (Ringsted), Katelyn Nolte (Dumont), Jocelyn Arends (Rockford), Lindsey Calhoun (Clear Lake), Kaitlynn Cash (Clear Lake), Kailee Hrubetz (Mason City), Esther Ogoma (Mombasa, Kenya), Allysa Meyer (Rockwell), Casey Liekweg (Rockwell), Anna Ranson (Liberty, WV), Jessica Palmer (Altoona), Justine Arends (Rockford)
Third row from left – Levi Fink (Wadena), Kevin Trobaugh (Gladbrook), Michael Miller (Mason City), Jacob Baker (Clear Lake), D Hansen (Polk City), Brady Christianson (Britt), Matt Huebsch (St. Ansgar), Garret Spitz (Osage), Kellen Kessler (Manly), Nathan Goskeson (Albert Lea, MN), Tanner Fink (Nora Springs), Dalton Hamm (Charles City), Matthew Niblack (Douglass, KS), Kristofer Adams (Mason City), Michael England (Mason City), James Keane (New Hampton), Dustin Samudio (Albert Lea, MN), James Hillyer (Clear Lake)
Not pictured – Jacob Adams (Mason City), Jereme Baldus (Osage), Valerie Bergman (Clear Lake), Ryan Fiser (Mason City), Jacob Gapp (Forest City), Tyrel Godbersen (Cleghorn), Broderick Hopp (Forest City), Kiera Kloster (Charles City), Tricia Kuster (Albert Lea, MN), Kyle Marvin (Mason City), Neil Moe (Algona), Joshua Mostek (Osage), Brittany Pilchard (Geneva), Noah Schmall (Mason City), Ana Schurtz (Mason City), Natalie Sinnwell (Nashua), Terry Staudt (Rockford), Emilie Stirling (Nashua), Paige Thompson (Gladbrook), Nicholas Veale (Melbourne, Australia), Morgan Walker (Rembrandt)