2000
Bill Swift, class of 1963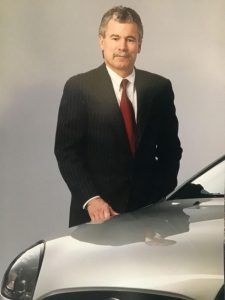 Bill Swift is retired Vice President and Controller of Ford Motor Company. Ford, which had earnings of $7.2 billion on sales of $163 billion in 1999, is the world's largest manufacturer of trucks and the second largest manufacturer of cars and trucks.
Bill joined Ford Motor Company in 1965 as an accountant after graduating from Mason City High School ('61), Mason City Junior College ('63) and the University of Iowa ('65). He later earned a master's degree from Stanford University, where he was a Sloan Fellow.
Bill held a number of positions on Ford's finance staff until 1981, when he joined car product development as Assistant Controller. In 1984, he became Project Director of Business Strategy for the corporate strategy and analysis staff. Since then, Bill has held various finance positions in car product development, corporate strategy staff, North American automotive finance, transmission and chassis division, truck operations and product development. He was named Controller of Ford Automotive Operations in 1996 and later became Vice President.
Bill has also served as Vice President/Treasurer of Vista Maria, a non-profit treatment agency serving troubled young girls and their families in southeastern Michigan.
Dick Carter
Dick Carter knew sports. He also knew a little about NIACC athletics…he ran the clock for 49 years for Mason City Junior College and NIACC home football games and 48 years for home basketball games. It took hip surgery to prevent him from reaching the 50-year mark in these roles.
Dick's loyalty extended beyond the College, which he attended in 1973 and again in 1982. He served 32 years as an employee of Mason City Mill Works and 20 years with the Boy Scouts. Dick was very involved with his church and monitored the school cross walk on 12th Street in Mason City for many years.
Dick passed away on March 13, 2004 at the age of 83. He is survived by his wife Lydia, two grown children, and several grandchildren.
---
John Hitzhusen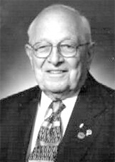 John Hitzhusen's affiliation with the College began more than 70 years ago when he graduated from Mason City Junior College in 1934. A retired dentist, John represented the Charles City area on the NIACC Board of Directors from 1970 to 1993. He joined the NIACC Foundation Board of Directors in 2001 and continues to serve on that Board today. He and his wife, Donna, also support the annual Charles City Gourmet Scholarship Dinner. The Hitzhusens, who have two grown children and four grandchildren, are advocates for the College at every opportunity they encounter, and they have recruited many students to NIACC. In 1998, during the "Keeping NIACC First" major gifts campaign, the Hitzhusens established an endowed scholarship fund in their name which benefits students from Floyd County. John is also a recipient of the prestigious NIACC Shining Star Award.
Pathways to Success Student Leaders
Daniel C. Achenbach
Anamosa, IA
Amy L. Hackbart
Grafton, IA
Anna M. Ostrander
Clear Lake, IA
Carah D. Barnes
Mason City, IA
Tammy L. Harris
Clear Lake, IA
Laura J. Ostrander
Clear Lake, IA
Joseph D. Benter
Oelwein, IA
Melissa M. Hentges
Mason City, IA
Molly H. Pederson
LeMars, IA
Amy L. Bissig
Mason City, IA
Neal A. Hirota
Osage, IA
Adam H. Richard
Fertile, IA
Jenna R. Boerjan
St. Ansgar, IA
Heidi J. Hites
Mason City, IA
Monia Riviera
Montova, Italy
June G. Bohr
Riceville, IA
Diana N. Jengo
Tanzania
Collin W. Shadle
Glidden, IA
Tara L. Brunsvold
Mason City, IA
Elizabeth M. Jones
Mason City, IA
Rebecca B. Shook
Rockford, IA
Jenny L. Dight
Osage, IA
Aimee N. Kern
Clear Lake, IA
Peggy A. Smith
Luana, IA
Michael J. Franklin
Mason City, IA
Amy M. Litterer
Dougherty, IA
Jason C. Stroup
Mason City, IA
Jill M. Friedrich
Elma, IA
Jennifer A. Litterer
Dougherty, IA
Christine R. Thompson
Rake, IA
Robert E. Gray
Des Moines, IA
Michal R. Lloyd
Britt, IA
Nicholas J. Wigant
Osage, IA
Daniel R. Nack
Grafton, IA