2015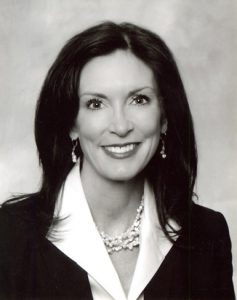 A native of Osage, Anne Sullivan chose to attend NIACC first because it offered the classes she needed at an affordable price while still providing opportunities to participate in extracurricular activities.
After completing her Associates of Arts degree at NIACC, Anne earned a Bachelor of Arts in Education from the University of Northern Iowa. She later completed a master's degree at Iowa State and a doctorate at Drake University.
Dr. Sullivan began her career as a classroom teacher, spending time in 5th, 6th and 7th grade rooms and then moving on to teach talented and gifted students in the West Des Moines school district. In 1994, Anne moved to school administration as the elementary principal in Martensdale, Iowa. She continued to advance as a school administrator serving as the elementary principal and superintendent in Norwalk and later the associate superintendent for Ankeny Schools.
In 2008, Dr. Sullivan moved from K-12 education and became a professor at the University of Iowa. She had the opportunity to develop the "School Superintendent Endorsement/Specialist Degree Program" for the university. Her work will be reflected in the K-12 leaders of the future.
Dr. Sullivan was then hired by the AEA 267 as the assistant chief administrator and director of human resources. In this position, she directed the human resources management of more than 1,100 full and part time staff members who provide special education and school improvement services, along with technology support for more than 60,000 students and 5,000 educators throughout 18 counties of north central and northeastern Iowa.
Dr. Sullivan is currently serving as the chief of human resources at Des Moines Public Schools. She is responsible for all aspects of human resources for 68 schools, 5,000 certified and classified staff, 32,000 students and 15 human resources staff members. Since starting in this role in July of 2013, Anne has facilitated a total restructure of the human resources department including, positions, function, mission and vision.
Dr. Sullivan has served on several boards: Iowa Commission for the Status of Women, REL Midwest Regional Research Laboratory, and was appointed two years ago to the Iowa Board of Educational Examiners by Gov. Branstad. She has served on advisory boards for ISU, UNI, and Drake University. Anne received an Outstanding Alumni Award for Osage High School.
Anne has two daughters, Madison, a freshman at the University of Iowa and Kaitlin, a sophomore at Roosevelt High School in Des Moines. Her parents are Mark & Helen Sullivan of Osage.
Pathways to Success Student Leaders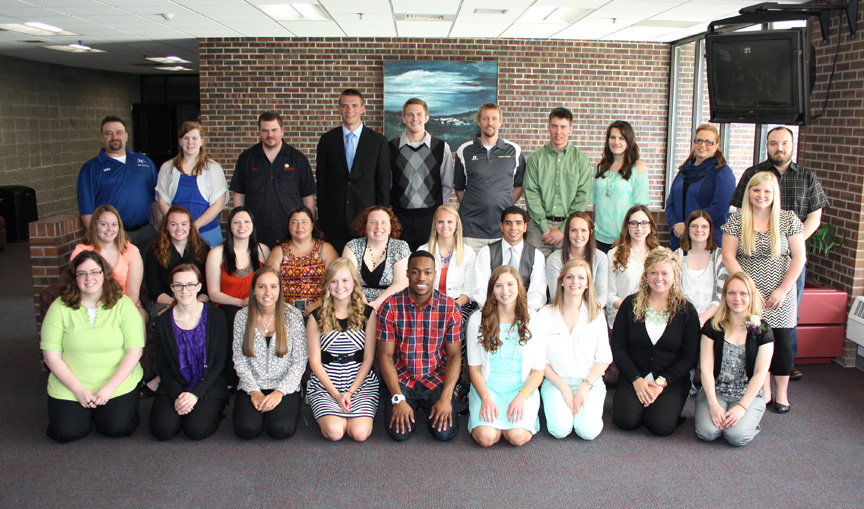 First row from left – Tami Wallin (Glenville, MN), Kailyne Palmer (Shannon, IL), Amanda Toebe (Mason City), Kayla Kearns (Clear Lake), Alexander Davis (Colorado Springs, CO), Brittani Watson (Clear Lake), Rakiah Bonjour (Mason City), Kayla Hartman (West Bend), Jennifer Severin (Mason City)
Second row from left – Elizabeth Carlton (Titonka), Haley Mallo (Shannon, IL), Emily Drenth (Rockwell), Chrystina Davis (Mason City), Megan Nikolai (Charles City), Carly Overson (Fertile), Oscar Nieves (Cocoa, FL), Jessica Kingston (Joice, IA), Taylor McLaughlin (Mason City), Alysha Thompson (Mason City), Kasandra Smith (Mason City)
Third row from left – Michael O'Connell (Titonka), Jennifer Genz (Mason City), Curtis Gilbert (Rockwell), Joseph Rottinghaus (Mason City), Nathan Spores (Inver Grove Heights, MN), Benjamin Back (Mason City), Alex Buseman (Charles City), Jessica Glenn (Mason City), Roberta Metcalf (Northwood), Bryan Balduf (Mason City)
Not pictured – Quinn Ahern (Plainfield, IL), Janae Annetts (Camduff, SK, Canada), Olivia Bisbee (Stacyville), Daniel Bradley (Auckland, New Zealand), Davis Bryan (Ham Lake, MN), Kennedy Corbin (Guttenberg), Caraline Eggena (Rockford), Rachel Fields (Mason City), Zachary Fricke (Waterloo), Halie Greenwood (Mason City), Casey Hall (Mason City), Sue Hill (Clear Lake), Rebecca Huberty (Mason City), Lindsey Isaacson (Mason City), Shelby Kuykendall (Charles City), Courtney Lemke (Mason City), Naomi Reiff (Osage), Brittani Sanchez (Mason City), Thomas Schreiber (Iowa City), Nicole Young (Manly)