2019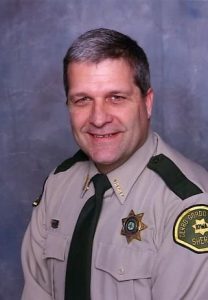 Kevin Pals '99 has spent his entire adult life helping others through both his career in law enforcement and volunteering in the community. Pals was named NIACC's 2019 Outstanding Alumnus and served as the keynote speaker during the Pathways to Success event on April 5, 2019.
Pals shared his pathway to success with the student honorees. He noted that school was not his strong suit. In fact, his high school years were about sports and friends. However, while a senior, a high school friend piqued his interest by recommending the Clear Lake Police Department's reserves program. Pals attended a meeting and he was hooked.
Pals talked about barriers to success and encouraged students to pay attention to them. He noted five barriers – distraction, defeat, discouragement, doubt and delay – and expanded on overcoming them. He also shared his path to overcoming his own barriers through his faith, caring teachers, supportive family, and adult mentors. Pals advised students to "surround yourself with people that respect you for who you are." He continued, "Don't say every word you are thinking, every word is your choice," and finally, "trust your instincts."
Pals graduated from Clear Lake High School in 1978 and the Iowa Law Enforcement Academy, including K-9 School, in 1983. In 1991, he graduated from D.A.R.E. School. He attended NIACC as a non-traditional student and graduated with an associate's degree in criminal justice in December 1999.
Pals started his career in law enforcement as a Clear Lake Police Department dispatcher from 1978 – 1980. He then joined the Winona County Minnesota Sheriff's Office as a dispatcher and correctional officer. In 1982 he began working with the Mason City Police Department holding positions as a police officer, K-9 handler, D.A.R.E. Officer and Investigator. Pals became sheriff of Cerro Gordo County in 2001.
Pals is an active member of the Mason City Youth Task Force, Seniors and Law Enforcement Together (SALT), North Iowa Youth For Christ, the Iowa Law Enforcement Academy Council, Crime Stoppers of North Central Iowa, Child Abuse Council, and North Iowa Domestic & Sexual Abuse Community Coalition. For the past 17 years, he has served as a board member of the NIACC Criminal Justice Advisory Board taking a special interest in the success of NIACC's Criminal Justice program and the program's students. He has been an integral part of the long-term success of the program.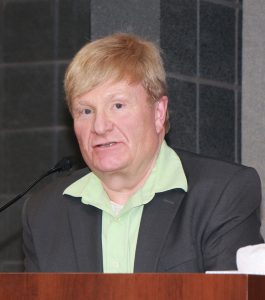 Long time Forest City educator, Scott D. Bertelsen '79, was honored as NIACC's 2019 Distinguished Alumnus.
Bertelsen who grew up in Sheffield, has taught English and coached speech at Forest City High School for 39 years and is warmly known around school as "Mr. B" or "Bert". He plans to retire this year.
Bertelsen graduated from NIACC and went on to the University of Northern Iowa obtaining his bachelor's degree in English and secondary education with a minor in speech education in 1981. Bertelsen has spent his career teaching and impacting students who've participated in speech, instilling in them the confidence and the skills to communicate in front of an audience. He has been a strong advocate for the arts – especially the performing arts and has been a key part of building the strong speech program at Forest City High School. He has also given back to the Forest City community by involving young people in musicals and plays and serving as a producer.
Bertelsen was awarded KIMT's Golden Apple award two times. He received outstanding speech, theatre, debate, and theatre educator awards from the National Forensics Society in 2011. Bertelsen was inducted into the Iowa High School Speech Association Hall of Fame in November 2018. He has served the Iowa High School Speech Association (IHSSA) as a district officer, district contest manager, and judge. He also has served on the Coaches Convention Committee and other groups to support the mission of the IHSSA.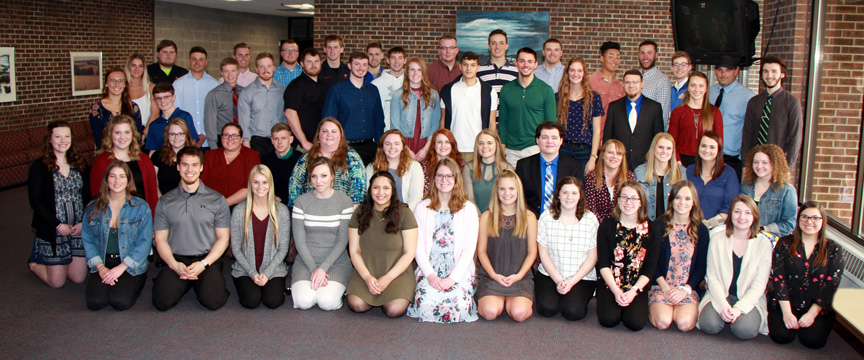 Front Row (Left to Right): Rachel Kontze (Tauranga, New Zealand), Luke Arrowood (Algona, IA), Emily Endelman (Clear Lake, IA), Ashley Johnson (West Des Moines, IA), Candie Cueva (Garner, IA), Sarah Dodd (Mason City, IA), Cecilia Novotney (Rockwell, IA), Denise Thompson (Wadena, IA), Addyson Clark (Allison, IA), Sydney Fullerton (Rockford, IA), Emily DeBower (Carpenter, IA), FaLicia Tucker (Mason City, IA)
Second Row (Left to Right): Klaire Chisholm (Osage, IA), Annmari Milbrandt (Osage, IA), Elizabeth Valasek (Osage, IA), Katharina Josipovic (Bruck, Austria), Thomas Cobham (Preston, United Kingdom), Jill Paul (Burt, IA), Adriane Cole (Waterloo, IA), Tate Powers (Gilbert, IA), Morgan Luecht (Mason City, IA), Nathan Hanna (Mason City, IA), Tina Slinger (Charles City, IA), McKenzie Mohl (Osage, IA), Kala Rose (Greene, IA), Hanna Mullenbach (Osage, IA)
Third Row (Left to Right): Alexandra Hable (Decorah, IA), Jonathan Opkis (Nora Springs, IA), Parker Allen (Hampton, IA), Jacob Tefft (Mason City, IA), Keith Adams (Stacyville, IA), Timothy Hoffmann (Mason City, IA), Ashley Alert (Mason City, IA), Julian Echeverri Spaggiari (Bogota, Colombia), Trey Wiegmann (Mason City, IA), Hannah Wagner (Nora Springs, IA), Jonathan Hernandez (Kanawha, IA), Cailey Weaver (Rockwell, IA), Douglas Steinhoff (Sioux City, IA), JC Houdek (Nora Springs, IA)
Back Row (Left to Right): Kirrilly Hughes (Telegraph Point, NSW, Australia), Dylan Cavett (Lake Mills, IA), Benjamin Fitzgerald (Mason City, IA), Kyle Pike (Gold Coast, Queensland, Australia), Matthew Bormann (Mason City, IA), Tyler Swenson (Joice, IA), Colin Salz (St. Ansgar, IA), Clay Shultz (Greene, IA), Ryan Bartling (Rockford, IA), Vaughn Deinhart (Eden Prairie, MN), Thomas Skoro (Medicine Lake, MN), Michael Oh (Northbook, IL), Ryan Swanson (Eden Prairie, MN), Grant Dieken (Clear Lake, IA)
Not Pictured: Benjamin Boerjan (St. Ansgar, IA), Scottie Brown (Mason City, IA), Cyle Calhoun (Mason City, IA), Tahya Campbell (Waterloo, IA), Julian Giustiniano (Perth, Australia), Ashley Jolly (Klemme, IA), Kyle Lang (Mason City, IA), Sae Oikawa (Saitama, Japan), Emily Overy (Manly, IA), Christian Paloma (Mason City, IA), John Patterson (St. Ansgar, IA), Amanda Poley (Joice, IA), Benjamin Roisen (Forest City, IA), Nicholas Schonrock (Blue Earth, MN), Caitlin Serle (Melbourne, Australia), McGwire Skogen (Mason City, IA), Jack Woods (Walton-On-Thames, United Kingdom)