2006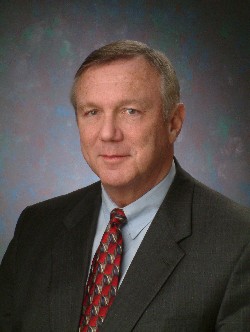 Daniel W. Latham is a Mason City native who recently moved back to North Iowa with his family. The successful businessman graduated from Mason City High School then spent three years in the military before attending North Iowa Area Community College. He played football for the College and earned his Associate of Arts degree in 1972. He also has a bachelor's degree in marketing and finance from the University of Northern Iowa.
His wife, Debi, is also a NIACC graduate. They live in Mason City with their daughters, Jillian and Mackenzie. Currently, Mr. Latham is chairman of the board for the LXI Corporation, a Texas-based company which recently opened an operation in Mason City.
Latham has a reputation for turning around declining businesses and positioning them for growth in new markets. Prior to returning to Mason City, he was president of the enterprise division for a Boca Raton start-up known as Seisint Inc. There, he targeted a new innovative technology to the federal government's intelligence community, accomplishing many firsts…first time technology sold, first time sold to federal government, first time sold to state government, first time sold to commercial customers, and first time sold to law enforcement. Seisint was sold to LexisNexis in September 2004 for $775,000,000.
His success stories also include Imagelinks in Melbourne, FL, where as CEO he turned around the unprofitable company in one year, growing their revenue 250% and placing them in the top 10 of the Fast 50 growth companies in Florida. As President of Coyote Network Systems, he grew revenues from $5 million to $32 million, acquired four strategic companies while selling non-strategic assets, and secured listing on NASDAQ national markets.
Latham also handled large account sales for IBM; served as VP of marketing and service for Ameritech (growing the operation from $40 million to $280 million in annual revenue); was VP of worldwide telecom marketing for Digital Equipment Corporation (growing the business from $450 million to $1.2 billion in sales); led the worldwide sales effort for Racal-Datacom; and grew Frontier Communications International to three times the industry average as president of their long distance services.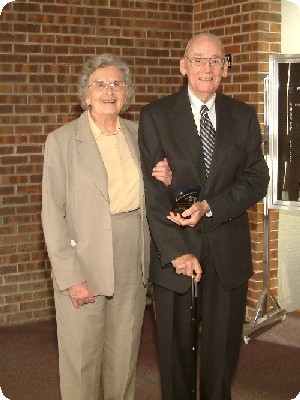 Jim Brown and Helen Stoecker met in Mr. Herrick's American Government class at Mason City Junior College in 1938. After graduating the following year, Jim continued his education at the University of Iowa, and logged many miles traveling between Iowa City and Mason City, where Helen remained to complete her education in teacher's training. Helen was one of four individuals in her class named "outstanding student" both years. She graduated from MCJC in 1940 and began teaching in the Mason City area while Jim attended law school.
In the meantime, the U.S. entered World War II. Jim passed the bar exam and graduated early to fight the war as a B-17 bomber pilot with the Army Air Corp, now the United States Air Force. Jim and Helen were married in 1943, and Helen followed Jim from base to base, finding lodging and work on her own in each location.
In June of 1944, Jim was awarded his air wings and he and his crew were assigned to the 858th Bomb Squadron where they flew single aircraft night special operations missions over Western Europe. On the crew's 13th mission, they encountered a German night fighter over Rotterdam, Holland. In the exchange of gun fire that followed, both airplanes were severely damaged and both crews were forced to bail out. Jim's parachute landed in a small Dutch town where he was eventually taken into the protection of the Dutch resistance until he was captured and imprisoned by the Germans. Two months after learning that Jim was missing in action, Helen gave birth to their first child, James H. Brown.
Following the war, Jim returned to Mason City where he began a solo law practice. He was elected Cerro Gordo County attorney, an office he held for three terms. He also was elected to the Mason City Council and served as the City Attorney for Mason City. Jim and two law school classmates and friends, Bob Kinsey and Howard Dresser, formed the law firm of Brown, Kinsey & Dresser. Jim practiced law in Mason City for 53 years and the law firm continues today as Brown, Kinsey, Funkhouser & Lander, P.L.C.
Jim and Helen have always been active volunteers in the Mason City community. Helen was active in the First Congregational Church, serving in many offices and on various boards. She also volunteered for the North Iowa Medical Center, North Iowa Band Festival, and MacNider Art Museum and was a substitute teacher for Mason City Community Schools.
Jim was active in Lions Club and his Church. He was a long time member of the Board of Directors of the North Iowa Medical Center and Kinney Pioneer Museum. He has been an active member of the YMCA, where he twice was named the Volunteer of the Year and received the Willis Patton Award. He has also received the Distinguished Alumni Award from Mason City High School.
The Browns, who still reside in Mason City, are faithful members of the NIACC Alumni Association.
Jim and Helen raised four children. Their oldest son, Jim, passed away in 1991, their daughter Sue lives in Florida, their son Marc lives in Arizona, and their son Scott is carrying on the family name in the Brown, Kinsey, Funkhouser and Lander law firm here in Mason City.
---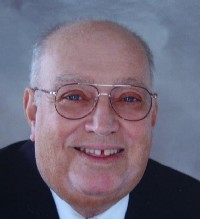 Edward Hanes, of Clear Lake, graduated from NIACC/Mason City Junior College in 1952. He was a charter member of MCJC's Alpha Chapter of the Iowa Junior College Honor Society. He is also a lifetime member of the NIACC Alumni Association. He finished his education at Iowa State University, where he earned a BA degree in Mechanical Engineering.
After serving in the U.S. Army from 1955 to 1957, Ed returned to Mason City to join a family business, Yelland & Hanes. He and his brother, Joel, purchased the business and opened stores in Clear Lake, Hampton and Albert Lea. They also started a wholesale stationery business in the basement. They eventually sold Yelland & Hanes to their key employees and concentrated their energies on Midwest Wholesale. They had over 50 employees when Ed retired.
An expert sailor, Ed serves as head judge and commodore for the Clear Lake Yacht Club, with which he's been involved for over half a century. He has built and sailed many a boat, and his excellent craftsmanship earned him an opportunity to represent Iowa at the Smithsonian in Washington DC.
Ed successfully conducted the first oral polio vaccine clinic as president of the Mason City Jaycees and was elected to the state Jaycees office as vice president. He also served on the board of Dixiefest and was president of the Clear Lake Boosters Club and the North Iowa Huskies Hockey Club. His family's dedication to the Huskies was recognized by the United States Hockey League in 2004. His honors also include the Jaycees' Outstanding Young Man Award and the Iowa Volunteers Hall of Fame.
Billie Hanes, Ed's late wife of 51 years, served on the NIACC Foundation Board of Directors in the '80s, and the Hanes family has faithfully supported the NIACC Foundation over the years. Their children include three daughters: Jacque Ward of Monroe, Connecticut, and Sandy Rolland and Nancy Lundeen, both of Clear Lake. The Hanes legacy also includes seven grandchildren.
Pathways to Success Student Leaders
Chelsie D. Anderson
Mason City, IA
Stephanie D. Gittins
Clear Lake, IA
Thomas J. Mousel
Sioux City, IA
Jonathon R. Braden
Mason City, IA
Adam J. Haines
Mason City, IA
Joseph C. Nelson
Mason City, IA
Bret M. Bredlow
Garner, IA
Debra K. Hamilton
Latimer, IA
Matthew L. Orton
Mason City, IA
James N. Bruen, II
Austin, MN
Hiroko Hattori
Hamura City, Tokyo, Japan
Ross R. Ostendorf
Thornton, IA
Benjamin J. Buck
Clear Lake, IA
Kelly C. Ihrke
Garner, IA
Jeremy L. Purvis
Britt, IA
Sarah K. Buck
Garner, IA
Ashley A. Jensen
Greene, IA
Justin M. Redman-Trotter
Milwaukee, WI
Timothy J. Cahalan
Mason City, IA
Tyler M. Johanns
Grafton, IA
Daniel R. Reed
Lindstrom, MN
Jennifer L. Cole
Mason City, IA
Jennifer L. Johnson
Britt, IA
Daniel J. Sherman
Lake Mills, IA
Jessica A. Cornett
Mason City, IA
Justin J. Johnson
Mason City, IA
Jacque J. Smith
Rockwell, IA
Kathryn S. Dahl
Mason City, IA
Jeffrey A. Keen
Marshalltown, IA
Jennie R. Sorensen
Clear Lake, IA
Dustin L. Dalluge
Grafton, IA
Elizabeth A. Klein
Forest City, IA
Travis D. Sprague
Osage, IA
Abbee C. Dickman
Thornton, IA
Christelle E. Lauen
Mason City, IA
Sharon D. Tanke
Nora Springs, IA
Samantha T. Donisi
Mason City, IA
Brenda J. Mahoney
Nashua, IA
Brian C. Vine
Mason City, IA
Beau A. Ellingson
Dyersville, IA
Christopher J. Meyer
Belmond, IA
Brock R. Watson
Mason City, IA
Eli R. Flieth
Mason City, IA
Steven G. Moretz
Hanlontown, IA