2011
A native of Charles City and a 1961 graduate of Charles City High School, William (Bill) Burge has been involved in sales throughout his entire career. Bill has sold items that can be found in virtually every aisle of the supermarket, from tea bags and cat litter to salad dressing and insecticides.
After high school and a brief stint at the University of Iowa, he found himself back in North Iowa, attending Mason City Junior College (NIACC's predecessor), where his mother was an English teacher. He earned an Associate of Arts degree from NIACC in 1964. He then went on to serve in the United States Army as a Commissioned Infantry Officer.
He later received a bachelor's degree in Business Administration from Butler University and a master's degree in Business Administration from Xavier University.
Bill's extensive career in sales and marketing began at Thomas J. Lipton, Inc. and, over time, he gained national sales responsibilities for several companies including: Paramount Foods, Lowe's, Inc., United Foods, Swedish Match Corporation, and the Walco-Linck Company (where he was President and co-owner).
Currently, Bill is the owner of Avenue Marketing, Inc., which focuses on business development in the consumer goods arena to help industrial companies find profitable ways to enter consumer markets. Avenue Marketing is also involved in Internet marketing targeted toward commerce along the Avenue of the Saints, and Bill has also expanded his hobby, writing, into ghostwriting.
He currently serves on the board of the Charles City Excellence in Education Foundation, a non-profit that provides funding to benefit student learning experiences in the Charles City school system. He has been a member of the General Merchandise Advisory Board of the Global Market Development Center, a non-profit trade association dedicated to connectivity, education and research for its membership, comprised of most every major retailer, wholesaler and supplier in the grocery and drug trades. Over the years, he has also been a member of the Elks, Lions, American Legion and Sales and Marketing Executives International.
Bill and his wife, Kathy, currently reside near St. Louis, Missouri, near his two grown children and four grandchildren. He is a lifelong supporter of NIACC, stating, "I consider my A.A. degree from Mason City Junior College (NIACC) to be every bit as important as my bachelor's degree from Butler University and my MBA from Xavier University, and perhaps more so. Without the boost from MCJC (NIACC), the other two would not have been possible."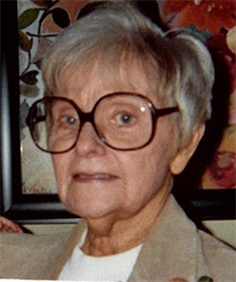 Mariestelle Brown has been a champion of community colleges, especially NIACC, for most of her life. Mariestelle attended Mason City Junior College (NIACC's predecessor) and graduated in 1947. She went on to further her education at Iowa State Teacher's College (now known as the University of Northern Iowa), Drake University and the University of Iowa. After college, a long and accomplished career in education began.
Brown taught high school in Terril and Chariton, Iowa before moving on to teach at Hamilton Business College and later at NIACC, both in Mason City. She retired from teaching in 2003.
Mariestelle was honored with the "Outstanding Faculty Member" award from the Iowa Association of Community College Trustees in 2003. She was also recognized with the NISOD Excellence in Teaching Award by the University of Texas at Austin.
Brown had a great impact on the way education is delivered at NIACC, especially in the Communications department. She has written and published over 70 individualized units of instruction and tests, built individualized Communication courses for students in career programs, created video workshops for the English Department, and was instrumental in building and refining the Writer's Workbench program. Known for her expertise, she was called on to be a speaker at many regional and national conferences throughout her career.
Mariestelle's family also shares her passion for careers in education. Her husband, Donald is a retired social science teacher. Their daughter, Chrisanne Peterson '71 is currently an English teacher at Mason City High School. Son-in-law Paul Peterson and granddaughter Sethanne DeGabriele '97 are both NIACC instructors. Sethanne's husband, Bryan, also teaches at Mason City High School. Sethanne and Bryan's son, Drew, is a pre-school student. Drew is sure to inherit a passion for education from this family!
Pathways to Success Student Leaders
Congratulations to the 59 students of North Iowa Area Community College who received the NIACC Student Leadership Award during the NIACC Alumni Association's 21st Annual Pathways to Success Program on April 26. Honorees are nominated by NIACC staff and faculty for their academic achievement, positive attitude, character, teamwork, and the ability to inspire others. Most of them graduated on Friday, May 6.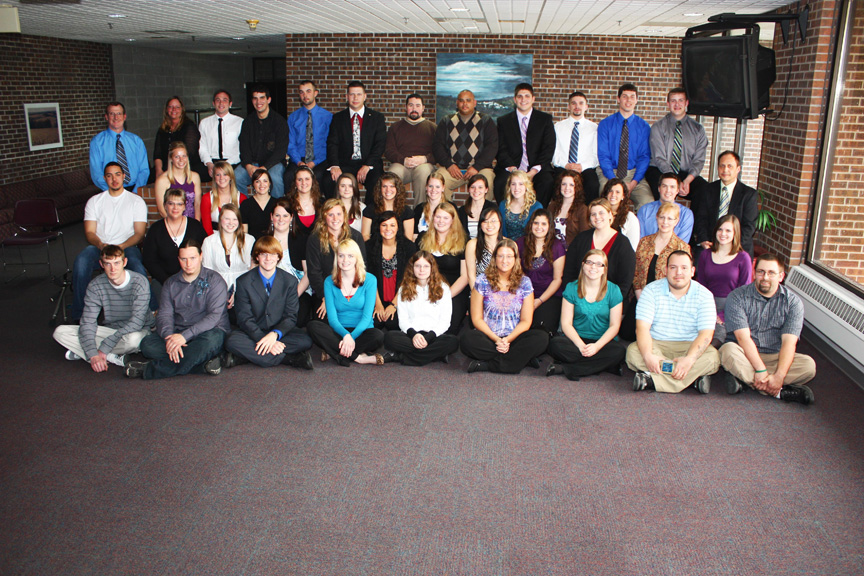 Pictured fourth row from left – Michael Pergande (Garner), Shari Kisner (Rockwell), Jason Greenwood (Yateley, England), Andrew Eckholt (Mason City), Joshua Becker (Charles City), Jeremy Deverell (Charles City), Joshua Lawrence (Mason City), Louis Reeves (Mason City), Jordan Banwart (Lake Mills), Jacob Caryl (Central City), Nicholas Stromer (Garner), Mathew Haberkamp (Garner)
Third row from left – Marvin Ledgister (London, England), Samantha Nelson (Lake Mills), Sarah Maxheimer (Clarion), Stacia Scott (Lawler), Noel Marzen (Rockford), Brooke Hain (Mason City), Miranda Schwickerath (Garner), Emily Knoop (Mason City), Morgan Muhlenbruch (Latimer), Mareah Sletten (Osage), Monica Jahnel (Osage), Cassie Christianson (Lake Mills), Shawn Kittleson (Mason City), Douglas Stromley (Mason City)
Second row from left – Wendy Smith (Lake Mills), Andrea Winters (Mason City), Kristine Davis (Storm Lake), Dana Sorensen (Janesville), Lynzy Peters (Nora Springs), Katherine Hutzel (Nora Springs), Nancy Lam (Sioux City), Joy Pals (Johnson, NE), Maria Mathers (Greene), Catherine Bradley (Sheffield), Melissa Kaska (Mason City)
First row from left – Nicholas Klinetop (Charles City), Nicholas Weipert (Osage), Dalton Ebel (Mason City), Lynette Williams (Rockford), Hannah O'Neil (Manly), Christina Hernandez (Mason City), Jenna Dorsey (Clarion), Travis Hernandez (Mason City), Matthew Hoeft (Forest City)
Not pictured – Jacob Bell (Mason City), Jared Hansen (Ventura), Jordan Huffman (Sergeant Bluff), Stephen Kessler (Hopkins, MN), Jonathan Lewerke (Mason City), Michael Mack (Osage), Alicia Martin (Nashua), Joel Perry (Rockwell), Emily Philipp (Osage), Kelsey Ruehlow (Osage), Kayla Watson (Rockwell), Nathan Weiland (Britt), Nathan Youngblut (Mason City)