2012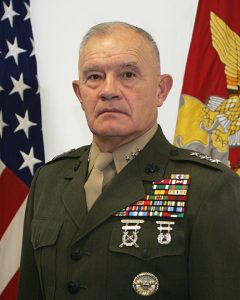 Dennis Hejlik, a native of Garner, Iowa, enlisted in the Marine Corps in 1968 after his graduation from Garner Hayfield High School. He was honorably discharged as a sergeant in 1972 and then attended North Iowa Area Community College, graduating in 1973. Following NIACC, Dennis went on to graduate from Minnesota State in 1975. He is also an honor graduate of Amphibious Warfare School, Command and Staff College, and the College of Naval Warfare with a Masters in International Security and Strategy.
LtGen Hejlik's personal decorations include the Defense Superior Service Medal with Gold Star, Legion of Merit with Gold Star, Meritorious Service Medal with two Gold Stars, Navy Marine Corps Commendation Medal, Navy Marine Corps Achievement Medal, Combat Action Ribbon, Good Conduct Medal, and the Leftwich Award.
In 2008, LtGen Hejlik earned his third star. He is the commander of the United States Marine Corps Forces Command, Fleet Marine Force Atlantic, United States Marine Corps Bases Atlantic and United States Marine Corps Forces Europe. More than 60,000 Marines are under his command.
He will be retiring from the United States Marine Corps in July of this year, ending his accomplished military career of 42 years.
LtGen Hejlik and his wife Sandy, also a Garner native, have two children and four grandchildren.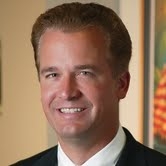 Growing up in Mason City, Terry Wisner understood the benefits to a community college education. After graduating from Mason City High School, Terry chose NIACC first because it made sense economically. He was able to attend classes while working to fund his college education.
The small campus was an environment that provided a good bridge between high school and college. Terry recalls his relationship with Gary Christiansen, who was an instructor at Mason City High School and then at NIACC. "My college experience at NIACC was grounded on a personal touch and support through a relationship with Gary Christiansen."
Terry reflected on his academic experiences at NIACC and credits his NIACC accounting classes as a strong base for the Henry B. Tippie College of Business at the University of Iowa. This led to his decision to major in accounting and become a Certified Public Accountant.
Currently, Terry is the Executive Vice President and CFO of TeamQuest Corporation in Clear Lake. He is a member of the American Institute of Certified Public Accountants. Terry is a member of the John Pappajohn Entrepreneurial Center Advisory Board at NIACC.
Terry and Lori have two children. Amanda is a student at NIACC and Joel is a freshman at Mason City High School.
Pathways to Success Student Leaders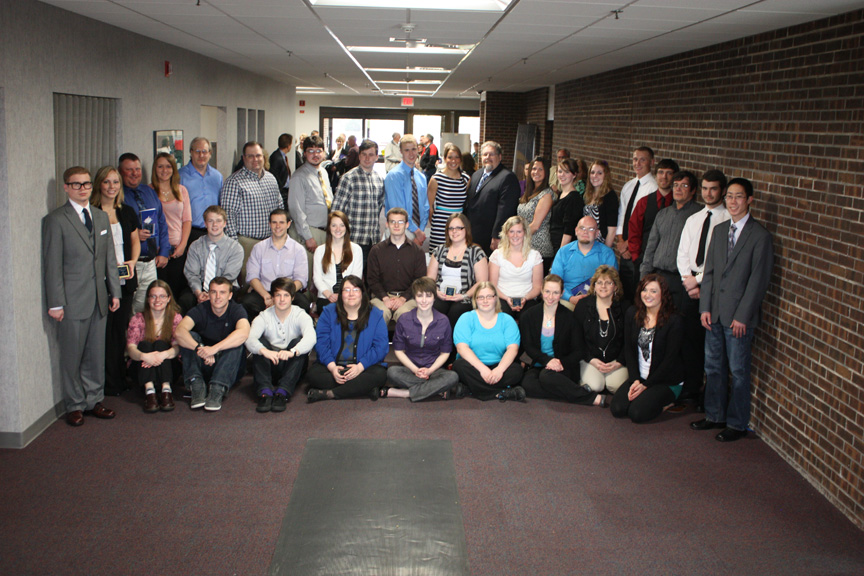 Pictured third row from left – Nathaniel Johnson (Mason City), Jason Weese (Hampton), Jessica Schwickerath (New Hampton), Maria Levang (Fertile), Thomas Curtis (Mason City), William Hicok (Mason City), Stephen Starr (Charles City), Patrick Kinsella (Frimley, England), Bradford Bisbee (Stacyville), Anna Buenneke (Oelwein), Ernest Paulsen, Jr. (Fort Walton Beach, FL), Katie Harris (Ottawa, IL), Sarah Hovey (Northwood), Brandi Weis (Stacyville), Lee Gealow (Mason City), Daniel Bodtke (Riceville), Jeffrey Lau (Northwood), Miles Black (Marble Rock), Eric Debner (Allison)
Second row from left – Justin Calson (Rudd), Zachery Lamb (Mason City), Bethany Crabb (Mason City), Robert Corell-Johanns (Manly), Jamie Schulte (Hampton), Jaclyn Studer (Britt), Brandon Glaze (Mason City)
First row from left – Amanda Wisner (Mason City), Jake Plant (Birmingham, England), Simon Brown (Dublin, Ireland), Angela Throndson (Ionia), Hannah Sinnwell (Mason City), Ashley Pals (Clear Lake), Katrina Chrismer (Klemme), Jacqueline Mormann (Clear Lake), Sarah McCarthy (Mason City)
Not pictured – Dustin Buck (Nora Springs), Jimmie Clark, Jr. (Fort Dodge), Alysa Cook (Albert Lea, MN), Rodney Harang (Lake Mills), Martin Kalkwarf (Garner), Conor Krommenhoek (Sioux City), Alex Meyer (Mason City), Martin Nel (Nora Springs), Tyler Peterson (Eden Prairie), Robert Pritchard II (Winslow, AZ), Selah Zaldarriaga (Forest City)