2023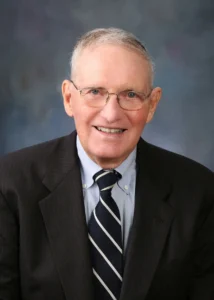 James T. "Jim" Johnson is a native of Mason City, Iowa, graduating from Mason City Junior College, NIACC's predecessor in 1962. Jim continued on to Iowa State University where he earned his Bachelor's and Master's Degrees in Aerospace Engineering. He also obtained his Master's Degree in Business Administration from MIT as an Alfred P. Sloan Fellow.
Jim spent 28 years with the Boeing Company in Everett, Washington. While at Boeing, he rose to the position of Vice President of Engineering, Research, and Development. Jim's next promotion was serving as Vice President and General Manager of the Renton Division where the 737 and 757 are built and then to the Everett Divisions, where the Boeing 747, 767, and 777 are produced. His career includes presidency of three aerospace companies; retiring from Gulfstream Aerospace in 1999. In 2000, he became the Chairman of the Board of the Museum Of Flight in Seattle, WA.
 
Jim credits a lot of his success to his Iowa roots and his start at Mason City Junior College. Working at Boeing was a magical experience. Jim was on the team that developed the first Boeing 747 and was the chief engineer for the 757. His travels took him to Japan, England, Germany, Pakistan, Africa, and India among other countries.
 
Jim's passion for education has never left him. He and his wife Sue have generously created scholarships at Iowa State University, Olympic Community College, Bremerton, WA, the Museum of Flight in Seattle ,and NIACC. After serving on the Foundation Board of Olympic Community College, Jim realized how difficult it can be to finance a college education. That reminder led him to recall his Iowa roots, his instructors, and where his education all started, at Mason City Junior College!
He is a Fellow of the AIAA and of the Royal Aeronautical Society.
Today, Jim and his wife, Sue, spend six months in Tucson, AZ and six months in Redmond, WA. They have four children, nine grandchildren, and seven great-grandchildren.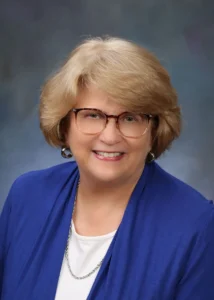 Mary Steiger Wendt was born in Bolan, Iowa, a very small town between Northwood and St. Ansgar. At a very early age, Mary moved with her parents and sister to a nearby family farm, and in 1974 moved to Mason City after graduating from Northwood-Kensett High School. Mary graduated from North Iowa Area Community College in 1976 with an Associate in Arts Degree in the Executive Secretarial program.   She started her first job just months after her NIACC graduation, right here at NIACC in July of 1976. 
During her 46 years in the NIACC Records and Registrar's office, Mary held many positions, starting as a Records Office Clerk, and retiring as the Assistant Registrar and Records Research Coordinator in 2022. Mary's time at NIACC involved a variety of work on internal committees, however she was part of numerous statewide positions as well. Mary served on the Iowa Community College Student Services Association (ICCSSA) board for many years, including the office of President. She was a member of the Upper Midwest Association of Collegiate Registrars and Admissions Officers (UMACRAO) for many years.
Mary is proud of her Bolan heritage. One of the notorious moments pertaining to Bolan occurred in 1989, all 16 residents residing in the town at that time were flown to New York City to appear on the Tonight Show with David Letterman. While Mary lives in Mason City, her heart continues to be strong for her hometown. She is the pianist, organist, and choir director for Trinity United Methodist Church in Bolan. She also serves as the church Financial Secretary, Administrative Board Secretary, and is a member of the United Methodist Women of Faith. Mary enjoys assisting with the large summer vacation bible school held in Bolan each year. She is a member of the board and currently treasurer for the Bolan Schoolhouse and Cultural Center, a non-profit organization. She is a member of P.E.O. Chapter KX in Mason City serving twice as President. Mary left a big mark at NIACC. One of her biggest undertakings, organizing and carrying out NIACC commencement for 45 years. This takes a person with true passion, loyalty, and commitment to her College.
Mary, along with her husband, Steve, reside in Mason City and still own the family farm near Bolan, where she grew up. They have one daughter, Alyssa, who also lives in Mason City.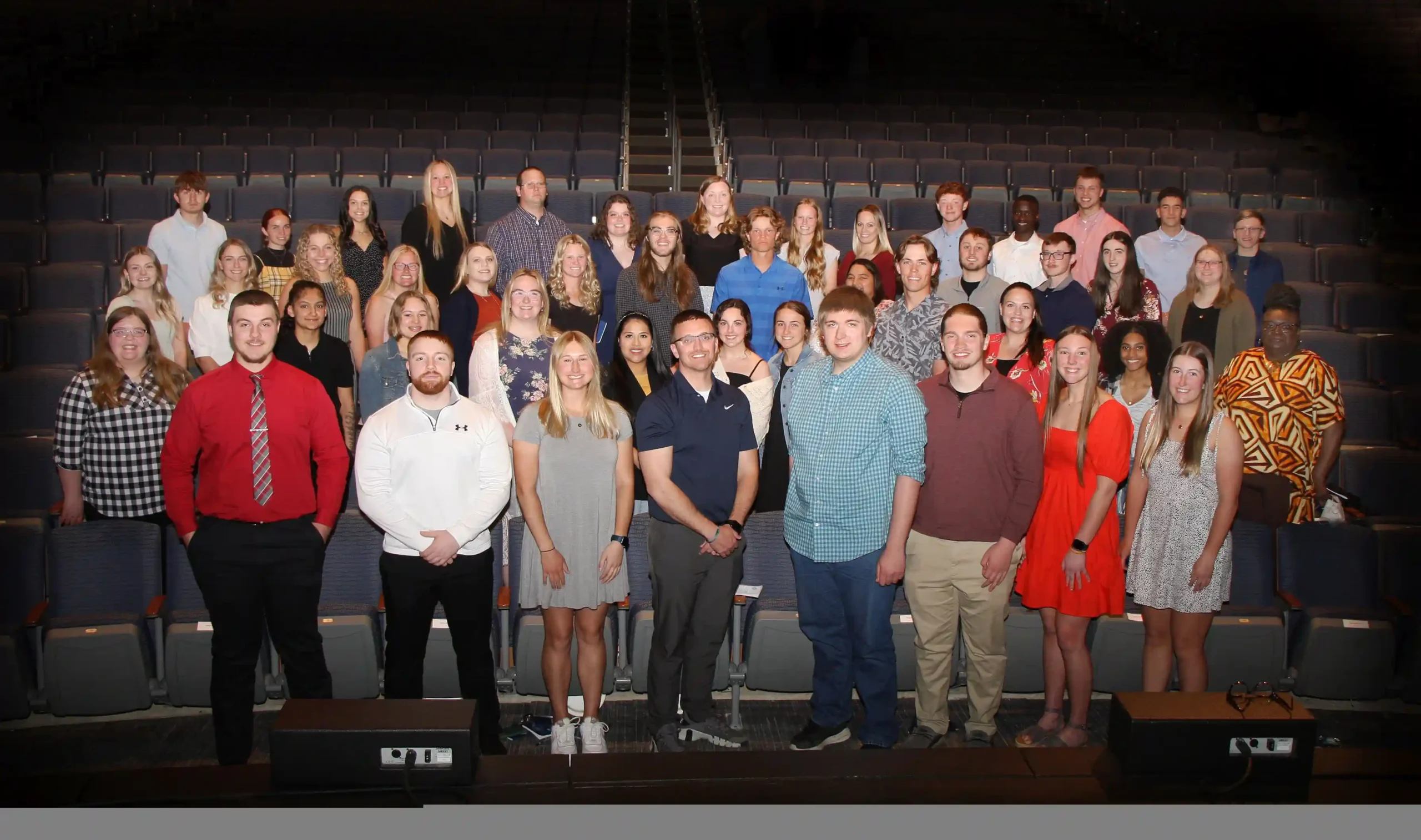 Front Row (Left to Right): Cannon Craighton (Sheffield, IA), Chase Carpenter (Waverly, IA), Kirsten Boerjan (Saint Ansgar, IA), Dan Bock (Belmond, IA), Benjamin Blumer (Meservey, IA), Johnathan Barrett (Mason City, IA), Tiegan Barkema (Mason City, IA), Alyssa Alert (Mason City, IA)
Second Row (Left to Right): Sarah Zehr (Mason City, IA), Jaya Soor (Derby, England), Lauren Hemann (Riceville, IA), Hope Hartman (Sheffield, IA), Yanileth Guzman (Belmond, IA), Katelyn Goll (Mason City, IA), Rachel Fehr (Mallard, IA), John Doty (Waukee, IA), Ashley Dorn (Rockford, IA), Chiara Decena Barbieri (Brampton, Ontario, Canada), Tina Creal (Mason City, IA)
Third Row (Left to Right): Mikenzi Roberts (Mikenzie Roberts), Shaye Theobald (Mason City, IA), Riley Wetlaufer (Saint Joseph, MO), Sophie Lunning (Mason City, IA), Paige Lubbert (Riceville, IA), Laken Lienhard (Cresco, IA), Joshua Laue (Charles City, IA), Jake Larson (Prior Lake, MN), Jessica Jordal (Manly, IA), Justice Jones (Rockford, IA), Trevor Johnson (Rockford, IA), Makenna Jensen (Charles City, IA), Kayler Jensen (Lake Mills, IA)
Back Row (Left to Right): Ethan Sesker (Forest City, IA), Katyrra Peck (Richmond, UT), Kaylee Ollendieck (Cresco, IA), Kyla Moore (Centerville, IA), Matthew Mitchell (Wesley, IA), Kaley Meyer (Clear Lake, IA), Alexandra Meuer (Johnston), Molly McGuire (Mason City, IA), Cassandra McBride (Mason City, IA), Bryce Malchow (Ames, IA), Oscar Madong (Lake Mills, IA), Braden Powers (Saint Ansgar, IA), Jayce Prymer (Rudd, IA), Caden Schinagel (Mason City, IA)
Not Pictured: James Chisholm (Osage, IA), Cole Kelly (Britt, IA), Austin Klug (Caledonia, MN), Audrey Martinez-Stewart (Saint Paul, MN), Coady Olson (Clarion, IA), Jackie Pippett (Ankeny, IA), Caleb Rasch (Bancroft, IA), Dwight Schwickerath (New Hampton), Matthew Seberson (Waseca, MN), Sven Suesselbeck (Dinslaken, Germany)