2018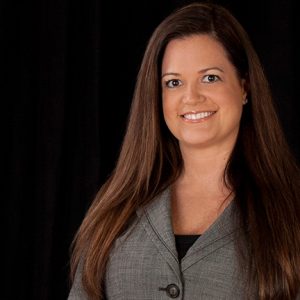 Didi N. Zahariades is a native of Mason City graduating from NIACC with the class of 1990. Didi went on to attend the University of Iowa graduating in 1992 with a Bachelor of Arts degree in communications. Didi holds a master's degree in counseling psychology from Lewis and Clark College.
Didi is a psychotherapist, executive coach, and motivational speaker specializing in the development of individuals. Didi has spent the last fifteen years in the successful practice, Coach to Win. During this time, she has established an impressive, diverse client list throughout the U.S. and internationally. Didi has gained national attention as a regularly featured expert on a variety of television programs with core concentration on conflict resolution for both business and family.
Didi accredits her own life success to the luxury of growing up in Iowa where strong work ethics are a way of life and family values are respected. Didi is also a co-author of The Confident Woman and Overcoming the Good Little Girl Syndrome.
Didi and her husband live in Portland, Oregon with their son.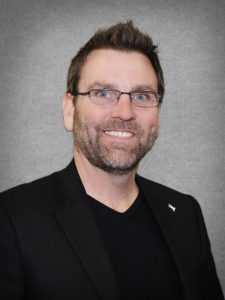 Stephen A. Minert grew up in Mason City and Clear Lake. Stephen is the CEO of Harley-Davidson of Mason City and of the Cedar River Harley-Davidson dealership in Charles City. He chose NIACC first because it made sense economically. He was able to attend classes while working to fund his college education. Stephen graduated from NIACC with the class of 1990. He studied Political Science at the University of Northern Iowa and earned a Bachelor of Arts degree from Buena Vista University.
Since 1990, Stephen and his family have donated to over 150 North Iowa charities and other worthy causes through the hosting of events held at their dealerships. Among the charitable entities they've assisted financially are the Northern Lights Women's Shelter, Make-a-Wish Foundation, Humane Society, and the annual 'Battle of the Badges' hockey tournament. Stephen presently serves as the Chairman of the Cerro Gordo County Compensation Board and he is a Mason.
Stephen has two children and he resides in Clear Lake.
Pathways to Success Student Leaders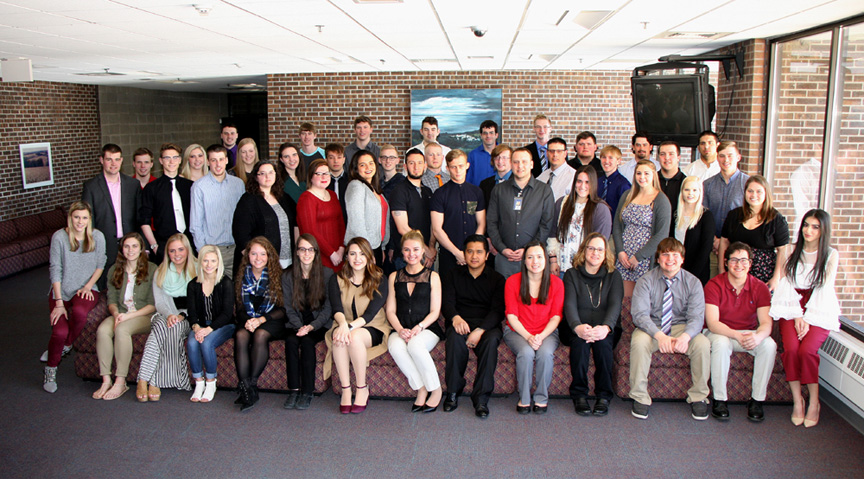 Front Row (Left to Right): Taylor Laabs (Princeton, MN), Kelsie Willert (Bolan, IA), Marissa Olk (Clear Lake, IA), Mirsada Pivic (Mason City, IA), Samantha Schupanitz (Mason City, IA), Miranda Wulff (Mason City, IA), Guissella Munoz (Guatemala City/Clear Lake, IA), Anastasiia Antonova (Kiev, Ukraine), Ian Vallebo (Mason City, IA), Kathleen Bimbo (Mason City, IA), Jennifer Jensen (Riceville, IA), Trace Kessler (Manly, IA), Caleb Howe (Nora Springs, IA), Sarah Yacoub (Mason City, IA)
Second Row (Left to Right): Chadd Blanchard (Rockwell, IA), John Kraft (Mason City, IA), Dylan Parks (Kensett, IA), Jamie Horspool-Ridlon (Klemme, IA), Kristen Cox (Martensville, VA), Claudia Cueva-Escobedo (Lima, Peru), Pedro Giordani (Brazil), Charlie Evans (Wokingham, United Kingdom), Jesse Gobeli (Belmond, IA), Kathryn Flaherty (Albert Lea, MN), Megan Notermann (Mason City, IA), Mikyla Marquard (Hampton, IA), Elizabeth Reid (Clear Lake, IA)
Third Row (Left to Right): Brady Ringleb (Hampton, IA), Morgan Frank (Wanda, MN), Brooke Greenwood (Mason City, IA), Brena Hamilton (Mason City, IA), Raphael Xavier (Sao Paulo, Brazil), Paul Currier (Hampton, IA), Justin Zimmerman (Osage, IA), Tyler Nestvedt (Mason City, IA), Kelley Schwab (Mason City, IA), Canyon Kuhlmann (Sully, IA), Brady Girkin (Charles City, IA), Cade Schares (Washburn, IA)
Back Row (Left to Right): Preston Larson (Sheffield, IA), Nate Overby (Cannon Falls, MN), Brandon Hyde (Readlyn, IA), Ely Taylor (Mason City, IA), Dalton Adams (Thompson, IA), Brad Burns (Mason City, IA), Luke Worden (Belmond, IA), Tyler Lien (Kirkwood, MO), Jimsher Sidju (Vancouver, Canada)
Not Pictured: Anthony Emanuel (Calmar, IA), Brenna Jara (Hanlontown, IA), Steve Liao (Fort Dodge, IA), Jaycob Payne (Mountain Green, UT), Logan Plagge (Sheffield, IA), Jordan Prantner (Hampton, IA), Kennedi Rowlands (Charles City, IA), Adria Stewart (Minneapolis, MN), Maegan Tegtmeyer (Clear Lake, IA), Courtney Tusler (Osage, IA), Nathanael VanKan (Brisbane, Australia), Joseph Werner (Hastings, MN), Nicholas Wurm (Adelaide, Australia)