1999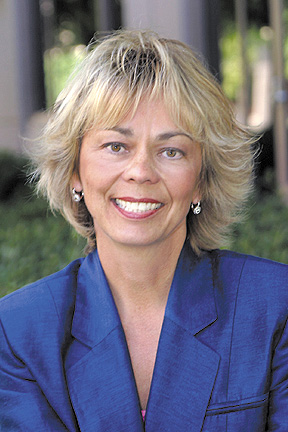 Melinda (Nelson) Masson is the founder and CEO of Merit Property Management, Inc. in Mission Viejo, California. Merit Property Management, Inc. is one of California's largest community association management companies. With offices in Mission Viejo, San Diego, and Temecula, Merit oversees more than 180 community associations and 60,000 residential units throughout southern California.
Melinda's business contributions have earned her numerous awards and honors, including 1991 Woman Entrepreneur of the Year (Earnst & Young), 1997 Lifetime Achievement Award (California Association of Community Managers), and Woman in Business 1997 Award (Orange County Business Journal).
Melinda is involved in many community and charitable causes through her active participation as a board member and Advisory Board member for United Way, Habitat for Humanity, Goodwill Industries, and Human Options.
Arthur Fischbeck, Class of 1939
A 1939 graduate of Mason City Junior College, Art Fischbeck served on a study group committee during the transition in the mid 1960s from Mason City Junior College to North Iowa Area Community College. In 1991, Art became a member of the original NIACC Alumni Association Advisory Board and also served on the College's 75th Anniversary Committee in 1993. He is a current member of the NIACC Alumni Association.
Art is an active member of the community and has been involved with numerous organizations throughout North Iowa including Crime Stoppers, Kinney Pioneer Museum, YMCA, Camp Tanglefoot, Mason City Public Library, and Mason City Chamber of Commerce.
---
Harold E. "Speed" Ahlman, Class of 1991
Harold E. "Speed" Ahlman proved that it is never too late to get an education. After 50 years in the workforce, Speed came to NIACC and earned his GED and Associate Degree at age 70. He served on the NIACC Foundation Board of Directors from 1991-98 and played an instrumental role in the purchase of the land on the east side of College Drive.
A familiar figure in promoting the College, Speed appeared in numerous television and radio advertisements including the popular "NIACC First" campaign. He also served on the NIACC Adult Learner Advisory Council, was a Kiwanis Club member and an original member of the Mason City Development Association which initiated Mason City Industrial Park.
Speed passed away on June 14, 2002, at the age of 82. He is survived by his wife, Gladie, several children and grandchildren.
---
Richard Dean, Class of 1947
A member of the original NIACC Alumni Association Advisory Board, Rich Dean has served the College and the North Iowa community in a number of different fashions.
A talented jazz musician, Rich has performed in the Jazz Festival Finale Concert at NIACC and has shared this music appreciation with others through teaching the NIACC NOW program. Rich is the founder of Raiders of the Lost Art, a local jazz group, of which he is bassist. He regularly plays saxophone for the Mason City Big Band and is the bass player with the North Iowa Jazz Ensemble.
Rich and his wife Shirley (a 1949 MCJC graduate) have received the Community Appreciation Award from the Mason City Chamber of Commerce for their work in the community.
Pathways to Success Student Leaders
Christopher J. Anderson
Rockwell, IA
Maciej Kaminsky
Berlin, Germany
Claudia E. Rains
Mason City, IA
Jason A. Blaser
Crystal Lake, IA
April J. King
Oelwein, IA
Ryan L. Schucknecht
Paullina, IA
Arica J. Dau
Primghar, IA
Glenda M. Klimesh-Ross
Osage, IA
Martha Schutt
Hampton, IA
Aaron Davis
Cresco, IA
Nicholas M. Kolbet
Alta Vista, IA
Aaron J. Siskow
Sheffield, IA
Natalie Demaray
Nora Springs, IA
Brooke Langlitz
Meservey, IA
Andrew E. Smith
Clear Lake, IA
Julie L. Faas
Osage, IA
Anne M. Lauen
Clear Lake, IA
Heather A. Stephens
Clear Lake, IA
Amy J. Fahrmann
Latimer, IA
Wendy L. Lautner
Jefferson, IA
Adam K. Suby
Mason City, IA
Jason J. Freerksen
Riceville, IA
Michael A. McLaughlin
Mason City, IA
Nicholas N. Tindall
Corwith, IA
Tammy L. Graff
Joice, IA
Kristi L. Mittag
Northwood, IA
Nathan P. VonBehren
Olin, IA
Emily M. Halfpap
Mason City, IA
Jacki L. Movall
Schaller, IA
Julie M. Weide
Grafton, IA
Michael Homewood
Dorchester, IA
Andrew K. Myers
Urbandale, IA
Elizabeth A. Winters
Little Cedar, IA
Pamela J. Peterson
Mason City, IA