1998
Donovan Haxton, Jr., Class of 1961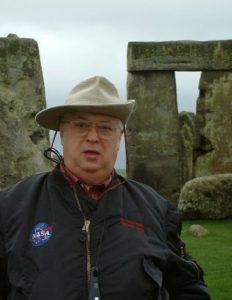 Donovan Haxton, Jr. graduated from Mason City High School in 1959, and from Mason City Junior College (NIACC's predecessor) in 1961. He then attended the University of Iowa where he received a degree in Astronomy. He is Senior Research Specialist at the Hubble Space Telescope Operations Control Center at Goddard Space Flight Center in Greenbelt, Maryland, and adjunct professor in Astronomy at Howard Community College in Maryland.
A lifetime member of the NIACC Alumni Association, he and his wife, Judith, continue to support the College through gifts to the NIACC Foundation.
Bill Gasperi, Class of 1962 and
Gwen Gasperi, Class of 1965
Bill Gasperi (class of '62) and Gwen Hall Gasperi (class of '65) have been very involved with NIACC from their own education to that of their two daughters, Stacey and Jody. Bill and Gwen helped organize, decorate, and administer the Athletic Kick-Off Banquet for about 15 years, worked in concession stands, organized, and attended Athletic Club meetings. They have also attended most home and many away athletic events, as well as the music and drama events at NIACC. They continually provide outstanding service and support to the College.
Pathways to Success Student Leaders
Amanda Anderson
West Bend, IA
Lee Heying
New Hampton, IA
Michael Otto
Osage, IA
LeAnn Beck
Spirit Lake, IA
Heather Johlas
Shell Rock, IA
Kristie Pfab
Dubuque, IA
Steven Carney
Mason City, IA
Tammy Kallenbach
Mason City, IA
Abby Ringus
Ventura, IA
Jennifer Craighton
Rockwell, IA
Jennifer Kammeyer
Mason City, IA
Kelly Rustad
Northwood, IA
Clint Dredge
Mr. Ayr, IA
Shannon Kock
Greene, IA
Justin South
Ankeny, IA
Derek Emerson
Mason City, IA
Andrea Lee
Riceville, IA
Kevin Stenzel
Freeborn, MN
Neil Francois
Masonville, IA
Molly Mueller
Mason City, IA
Linda Tweeten
Lake Mills, IA
Melanie Freeman
Guttenberg, IA
Elizabeth Nannenga
Thornton, IA
Patrick Walter
Cresco, IA
Melissa Hanna
Forest City, IA
Echo Ochoa
Lake Mills, IA
Kelly Yelland
Sheffield, IA
Myrt Hanson
Clear Lake, IA
Brandy Ohden
Nora Springs, IA
Angela Zimmerman
Sheffield, IA