1997
Douglas Opheim, Class of 1978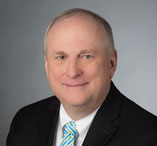 Doug Opheim, CPA, is a senior executive with RSM McGladrey, Inc. in the Twin Cities. He earned his Associate in Arts degree from NIACC in 1978 followed by a bachelor's degree from the University of Northern Iowa. He has spent most of his career with McGladrey, holding positions of increasing responsibility within the company. Elected to the firm's Board of Directors in 1996, he is a senior vice president in the National Office of Audit and Accounting. Doug is responsible for creating the Opheim Family Scholarship through the NIACC Foundation. Education has been an important part of his family's life – his father is a retired NIACC accounting instructor, his mother spent her career in public education, and his three sisters also received degrees from NIACC. Doug and his wife, Deann Everson, live in Lakeville, MN.
Roberta Van De Walker, Class of 1957
A 1957 graduate of Mason City Junior College (NIACC's predecessor), Roberta Van De Walker is involved in many community service activities in organizations throughout North Iowa as well as national and state organizations. Some of her volunteer activities include The Arc of North Central Iowa, The Arc of Iowa, Arc National, Care Review of the Mason City Group Home, Iowa Protection and Advocacy, Cerro Gordo County Case Management Review Committee, and board member of MECCA (Medical Evaluation Clinic for Children of Area 2). She is also a retired teacher of 40 years.
Pathways to Success Student Leaders
Ryan Bezely
Clear Lake, IA
Jeremy Holcomb
Algona, IA
John Ressler
Mason City, IA
Joseph Bolin
Rockwell, IA
Jeff Kennedy
Rockwell, IA
Brandi Richey
Britt, IA
Deb Caspers
Swaledale, IA
Justin Kennedy
Grand Meadow, MN
Julie Roseland
Thornton, IA
Scott Cooper
Manly, IA
Debbie King
Mason City, IA
Michael Rottinghaus
Nora Springs, IA
Carrie Doonan
Newell, IA
Jennifer Kisilewski
Mason City, IA
Raedel Schrage
Clear Lake, IA
Eugene Ehlinger
Rockford, IA
Michael Koenigs
McIntire, IA
Thad Sheldon
Rockwell, IA
Brian Fennema
Ames, IA
Nancy Kosel
Mason City, IA
Cynthia Shelton
Mason City, IA
Jeana Fish
Corwith, IA
Jim Lang
Rockwell, IA
Myra Siems
Charles City, IA
Brooke Fisher
Clear Lake, IA
Angela Lundberg
Mason City, IA
Tawni Sliger
Mason City, IA
Sarah Goepel
Britt, IA
Judith Martinez
Mason City, IA
Brian Stroup
Mason City, IA
Jenny Haupt
West Union, IA
Jacob Mertz
Mason City, IA
Scott Suntken
Clear Lake, IA
Joel Heuer
Allison, IA
Rose Pederson
Lake Mills, IA
Daniel Ward
Mason City, IA
Sarah Hinrichs
Ventura, IA
Sethanne Peterson
Mason City, IA
Timothy Westrum
Glenville, MN
Jodie Hitzhusen
Rockwell, IA
Jon Pletcher
Forest City
Raymond Whittum
Britt, IA