2008
2008 NIACC Outstanding Alumnus
Adam Bleakney
Class of 1997
While Adam makes his home in Savoy, Illinois, he grew up in Mason City and is a 1994 graduate of Mason City High School. After high school Adam attended NIACC and upon completion of his Associate of Arts degree, he transferred to the University of Illinois, majoring in English.
Bleakney raced for the University of Illinois where he graduated with a Master's Degree in journalism in 2003. After working for BlazeSports America in Atlanta, Georgia, for two years, he returned to the University of Illinois with his wife, Laura, in 2005 to take on the head coaching position for the University wheelchair track and road racing squad. He is currently training for the Beijing 2008 Paralympics.
During his racing career, Bleakney was champion in the 2006 Indianapolis Mini-Marathon, 2005 Nashville Marathon and 2002 Chicago Marathon. He was the 800m silver medalist in the 2004 Paralympics and an 800m finalist in the 2000 Paralympics. Bleakney was runner-up in the 2004 Chicago Marathon and 2004 Columbus Marathon.
As head coach of the University of Illinois wheelchair track and road racing team, his athletes have won nine World Championship medals, more than a dozen prestigious road races, including the New York City and Chicago Marathons, and currently hold five world records. He was selected as the 2008 U.S. Paralympic Coach of the Year.
Adam and Laura, are the proud parents of one son, Carter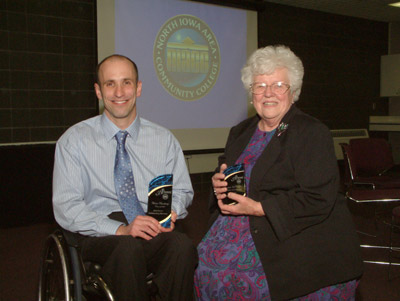 2008 NIACC Distinguished Alumna
Donna DePrenger
Classes of 1967 and 1969
Donna was born in Chicago, but has called several states home, including Minnesota, West Virginia, Ohio, Illinois and Iowa. Mason City Junior College is what brought Donna and her husband Don to the Mason City area. Don was hired as a chemistry instructor in 1965. Donna was working as the supervisor for the Candy Stripers at Mercy Hospital when she decided to pursue an LPN degree. Following her completion of an LPN degree in 1967, Donna worked as an LPN at Park Hospital and was then assigned to Mercy.
Shortly after that, Donna pursued an Associates of Arts degree and obtained it in 1969, which led her to employment that reflected one of her passions. Donna was hired as an assistant in the NIACC music department. She served as a piano instructor at NIACC for 16 years. DePrenger is widely known throughout Mason City for her community involvements including her current contributions to the Mason City Foundation, Community Kitchen, Chautauqua Circuit, Matinee Musical, Monday Club, PEO and Order of the Eastern Star. She is also the director of the hand bell choir at First Presbyterian Church in Mason City. Several other community groups have benefited from her membership over the years.
Donna and her late husband, Don, have two children, Dan and Annie, who are both NIACC graduates, seven grandchildren and 11 great-grandchildren. Two of Donna's grandchildren, Brandy and Stacy, are also NIACC graduates.
Pathways to Success Student Leaders
Congratulations to the students of North Iowa Area Community College who received the NIACC Student Leadership Award during the NIACC Alumni Association's 18th Annual Pathways to Success Program on April 10, 2008. Honorees are nominated by NIACC staff and faculty for their academic achievement, positive attitude, character, teamwork, and ability to inspire others.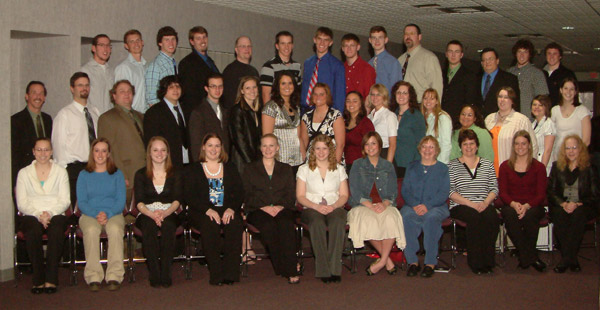 Pictured back row from left – Timothy Murphy (Saint Charles, IL), Shayden Bertagnolli (Roy, Utah), Spenser Rahm (Wesley), James "Tony" Paulsen (Mason City), Dennis Ostrem (Garner), Matthew Borgford (Pinawa, Manitoba, Canada), Jarrod Tell (Mason City), James Stumme (Forest City), Marshall Sunnes (Hawkeye), Jason Florence (Lake Mills), Timothy Fredericks (Mason City), Terry Dryer (Rockwell), Jeffrey Krueger (Mason City), Nate Aigner (Mason City)
Middle row from left – Steven Grabill (Sumner), Paul Haugen (Mason City), Darick Wooldridge (Mason City), Jarred Templeton (Clear Lake), Zachary Chase (Clear Lake), Stacy Ramon (Mason City), Stefanie Madsen (Rembrandt), Molly Niedert (Sumner), Samantha Shoger (Nora Springs), Emily Neuwohner (Lake Mills), Beth Daniels (Kanawha), Mary Scioneaux (Garner), Eva Gutierrez (Mason City), Ericka Tynan (Mason City), Sunsett Reynolds (Stacyville), Amanda Roth (Mason City)
Front row from left – Jenna Winters (Mason City), Kailee Kuykendall (Charles City), Jennifer Heaverlo (Nora Springs), Bethany Pint (Fairbank), Anna Schumacher (Grandview), Jennifer Steere (Greene), Michele Homer (Thornton), Deborah Fatland (Mason City), Dawn Wendland (Rockwell), Brittany Schrage (Marble Rock), Sherri Hiller-Beckner (Rockwell)
Not pictured – Amanda Card (Belmond), Bryce Howard (Centerville, UT), John Lee (Mason City), Whitney Nuehring (Mason City), Mick Parr (Mason City), Jennifer Ramthun (Lake Mills), Annette Roethler (Colwell), Anna Seibert (Rockford), Marcia Snitker (Mason City), Jacob Thompson (Mason City)