2017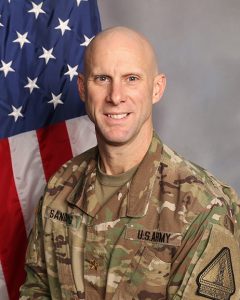 Gavin Sandvig grew up in Eagle Grove graduating from Eagle Grove High School in 1992. He initially enrolled at Waldorf upon receiving several scholarships after high school. Sandvig tried out for the Waldorf men's basketball team and met NIACC Athletic Director, Dan Mason who at that time was coaching the Waldorf team. Sandvig ended up dropping out of college because it was going to cost him too much money to stay there. Sandvig ultimately joined the Army to pay for college. When Coach Mason joined NIACC the following year, he reached out and offered Sandvig an opportunity to come play for him. Sandvig loved NIACC, the atmosphere, the opportunities provided, the faculty, the students, it was his home away from home.
Sandvig graduated from NIACC in 1995. He also holds a bachelor's degree in Criminal Justice from Buena Vista University and a master's degree in Education from Graceland University.
Sandvig enlisted in the Iowa Army National Guard in 1993 and has served in different capacities over the past 23 years. Major Sandvig took his commission as a second lieutenant in 2004. Since 2004 he has served as platoon leader, detachment commander, operations officer, company commander, Battalion S3, and support operations officer.
Major Sandvig has been deployed twice in his career. He was deployed to Iraq in support of Operation Iraqi Freedom from March 2003 to May 2004 and again in July 2010 through July 2011 to Afghanistan in support of Operation Enduring Freedom. During Operation Enduring Freedom, Major Sandvig commanded Bravo Company 334th Brigade Support Battalion, 2nd Brigade Combat team during the state of Iowa's largest deployment since World War II.
Currently, Major Sandvig is the Executive Officer of the Recruiting and Retention Battalion located on Camp Dodge in Johnston, Iowa. Major Sandvig has been awarded the Bronze Star, Meritorious Service Medal, Army Commendation Medal, Army Achievement Medal, Army Good Conduct Medal, National Defense Service Medal, Afghanistan and Iraqi Campaign Medals and the Global War on Terrorism Service Medal.
Major Sandvig resides in Ankeny with his family, which includes wife Shannon and their three boys, Ben, Sam and JJ.
Pathways to Success Student Leaders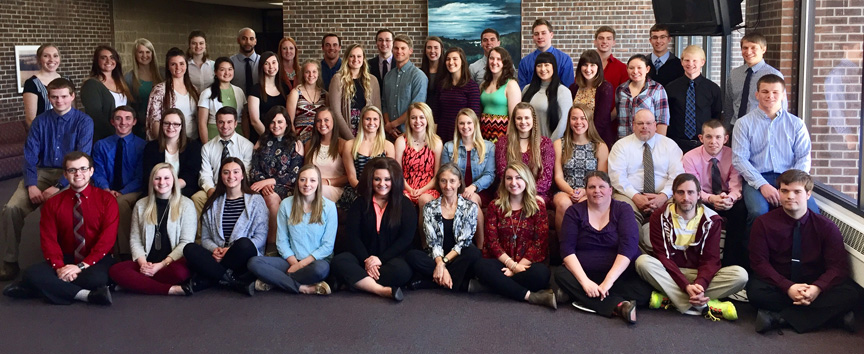 Front Row (Left to Right): Nicholas Jensen (Riceville, IA), Ciera Askildson (Belmond, IA), Lexis Wiegmann (Mason City, IA), Alyssa Cowan (Fairbault, MN), Adrii Fank (Manly, IA), Janice Nierling (Mason City, IA), Audrey Henkenius (Carroll, IA), Heather Kadera (LaCrosse, WI), Patrick Connerley (Floyd, IA), Austin Price (Clear Lake, IA)
Second Row (Left to Right): Nathan Wilson (Mason City, IA), Spencer Orr (Clear Lake, IA), Kandice Waddington (Forest City, IA), Matt Baker (Albia, IA), Elise Powers (Gilbert, IA), Brittany Florea (Manly, IA), Courtney Larson (Sheffield, IA), Riley Gavin (Lawler, IA), Jackie Bleifus (Stewartville, MN), Hannah Carr (Floyd, IA), Kendall Cornick (Mason City, IA), Chris Vander Plas (Joice, IA), Brody Wright (Osage, IA), Tucker Black (Batavia, IA)
Third Row (Left to Right): Ashley Rottinghaus (Mason City, IA), Alyssa Purman (Elkader, IA), Noelle Hulshizer (Grafton, IA), Cally Mueller (Waucoma, IA), Jamie Huang (Mason City, IA), Adriana Printy (Osage, IA), Kendra Schmidt (Lisbon, IA), Meagan Miller (Floyd, IA), Connor Enochs (Des Moines, IA), Lydia Ouverson (Mason City, IA), Jessie Thompson (Wadena, IA), Olivia Pappas (Mason City, IA), Emily Erhardt (Fairbank, IA), Lauren Castaner (Clear Lake, IA), Aaron Hardcastle (Mason City, IA), Drew Fyfe (Clear Lake, IA)
Back Row (Left to Right): Elizabeth Ouverson (Mason City, IA), Jamar Hughes (Rockford, IA), Cara Heiselman (Charles City, IA), Brandon Michie (Brisbane, Australia), Jason Stine (Mason City, IA), Kaylee Whittington (West Des Moines, IA), Devin Uhlenhopp (Clear Lake, IA), Ian Dailey (Charles City, IA), Nick Frenz (Mason City, IA), Kyle Post (Woden, IA)
Not Pictured: Bria Johanns (Nora Springs, IA), Joshua Larsen (Rembrandt, IA), Zachary Nicholson (Dike, IA), Keisuke Ohtani (Machida, Tokyo, Japan), Harrison Roberts (Garner, IA), Kenton Waters (Clarion, IA)