2022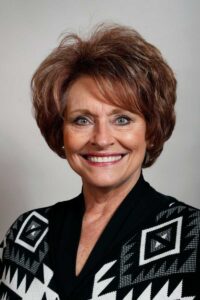 Linda L. Upmeyer is a native of Garner, Iowa, and grew up on the family farm. Linda graduated from NIACC in 1988 with an Associate's Degree in Nursing. She went on to the University of Iowa obtaining her Bachelor's Degree in Nursing with honors and distinction in 1996, and Drake University where she obtained her Master's Degree in Nursing and a Certification as a Family Nurse Practitioner (Summa Cum Laude) in 1999.
For more than two decades, Linda worked for MercyOne in Mason City, primarily in Intensive Care. As a Nurse Practitioner, her practice focus was in cardiology and case management.
Public service had been part of Linda's upbringing as her father, the late Del Stromer, a farmer, served in the Iowa House of Representatives. Linda herself, was elected to the Iowa House of Representatives in 2002. She went on to become the first woman in Iowa history to serve as Speaker of the Iowa House of Representatives, a position she held from 2016-2020. Prior to becoming Speaker, she was the first woman in Iowa history to serve as House Majority Leader (2010-2015). During her tenure in the top leadership positions, Linda helped enact major policy reforms in the areas of commerce, workforce, taxes, education, and health care. She previously served as House Republican Whip from 2008-2010 and Chairwoman of the Human Resources Committee from 2005-2007, where her committee focused on policy matters related to health care and human services. In fact, Linda and her father are reportedly the first father and daughter pair in the nation to have both served as Speakers of the House.
Linda was recently elected to the governing board of Rural Development Partners, a Community Development Enterprise (CDE) focusing on administering New Market Tax Credits to businesses to create jobs and improve economic opportunities in high poverty regions of the country. Linda sits on the Board of the National Conference of State Legislators (NCSL), the American Legislative Exchange Council (ALEC), and the Midwest Conference of State Legislators (MCSL).
In 2016, Linda was awarded the Uncommon Public Service Award, honoring her commitment to public service, by the Hoover Presidential Foundation. She is a former trustee of NIACC and a former NIACC Foundation board member. She is a former board member of both the Iowa and National Associations of Community College Trustees. She was the National Chair of the American Legislative Exchange Council (2014), where she also chaired the Center to Restore the Balance of Government (2014-2019). She recently served as the Chair of the Republican Legislative Campaign Committee, and currently co-chairs Right Women, Right Now.
Linda is a member of the Farm Bureau, the Iowa/American Academy of Nurse Practitioners, Sigma Theta Tau International Nursing Honor Society, Omicron Delta Kappa National Leadership Honor Society, Phi Theta Kappa and the Clear Lake Art Center.
Linda is married to her husband Doug. Together they have five children and seven grandchildren. Linda is the daughter of Harriet Stromer and the late Del Stromer.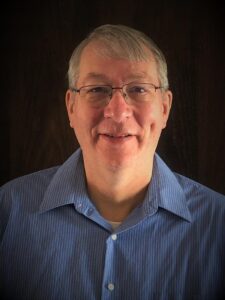 Terry DeBoer grew up on a farm between Allison and Greene, Iowa. He graduated from Allison Bristow High School with the Class of 1980, he graduated from NIACC in 1982 with a degree in Ag Business. He obtained his Bachelor's Degree in Organizational Management from Ashford University in 2012.
The ag crisis in the early 80's caused a shift in Terry's career plans. Instead of pursuing an ag career, upon graduating from NIACC, he started working at Eaton's Engine Components in Belmond which became Eaton Corporation. He held various positions in his 36 years of service to Eaton, starting as a material handler, moving to a machine operator, and eventually shifting into a human resources generalist role to run a cost savings program until his retirement.
Terry has served on numerous NIACC advisory committees over many years. He was instrumental along with NIACC's help, in obtaining grant funding to furnish a new training room at the Eaton Belmond plant. He partnered with NIACC Continuing Education to help develop an area safety council which offered free seminars and lectures for area manufacturers and businesses. He also worked with NIACC Tool & Die on a CNC class for Eaton employees as well as assisted in the development of a maintenance reserve program helping employees move into maintenance careers at the plant.
Terry volunteers for State of Iowa Special Olympics each year to recruit volunteers as well as volunteers for Habitat for Humanity. Terry was part of the Community Involvement Team with the Belmond Chamber of Commerce helping the team win "Team of the Year" three years in a row.
Terry and his wife, Brenda live in Hampton, Iowa and they are parents of two sons.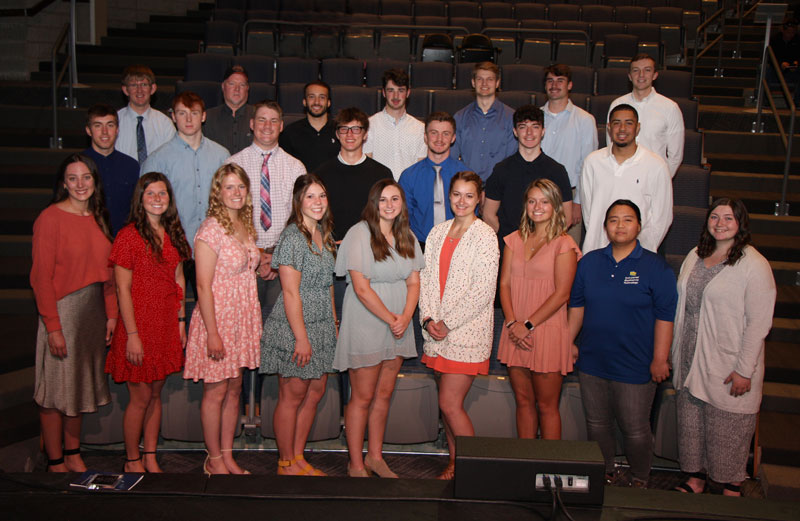 Front Row (Left to Right): Grace Tobin (Mason City, IA), Emily Wittnebel (Mason City, IA), Hailey Worman (Mason City, IA), Emma Ramon (Nora Springs, IA), Brianna Notermann (Mason City, IA), Paige Oleson (Kensett, IA), Kayley Kelley (Nora Springs, IA), Hoa Nguyen (Mason City, IA), Hallie Wenger (Masonville, IA)
Second Row (Left to Right): Jeffrey Skogen (Mason City, IA), Trey Hungerholt (Le Roy, MN), Hunter Heintz (Turtle Lake, WI), Kai Nelles (Nidderau, Germany), Sullivan Fair (Elma, IA), Lewis Bowes (Livingston, Scotland, UK), Tysen Brennan (Lees Summit, MO)
Back Row (Left to Right): Collin Witte (Rockwell, IA), Todd Pilchard (Geneva, IA), Giovani Lima Soares (Sao Paulo, Brazil), Blake Lynch (Garner, IA), Bradley Vaith (Mason City, IA), Jackson Barragy (Clear Lake, IA), Bradley Andrews (Charles City, IA)
Not Pictured: Tyler Davis (Fairmont, MN), Cole Ruecker (Sauk Rapids, MN), Ryotaro Hatta (Tokyo, Japan), Colin Hill (Dows, IA), Halsie Keltner (Anacortes, WA), Jacob Leohr (Dike, IA), Richard Marcoux (Omaha, NE), Devon'dre Mayfield (Fort Worth, TX), Megan Vidmar (Highland, IL), Benjamin Wagner (Aurora, IL)