2010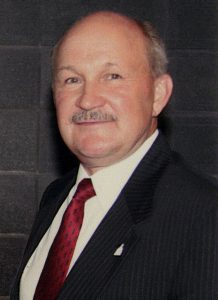 Bill Dotzler graduated from Cedar Falls High School in 1966. He earned an Associate of Arts degree from NIACC in 1969. While attending NIACC, he also received the Governor's Lifesaving Award for saving the life of a Mason City banker.
After graduation he went on to serve with the United States Army Security Agency in military intelligence. Before receiving an Honorable Discharge, he was an honor graduate in Special Identification Techniques Operator School. He also received Top Secret Cryptographic Security Clearance and completed a tour of duty in Berlin, Germany from 1970–72. After proudly serving the country, he resumed his college education attending the University of North Iowa. He graduated with honors in 1975 with a Bachelor of Arts degree in Biology.
Dotzler is a retired employee of John Deere Waterloo Works. There he was employed as a machine operator and also served as a labor representative. He also worked for Area 7 Job Training Administration.
He served three terms as a state representative. Currently he is serving his second term in the Iowa senate representing District 11 in Waterloo.
As the Assistant Majority Leader and Chair of the Economic Development Subcommittee in the senate, he serves on numerous committees in the legislature including Appropriations, Labor & Business Relations, Economic Growth, Human Resources and Ways & Means.
In addition to his legislative work, Senator Dotzler has held offices at the Iowa Institute for Public Leadership, the 21st Century Workforce Council, and the Governor's Housing Task Force.
Dotzler has served his community as chairman of the Board of Directors for the Waterloo Nursing Association, president of the Friends of Hartman Reserve Nature Center, and charter president of Cedar Trails Partnership. He was also on the initial Board of Directors of Black Hawk Leadership.
Senator Dotzler has received numerous special recognitions and awards, including the Governor's Volunteer Service Award and the Governor's Special Recognition Award. In 2000, he received the International Citation Award for workforce development, an award once granted to President Kennedy.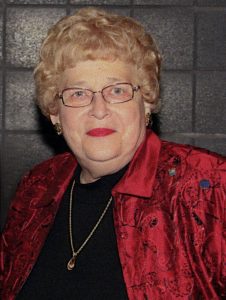 With the goal of becoming a teacher, Dianne Paca, a Garner native, enrolled in Mason City Junior
College. She graduated in 1960 and went on to study at Drake College. Following her graduation from Drake, a long and accomplished career in education began.
Paca taught school in Britt, Iowa before taking time to raise her three children. She went on to serve the Garner-Hayfield School Board from 1970 to 1980, one of only 11 women in the state serving on a school board at the time.
She was appointed to the State Board of Education from 1980-1992. During her tenure she served as the Liaison to Community Colleges, allowing her to work closely with all 15 Iowa Community College Presidents and their trustees. Paca later served as a Hancock County Supervisor from 1995 until her retirement at the end of 2002.
Generous with her time, several organizations in the area have benefitted from her expertise. She has served terms on the NIACC Foundation Board, the Iowa Public Television Board and the Department of Human Services. She also served as Vice Chair for
Vision Iowa and has been very active as a member of St. Wenceslaus church in Duncan.
Dianne and her husband, Kenneth have three grown children, Patti, Mark ('86) and Kent ('88), and three grandchildren.
Pathways to Success Student Leaders
Congratulations to the 71 students of North Iowa Area Community College who received the NIACC Student Leadership Award during the NIACC Alumni Association's 20th Annual Pathways to Success Program on April 14. Honorees are nominated by NIACC staff and faculty for their academic achievement, positive attitude, character, teamwork, and the ability to inspire others. Most of them graduated on Friday, May 7.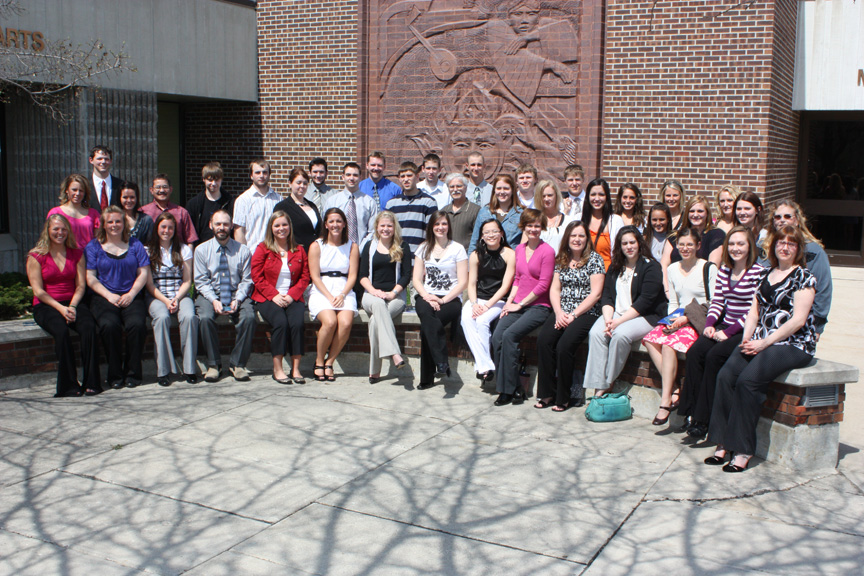 Pictured back row from left – Jayna Blome (Ledyard), Ben Harthan (Clear Lake), Haley Holmes (Plymouth), Jesus Zaldarriaga (Forest City), Adam Collen (Garner), Matthew Kofel (Kanawha), Jacki Williams (Clear Lake), Andrew Klein (Clear Lake), Shawn Bishop (Osage), Bill Freerks (Belmond), Jackson Renberg (Rockwell), John Fuls (Belmond), Robert Walker (Mason City), Colin Morgan (Oelwein), Jessica Ott (Marble Rock), Jordan Rishavy (Rochester, MN), Rachel Colsch (Plainfield), Parker Moorman (Mason City), Megan Buchholz (Waverly), Amanda Speake (Colo), Breanna Giordana (Kaukauna, WI), Alicia Kingery (Nora Springs), Kelli Ciavarelli (Plymouth), Samantha Pederson (Nora Springs), Emily Boster (Mason City), Mijean Beyer (Mason City)
Front row from left – Monica Radcliffe (Elgin), Mikyla Muhlenbruch (Dows), Hilary Brown (Mosinee, WI), Scott Kalvig (Northwood), Sadie Wilson (Mason City), Erin Kruckenberg (Mason City), Emily Gast (Osage), Alyssa Kelly (Nora Springs), April Lam (Mason City), Angela Dockum (Nora Springs), Michelle Rowland (Mason City), Louisa Montealvo (Clear Lake), Joan Nixt (Charles City), Kaitlin Sutcliffe (Mason City), Melissa McCoy (Charles City)
Not pictured – Remington Cook (Britt), Levi DeYounge (Hampton), Phillip Forbes (Rockford), Ryan McCauley (Charles City), Jessica Morton (Clear Lake), Collie Wood (Garner)