2007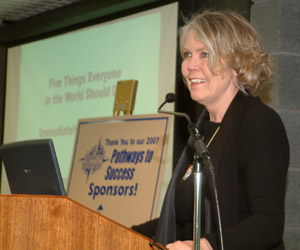 While Mary makes her home in Boston, MA, she grew up near Osage. She and 10 of her siblings, plus her mother, attended North Iowa Area Community College and were featured in the NIACC First advertising campaign. It was truly a family tradition to attend NIACC.
After graduating from NIACC in 1969, Mary attended the Universities of Iowa and Minnesota, moved to the Florida Keys, and finally to Boston. It was in Boston that she became the first employee of successful entrepreneur Michael Bronner who founded Digitas, now one of the largest marketing firms in the country.
As the agency's partnership expert for 25 years, Mary has developed marketing relationships for key clients that include General Motors, AT&T, American Express, Delta Air Lines, Major League Baseball, Bank of America, and Pfizer. Over her career, she has put together more than 2,500 marketing relationships between companies.
She has also published fiction in Yankee Magazine, had an article she wrote for the Journal of Marketing used by CBS 60 Minutes, and has produced op-ed pieces for both the Boston Globe and the Boston Herald. She has even written a mystery novel, A Duchess in Rubies.
Mary has traveled extensively in Europe, Australia, Asia and Africa. She took a train across Australia, has been on several safaris in Kenya, and while in Mali stayed in Timbuktu, and then sailed down the Niger River, camping along the banks. On a visit to Namibia she tracked elephants through GPS collars across the country's deserts.
She has lived in a yurt in Mongolia, spent a month in a small village on India?s Bay of Bengal, and has traveled across China, as well as Cambodia and Thailand. She also lived in Russia for three months and sailed on a Russian trawler across Siberia?s Lake Baikal, an experience she calls "glorious yet harrowing."
Between work and traveling, Mary managed to squeeze in college studies. She graduated with honors from Harvard University's Extension School three years ago.
As managing partner of the S&S Group, Mary is currently developing marketing partnerships for a range of clients that include Victoria's Secret, Amtrak, and Bath & Body Works.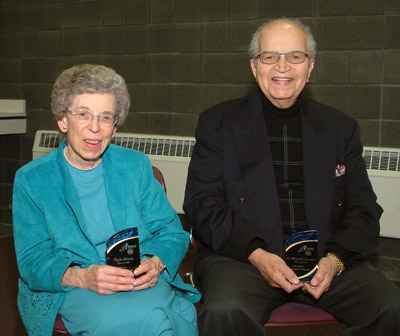 Phyllis (Zemanek) Murphy graduated from NIACC/Mason City Junior College in 1950 and is a lifetime member of the NIACC Alumni Association. She has received numerous awards and honors, including the NIACC Shining Star Award in 2003.
Phyllis is an active member of the First United Methodist Church and the Music Teachers of North Iowa (MTNI). She has served on the Board of the Mason City Foundation and is a past member of Beta Sigma Phi. Piano has been a big part of her life, and she has made music an important part of other people's lives through her Swingen Piano Studio. Phyllis has taught piano for 60 years.
She and her late husband, David (also a NIACC graduate), founded and owned David Manufacturing Company for many years in Mason City. They have given generously to countless local causes. The David and Phyllis Murphy Charitable Foundation, for example, benefits local high school graduates through scholarships. In 1998, the Murphys helped dedicate the Murphy Manufacturing Technology Center on the NIACC campus, which they helped make a reality and which bears their name.
---
Dr. Meredith Saunders graduated from NIACC/Mason City Junior College in 1949 and completed his undergraduate studies and medical school at the University of Iowa. He is also a lifetime member of the NIACC Alumni Association, and he has been featured in the NIACC First advertising campaign.
Dr. Saunders is a retired ophthalmologist. He spent his career in the Des Moines area, working as an attending surgeon for Iowa Lutheran Hospital, Iowa Methodist Medical Center, and Mercy Medical Center, where he was Chief of Ophthalmology. He also served as consulting physician to Veterans Hospital and Broadlawns Medical Center as well as to the Iowa Society to Prevent Blindness and Iowa Department of Social Services.
Meredith has several honors to his credit and a long record of community service. He is a founding director of the Big Brothers of America, and he has served on the National Council for the YMCA, the Des Moines Center of Science and Industry Board, the Iowa Arts Council, and as Iowa's Co-Chair of the National Conference of Christians and Jews. His professional affiliations have included the Des Moines Ophthalmological Society, which he founded.
Pathways to Success Student Leaders
Congratulations to the 45 students of North Iowa Area Community College who received the NIACC Student Leadership Award during the NIACC Alumni Association's 17th Annual Pathways to Success Program on April 10, 2007. Honorees are nominated by NIACC staff and faculty for their academic achievement, positive attitude, character, teamwork, and ability to inspire others.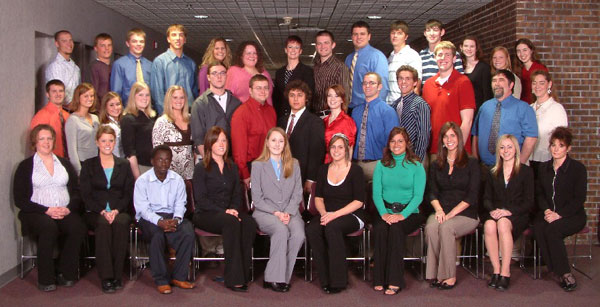 Pictured back row from left – Alex Rehnstrom (Sioux Rapids), Jay East (Garner), Andrew Cullen (Clear Lake), Brandon Westpfahl (Sumner), Jordan Stiles (Rockwell), Tabitha Thies (Mason City), Debra Bock (Belmond), Tanner Hansen (St. Ansgar), Greg Pappas (Mason City), Jared Koch (Cherokee), Daniel Mousel (Sioux City), Alyssa Wendt (Mason City), Stephanie Haacke (Kensett), and Andrea Faust (Mason City).
Middle row from left – Joseph Burke (Mason City), Nola Aigner (Mason City), Morgan Koerber (Mason City), Jennifer Ott (Marble Rock), Kimberly Fleming (Mason City), Wesley Brommel (Norwalk), John Schnackenberg (Creston), Matthew Meyer (Mason City), Amy Degen (Williamsburg), Cole Fister (Riceville), Justin Sprung (Nora Springs), Ryan Sones (Laurens), Timothy Palmer (Nora Springs), and Monica Kiley (Cedar Rapids).
Front row from left – Torrie Chizek (Britt), Maradee Frideres (LuVerne), Charles Wagara (Dodoma, Tanzania), Kaeanna Wood (Atlantic), Amanda Dhondt (Sheffield), Jennifer Farquhar (Clear Lake), Whitney Weber (Clear Lake), Christine Harms (Mason City), Shanna Floy (Clear Lake), and Deanne Perkins (Sheffield).
Not pictured – Megan Coborn (Mason City), Timothy DeBoer (Britt), Spenser Gruis (Rockford), Thomas Heithoff (Carroll), Kimberly Marovets (Mason City), Michelle Martin (Charles City), and Amber Riesenberg (Lake City).