2001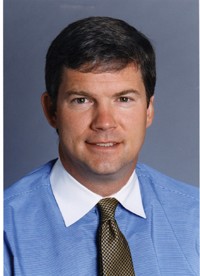 Upon graduation from NIACC, Dan Thomas was already a stand out NIACC graduate. In May 1979, he graduated with highest honors and was on his way to success. Dan continued his education and went on to receive his bachelor's degree in accounting from the University of Northern Iowa in 1981.
His professional career began as a certified public accountant in Davenport. Success meant opportunities and warm weather for Dan in Texas. Dan's road to success led him to his current job. In 1998, he joined Concentra Inc. as CEO and board member. Concentra Inc. is a 750 million dollar company based in Dallas, Texas, which partners with employees, insurance companies and payers to contain health care and disabilities costs, among a variety of other services.
Dan, a 1977 Mason City High School graduate and Mason City native, still has ties to Mason City in addition to NIACC. His parents, Joe and Marge Thomas, reside in Mason City as well as school classmates. Dan currently lives in the Dallas, Texas, area with his wife, Lois, and their three children, Rachel, Danielle, and Ryan.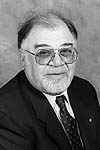 Joel Hanes, Mason City Junior College Class of 1949, has made it a tradition to Keep NIACC First. Joel and his wife, Joyce, have been NIACC supporters for many years and both recently served on the Executive Committee for the Keeping NIACC First major gifts campaign.
Joel has been a long-time businessman in Mason City as President and Chairman of Yelland & Hanes, Inc. and Co-Founder, President, and Chairman of Midwest Wholesale, Inc. He has been involved in the Masonic Temple Association of Mason City, the High Twelve Club, the Mason City Noon Lions, the Cerro Gordo County Resource Enhancement Committee, The Iowa Prairie Club and The North Iowa Prairie Club. He has received numerous awards such as the Warren Coleman Honorary Award and Melvin Jones Fellow Award both from Lions International, and the Paul Harris Fellowship Award from Rotary International, just to name a few.
The Hanes have five grown children and six grandchildren.
---
The title of "Civic Leader" should be one closely associated with Mike Grandon. Mike's history with NIACC began in the early '60s while he attended classes at Mason City Junior College (MCJC), NIACC's predecessor. He graduated from MCJC in 1964 but has kept close contact with NIACC over the past three decades.
Mike was the first president of the NIACC Alumni Association Advisory Board with which he remains involved. In addition to the time he donates to NIACC, he is also active in many Mason City and Clear Lake organizations. He is a member of the Board of the Salvation Army, a team member of Mercy Medical Center, an active member of St. Patrick's Catholic Church in Clear Lake, and is the Secretary/Treasurer of the Iowa State County Treasurers Association. Mike was a past Campaign Chairman and President of the United Way and received the Bob Dutcher Award. He is active in the Clear Lake Noon Lions and has received the highest honor, the Melvin Jones Fellow Award. Mike currently serves as the Cerro Gordo County Treasurer.
Mike and his wife, Mary, have four grown children and seven grandchildren.
Pathways to Success Student Leaders
Sarah J. Barkema
Mason City, IA
Miroslav V. Jelev
Stara Zagora, Bulgaria
Lance D. Roberts
Corning, IA
Christopher J. Boever
Mason City, IA
Amanda G. Koenigsfeld
Marble Rock, IA
Bryce E. Rosel
Rockford, IA
Lisa J. Elfers
Charles City, IA
Sally A. Kuntz
Osage, IA
Jennifer Lynn Schlicher
Mason City, IA
Scott M. Ellingson
Albert Lea, MN
Kama A. Leerar
Britt, IA
Kalcey J. Schmitt
Mason City, IA
Mary I. Flo
Lake Mills, IA
Jesse R. Lutz
Mason City, IA
Daniel W. Schutte
Clear Lake, IA
Andrew J. Forsman
Clear Lake, IA
Victoria Martinez
West Union, IA
Karla J. Smidt
Kanawha, IA
Micah L. Gearhart
Aplington, IA
Kathryn M. Meyer
Clear Lake, IA
Duane Smith
Mason City, IA
Misty D. Gray
New Hampton, IA
Melissa M. Miller
Lake Mills, IA
Sarah N. Spalla
Mason City, IA
Dustin D. Heinold
Mason City, IA
Michael R. Petersburg
Joice, IA
Karen S. Steinwandt
Fertile, IA
Erin E. Heitland
Thornton, IA
Sara L. Pringnitz
Britt, IA
Matthew A. Stroup
Sheffield, IA
Clint D. Hinderaker
Radcliffe, IA
Jennifer J. Raab
Charles City, IA
Amanda Terhark
Mason City, IA
Rosalie R. Horsfall
Mason City, IA
Jeffrey R. Rasmussen
Plymouth, IA
Linda M. Weilnau
Rudd, IA
Joshua D. Riedel
Rowan, IA